AD CR6/XMC 6U VMEbus Carrier Board for two XMC/PMC Modules
6U VMEbus carrier that provides front I/O and rear I/O for two XMC/PMC modules. This XMC/PMC to 6U VMEbus adapter is used to build modular, flexible and cost effective I/O solutions with XMC/PMC devices in VMEbus systems.

The CONCURRENT Technologies AD CR6/XMC is 32/64bit 33/66/100 MHz 6U PMC/XMC carrier for the VMEbus bus with front I/O and P2/P0 rear I/O. The XMC interface supports PCIe x1, x2, x4, x8 or x16 (Gen1 and Gen2). The board has 4Mbit Flash EEPROM with BIOS firmware to support OS boot. There is also an adapter interface for connecting to a compatible VME XMC host processor card. Opt. one SATA 6 Gbit/s HDD/SSD can be mounted.
ORDER NOW
Technical Description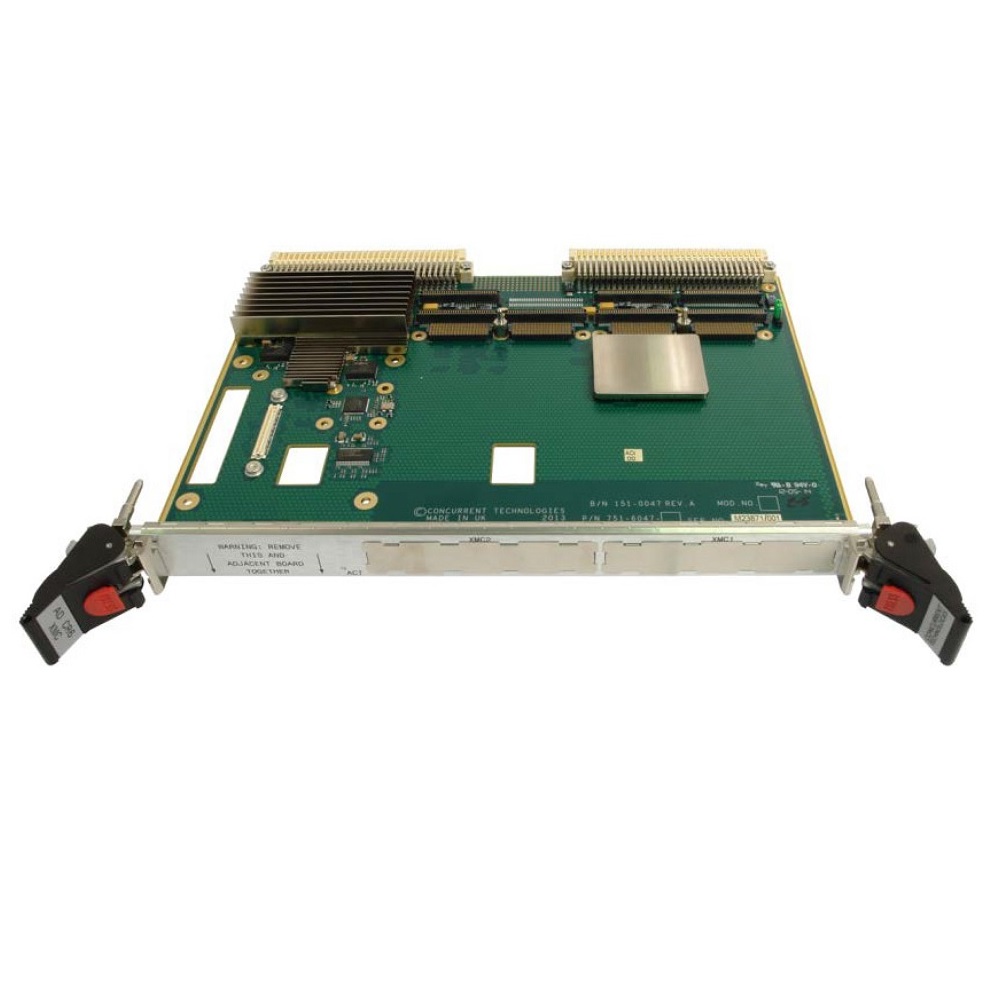 6U/4HP VMEbus board, VITA 35 conform
Two PMC/XMC slots, Front-I/O, Rear-I/O via P2 and opt. P0
XMC interface with PCIe x1, x2, x4, x8 or x16 (Gen1 and Gen2) support
PMC interface with 32/64bit 33/66/100MHz, 5V or 3.3V
PMC/XMC slot 1 I/O via P2: X12d+X16s von P16 and 64 I/O from P14 routed as differential pairs P4V2-64ac (VITA 35)
PMC/XMC slot 2 I/O via P0: X20d+X38s from P26
Opt. one 2.5″ SATA 6 Gbit/s HDD/SSD
4 Mbit SPI flash EEPROM with BIOS firmware to support OS boot
Adapter Interface to connect to a compatible VME XMC host processor card, PCIe x8 or x4 (Gen 1 or Gen 2), IDT PES32NT8AG2 PCIe switch
Adapter interface features a standard PCI to PCI bridge software architecture
Operating system support dependent on the host processor used
Max. 25W module power per site
In 3 environmental classes available: standard (0°C .. 55°C), extended grade (-25°C .. +70°C), and (-40°C .. +85°C)
2 years warranty
Order Information
6U/4HP VMEbus PMC/XMC carrier board without P0, VME64x handles
6U/4HP VMEbus PMC/XMC carrier board with P0, VME64x handles
6U/4HP VMEbus PMC/XMC carrier board without P0, VME32 handles
6U VME rear transition module
Technical Documentation