AM E4x/msd Processor AMC with Intel Xeon D-1500 CPU with DisplayPort and 10Gigabit Ethernet Front Panel Ports
The processor AMC module is powered by a 12-core 1.5 GHz Intel Xeon D-1559 or a 8-core 1.6 GHz Intel Xeon D-1539 CPU. The processor manages 32 GB ECC DDR4 SDRAM. The front panel has two 10Gigabit Ethernet, one DisplayPort, one USB 3.1/2.0 and one RS-232 port.

CONCURRENT Technologies' AM E4x/msd series are high performance processor sub systems with AMC mid size and full size form factor. AMC.1 type 4 or type 8m AMC.2 type E2 and AMC.3 type S2 (SATA) are supported. The processor AMC is designed for high performance solutions. The long lifetime AdvancedMC technology allows the reuse of system components from small to high-end configurations: This secures your investments.

By adhering to industry standards like AMC and MicroTCA, the AM F5x/msd modules offer the advantage of solutions with high performance and longevity.

The board supports Linux and Windows.
ORDER NOW
Technical Description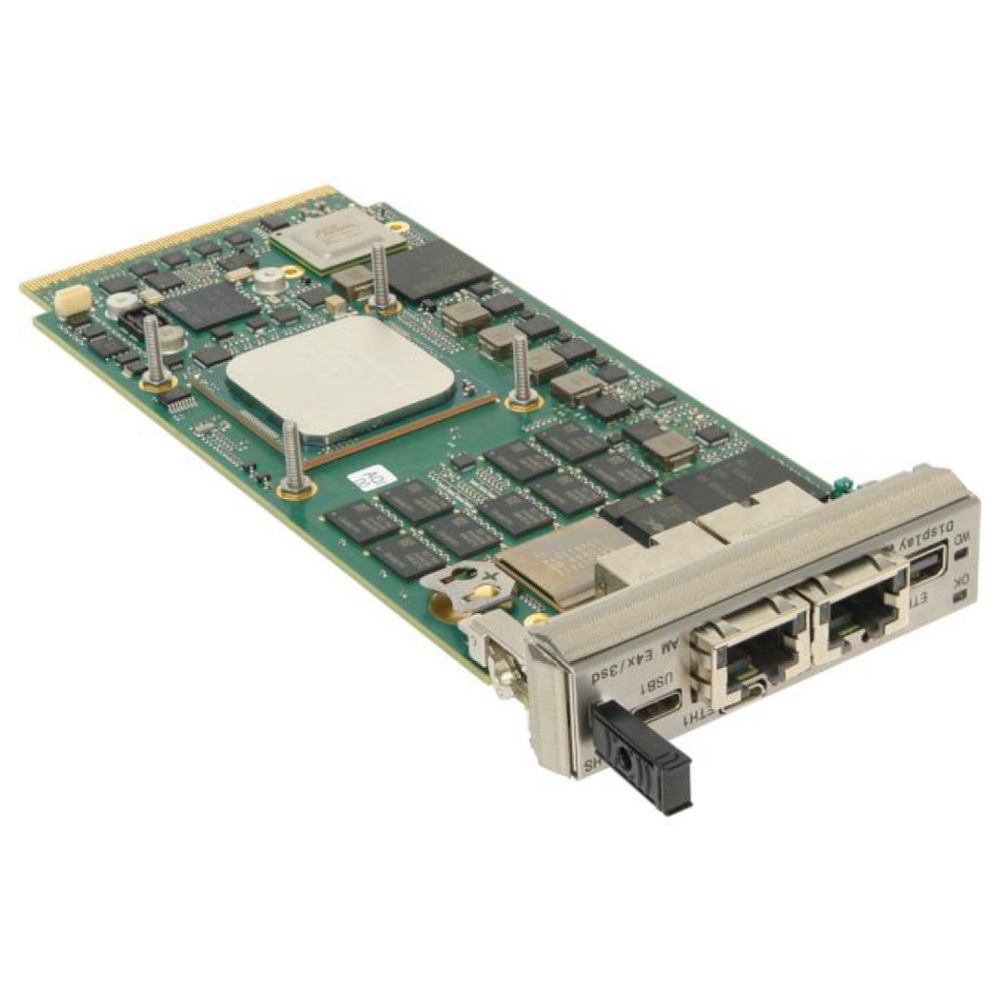 Processor AMC module
AMC module with AMC.1 type 4 or type 8, AMC.2 type E2, AMC.3 type S2 (SATA) interface, mid size and full size form factor
12-core 1.5 GHz Intel Xeon D-1559, 18 MB cache or
8-core 1.6 GHz Intel Xeon D-1539, 12 MB cache
Intel Advanced Vector Extensions 2 and Intel AES New Instructions
Up to 32 GB ECC DDR4 SDRAM, soldered
DisplayPort via Mini DisplayPort connector on the front panel, 1920×1080 pixel resolution
Dual redundant 16 MB BIOS flash
Two 10GbE front panel ports, 10GBase-T, 1000Base-T
Two SerDes GbE ports, 1000Base-BX, Intel I210-IS controller
Up to 5 SATA 6Gbit/s ports, 2 AMC.3 type S2 ports on the backplane, opt. 1 port for a flash module and opt. 2 ports in the ext. option
Up to two RS-232 ports, 1 front panel Micro USB port (TxD and RxD) and opt. 1 port in the ext. option, TxD, RxD, CTS, RTS signals
Up to 4 USB ports, 1 USB 3.1/2.0 front panel port, opt. 1 USB 3.1 port and 2 USB 2.0 ports in the ext. option
Opt. one GPO and 3 GPI ports in the ext. option
Two 10Gigabit Ethernet, one DisplayPort, one USB 3.1/2.0, and one RS-232 port with TxD, RxD in the front panel
PCIe fabric: one PCIe x8 Gen3 port or two PCIe x4 Gen3 ports or 4 PCIe x2 Gen3 ports
Opt. SATA flash module
Opt. one PCIe x1 Gen3 port in the ext. option
UEFI 2.4 BIOS, LAN Boot Firmware, Secure Boot implemented
TCLKA telecom clock
Watchdog, real time clock, and 32bit timer
IPMI 1.5 management with 8 KB NVRAM support
Trusted Platform module (TPM 2.0)
Onboard Management Controller (MMC)
In 2 environmental classes available: standard (0°C .. 55°C) and for full size versions in extended grade (-25°C .. +70°C)
2 years warranty
Order Information
Processor AMC module, 12 Core Xeon D-1559, full size
Processor AMC module, 12 Core Xeon D-1559, mid size
Processor AMC module, 8 Core Xeon D-1539, full size, -25°C .. +70°C
Processor AMC module, 8 Core Xeon D-1539, mid size
0.5m cable with 5w MicroUSB Plug to 9w D female connector
Technical Documentation