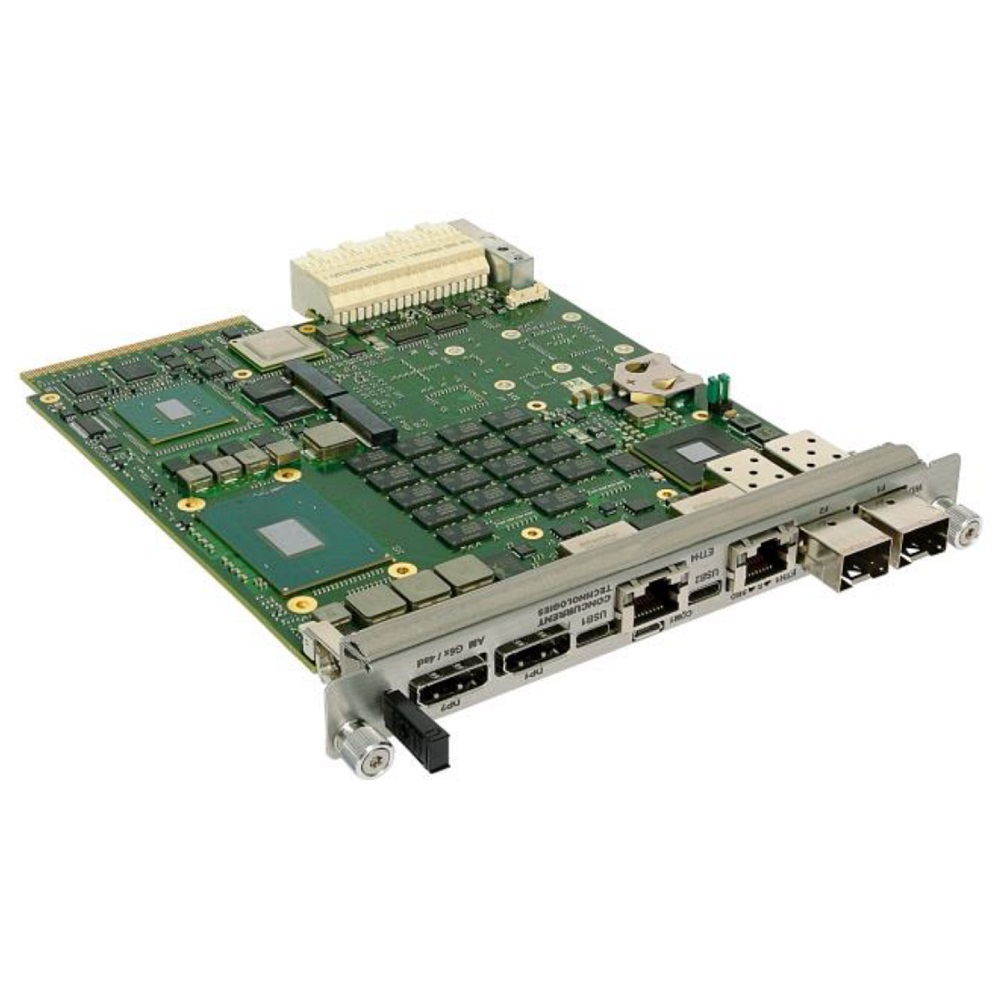 AM G6x/msd Intel Xeon E3-1505M v6 CPU Module with up to 32 GB RAM, up to 4 GbE and up to 6 SATA Ports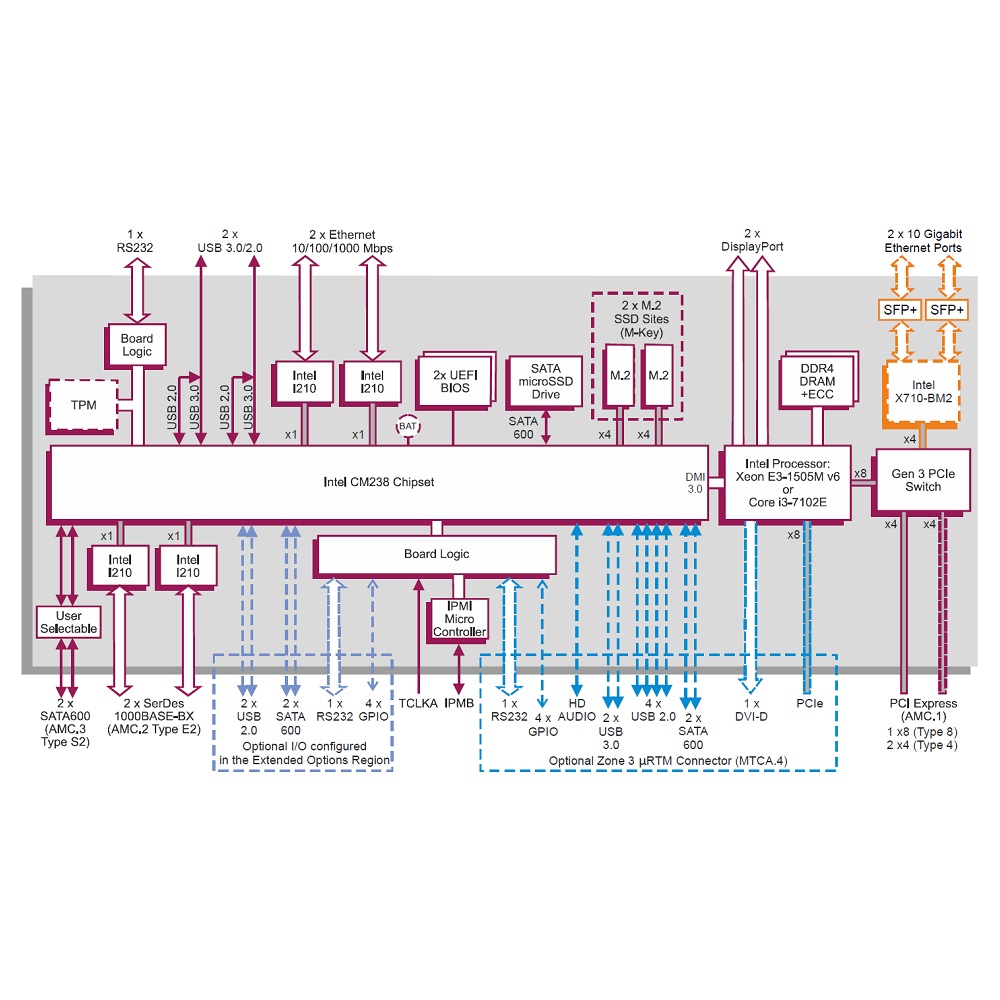 AM G6x/msd Block Diagram
AM G6x/msd Processor AMC with Intel Xeon E3-1505M v6 CPU with MTCA.4 capability and opt. 10Gigabit Ethernet Front Panel Ports
The processor AMC module is powered by an Quad Core Intel Xeon E3-1505M v6 CPU with 3.0 GHz clock rate or an Dual Core 2.1 GHz Intel Core i3-7102E CPU. The processor manages up to 32 GB ECC DDR4 SDRAM. The front panel has two DisplayPorts, two Gigabit Ethernet, two USB 3.0/2.0, one RS-232 port, and opt. two 10Gigabit Ethernet SFP+ ports.

CONCURRENT Technologies' AM G6x/msd series are high performance processor sub systems with AMC double mid size or double full size form factor. AMC.1 type 4 or type 8 AMC.2 type E2 and AMC.3 type S2 (SATA) are supported. The processor AMC is designed for high performance solutions. The long lifetime AdvancedMC technology allows the reuse of system components from small to high-end configurations: This secures your investments.

By adhering to industry standards like AMC and MicroTCA, the AM G6x/msd modules offer the advantage of solutions with high performance and longevity.

The board supports Linux, Windows and VxWorks.
ORDER NOW
Technical Description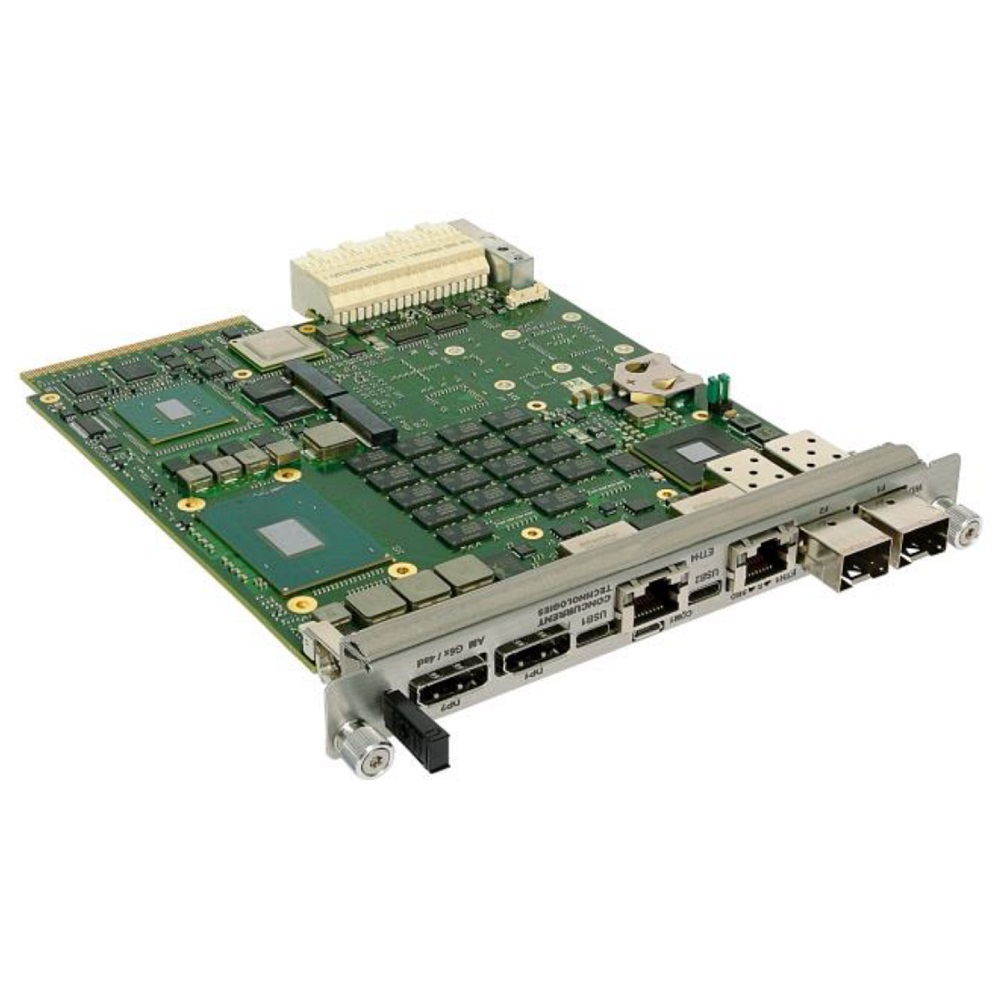 Processor AMC module with MTCA.4 capability

AMC module with AMC.1 type 4 or type 8, AMC.2 type E2, AMC.3 type S2 (SATA) interface, double mid size or double full size form factor

Quad Core 3.0 GHz Intel Xeon E3-1505M v6, 8 MB cache,

Intel HD Graphics P630

,
Dual Core

2.1 GHz Intel Core i3-7102E, 3 MB cache, Intel HD Graphics 630

Up to 32 GB ECC DDR4 SDRAM, soldered

Intel CM238 controller

3 independent displays, 2 DisplayPorts on the front panel (4096 x 2304 resolution) and one DVI-D port via opt. µRTM (1900 x 1200 resolution), DirectX 12, OpenGL 4.x and OpenCL 2.1 support

Dual redundant 16 MB BIOS flash

Two Gigabit Ethernet front panel ports, Intel I210-IT controller

Opt. two 10GbE SFP+ front panel ports, Intel X710-BM2 controller

Two SerDes GbE ports, 1000Base-BX, Intel I210-IS controller

Up to 6 SATA 6Gbit/s ports, 2 AMC.3 type S2 ports on the backplane, 2 ports via  opt. µRTM and opt. 2 ports in the ext. option

2 M.2 SSD slots, 2242, 2260 and 2280 module formats, PCIe x4 interface, NVM Express (NVMe) logic interface RAID 0, 1, 5 and 10 mode

64 GB SATA micro SSD

Up to 3 RS-232 ports, 1 micro USB front panel port (TxD and RxD), opt. 1 port in the ext. option, TxD, RxD, CTS, RTS signals and one RS-232 port via opt. µRTM with TxD, RxD, RTS, CTS, DTR, DSR and DCD signals

Up to 10 USB ports, 2 USB 2.0/3.0 type C front panel ports, opt. 2 USB 2.0 ports in the ext. option, opt. 2 USB 3.0 and 4 USB 2.0 ports via µRTM

Up to 8 GPIO ports, 4 GPIO Ports via opt. µRTM and opt. 4 GPIO ports in the ext. option

Intel High Definition audio digital interface via opt. µRTM with CoDec for analogue audio (headphone, linie-in, line-out and microphone)

Two DisplayPorts, two Gigabit Ethernet, two USB 3.0/2.0, one RS-232 with TxD, RxD signals and opt. two 10Gigabit Ethernet SFP+ front panel ports

PCIe fabric: one PCIe x8 Gen3 port or two PCIe x4 Gen3 ports or 4 PCIe x2 Gen3 ports

UEFI 2.4 BIOS, LAN Boot Firmware

TCLKA telecom clock

Watchdog, real time clock, and 32bit timer

IPMI 2.0 management with IPMI Over LAN, Serial Over LAN and RMCP+ encrypted LAN communication

Opt. µRTM module for MTCA.4 capability

Opt. Trusted Platform module (TPM)

Onboard Management Controller (BMC)

Fabric Interconnect Networking Software (FIN-S) support

In 2 environmental classes available: standard (0°C .. 55°C) and extended grade (-25°C .. +70°C)

2 years warranty
Order Information
Processor AMC module, Xeon E3-1505M v6, 16 GB RAM, full size
Processor AMC module, Xeon E3-1505M v6, 32 GB RAM, full size
Processor AMC module, Xeon E3-1505M v6, 16 GB RAM, mid size
Processor AMC module, Xeon E3-1505M v6, 32 GB RAM, mid size
Processor AMC module, Core i3-7102E, 16 GB RAM, full size
Processor AMC module, Core i3-7102E, 32 GB RAM, full size
Processor AMC module, Core i3-7102E, 16 GB RAM, mid size
Processor AMC module, Core i3-7102E, 32 GB RAM, mid size
With 64GB micro SSD, two 10GbE Front-I/O
0°C .. 55°C operating temperature range
-25°C .. +70°C operating temperature range
AMC µRear transition module
Technical Documentation