AMC-ADIO24-HD50 24 Channel Analog Digital I/O Module
The AMC-ADIO24-HD50 from ESD is a 24 channel analog digital I/O module with 8 16bit analog inputs, 2 16bit analog outputs, 24 digital I/Os with TTL level and 4 RS-485 trigger ports. The module is equipped with a Spartan-2 FPGA that manages the I/O data exchange in cooperation with the PCIe bridge. FIFOs for input and output direction and DMA to the PCIe host CPU's memory minimize undesired latency during PCIe read cycles at higher data rates. Read cycles of the PCIe CPU are reduced to setup and diagnosis tasks.

The eight overvoltage protected analog inputs are connected to eight 16bit A/D converters with a sampling rate of up to 200 kHz each. Both 16bit analog outputs have a differential and a single ended output circuit, accessible at separate pins. The outputs are transient and short circuit protected. Each of the 24 TTL-level I/Os can be separately configured as input or output. The outputs can be configured as high side driver, low side driver or both (sink/source). The I/O ports state can be read back in any configuration.

The firmware offers a so called 'Timing Routing Pool' with various trigger conditions (RS-485 trigger input, timer, software, free flow) that can be individually evaluated for each I/O.

The AMC-ADIO24-HD50 has one 10-pin har-link and one 50-pin har-mik connectors in the front panel. In addition the module is prepared for MTCA.4 (MicroTCA Enhancements for rear I/O and Precision Timing).
ORDER NOW
Technical Description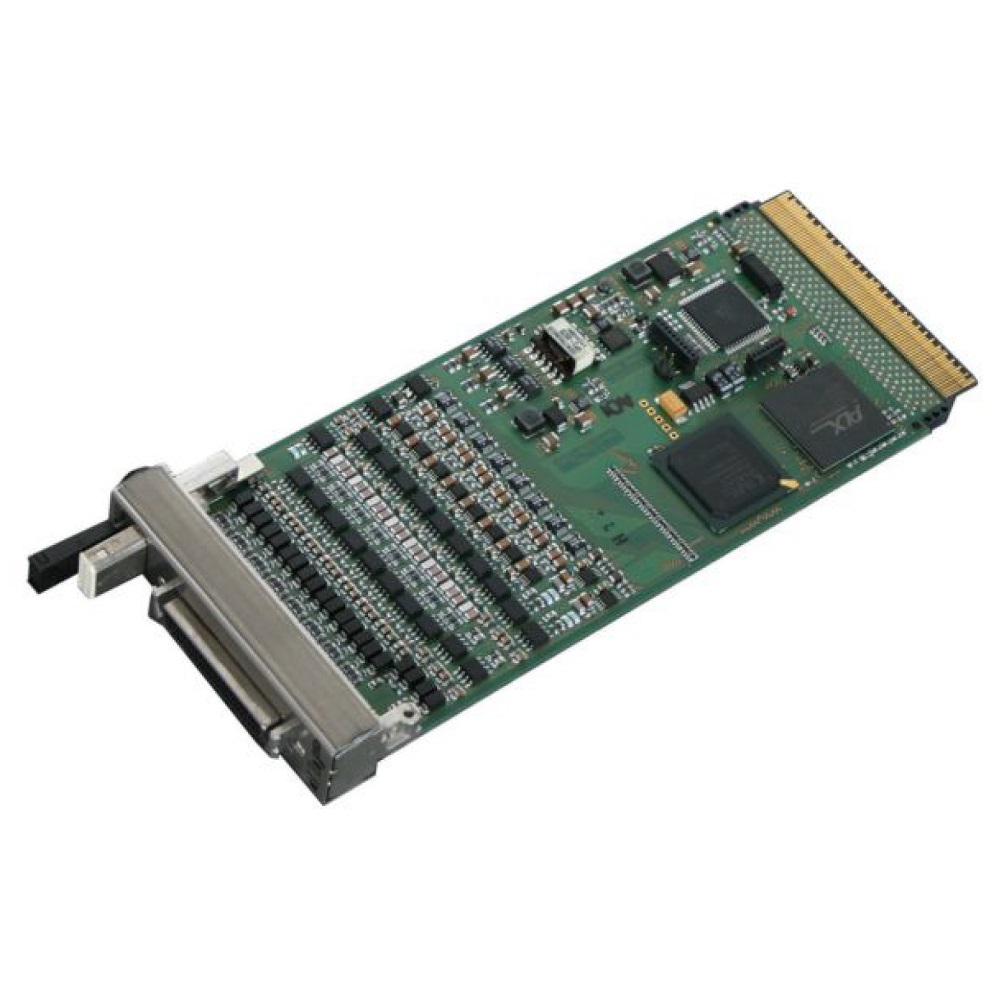 24 Channel Analog Digital I/O AMC Module
AMC module with AMC.1 interface, mid size and full size form factor
Spartan 2 FPGA
8 analog inputs, ±10V, 16bit resolution, up to 200kHz sampling rate
2 analog outputs, ±10V, 16bit resolution, up to 600kHz sampling rate
24 digital I/Os, TTL level, programmable as input only, output sink, output source, output sink/source, max. current/channel: 64mA sink, 32mA source, up to 1 MHz input sampling rate, up to 1 MHz output update rate
4 RS-485 trigger/sync. ports, max. 1 MHz
50-pin har-mik connector on P1
10-pin har-link connector on P2
DMA to host CPU memory
Prepared for MTCA.4 (MicroTCA Enhancements for Rear I/O and Precision Timing)
IPMI V1.5 support
0°C .. +70°C operating temperature range
2 years warranty
Order Information
24 channel analog digital I/O AMC module
50 pin SCSI connector to 50 pin screw connection
Technical Documentation
AMC-ADIO24-HD50 Data Sheet
AMC-ADIO24-HD50 User Manual