BA 1TR/501 3U VPX CPU Board with Intel Xeon E3 Processor, 16 GB RAM and 10Gigabit Ethernet Ports
3U VPX CPU board with a Quad Core Intel Xeon E3-1505M v5 processor and Intel HD P530 graphics. The board is based on Intel's CM236 controller. 16 GB DDR4 ECC SDRAM are soldered on the board. 64GB onboard flash memory are available.

The BA 1TR/501 from CONCURRENT Technologies offers two 10Gigabit Ethernet ports, one Gigabit Ethernet port, one Gigabit Ethernet port with magnetics, one DisplayPorts with audio and video support, three SATA 6Gbit/s ports, one RS-232 port, one RS-232/422/485 port, 4 USB ports, 6 GPIO ports, and one PCIe x8 or two PCIe x4 or four PCIe x2 ports.

The board supports Microsoft Windows, Linux, and VxWorks. In addition the Fabric Interconnect Networking software (FIN-S) will be supported.

The BA 1TR/501 is available in standard operating temperature range and in conduction-cooled.
ORDER NOW
Technical Description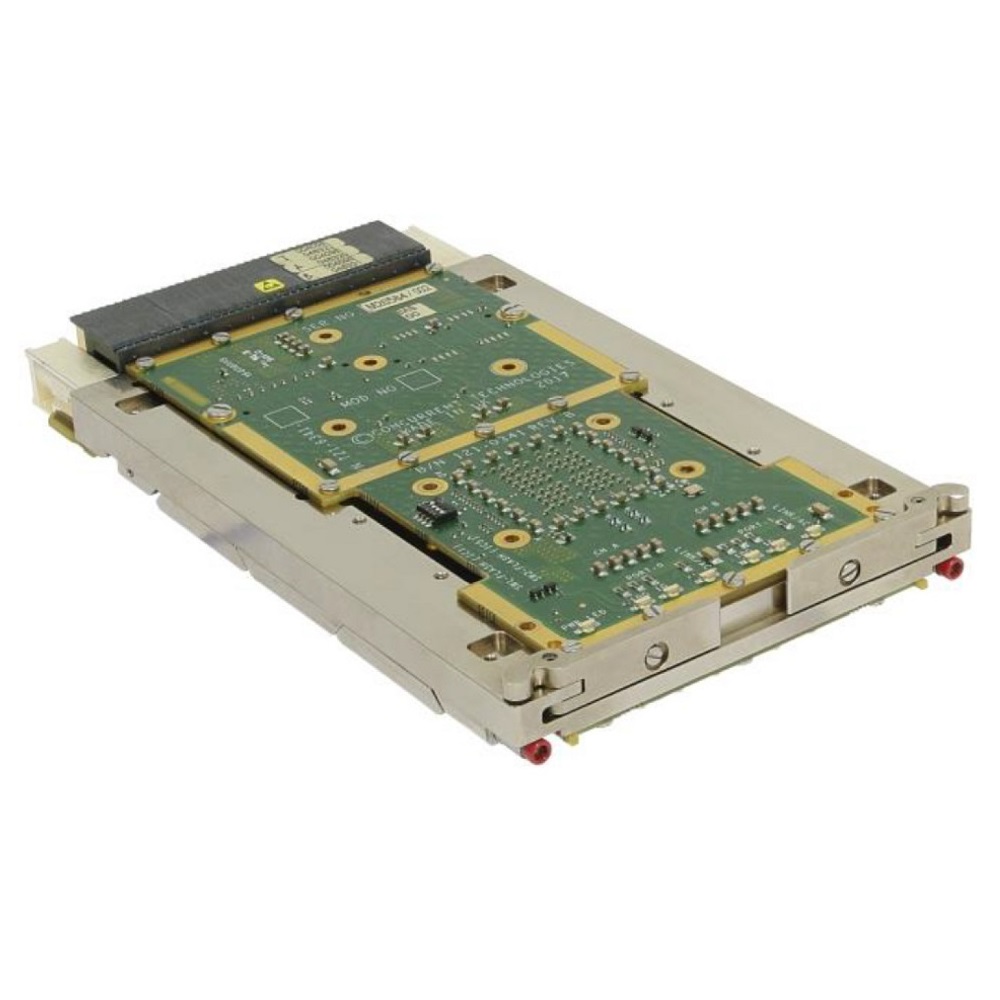 3U/4HP VPX CPU board, VITA 42.0, VITA 46.0, VITA 46.4, VITA 46.6, VITA 46.9, VITA 47, VITA 48.0, VITA 48.2, and OpenVPX compliant

MOD3-PAY-2F2U-16.2.3-3,
MOD3-PAY-2F1F2U-16.2.1-4,
MOD3-PAY-1F2F2U-16.2.2-4 Module Profile

Quad core 2.8GHz Intel Xeon E3-1505M v5 CPU, 45W

Intel CM236 controller

16 GB ECC DDR4 RAM, soldered

8 MB BIOS flash

Independent graphics interface with Intel HD P530 graphics, DisplayPort via P2 with audio and video support, DirectX 12, OpenGL 5.x and OpenCL 2.1 support

Three SATA 6Gbit/s ports, two ports via P1 and one port via P2

Onboard 64GB flash module

Two 10Gigabit Ethernet ports, one 1000BASE-BX port and one 10/100/1000 Ethernet port with magnetics VITA 46.9 via P2, Intel X540

Two Gigabit Ethernet (10GBASE-T/1000BASE-T/100BASE-Tx) ports with magnetics VITA 46.6 via P1, Intel I210

Two RS-232 ports, one RS-232/422/485 (Tx, Rx, RTS and CTS only on RS-232) port via P1, one RS-232 (Tx, Rx, RTS and CTS) port via P2

4 USB ports, 2 USB 2.0 ports via P1, 1 USB 2.0 port via P2 and 1 USB 3.0 port via P2

6 GPIO ports, 2 ports via P1 and 4 ports via P2

One PCIe x8 or two PCIe x4 or four PCIe x2 Gen 3 ports via P1

PCIe switch supports two non-transparent ports for multi processing configurations

Fabric Interconncect Networking Software (FIN-S)

4 channel DMA engine for fast data block moves

UEFI 2.4 BIOS, LAN Boot Firmware, PXE BIOS Firmware and iSCSI BIOS Firmware

Real Time clock and watchdog timer

Opt. Trusted Platform Module (TPM)

Opt. Power-on Bulit-In Test (BIT), Initiated BIT and Continuous BIT

Audio via DisplayPort via P2

In 2 environmental classes available: standard (0°C .. 55°C) and conduction-cooled (-40°C .. +85°C)

2 years warranty
Order Information
3U/4HP CPU board, Quad Core Xeon E3-1505M, 16 GB RAM, 0 .. 55°C, 1-inch slot
3U/4HP CPU board, Quad Core Xeon E3-1505M, 16 GB RAM, conduction-cooled, -40°C .. +85°C, VPX REDI type 1: 0,85-inch slot
3U/4HP CPU board, Quad Core Xeon E3-1505M, 16 GB RAM, conduction-cooled, -40°C .. +85°C, VPX REDI type 2: 0,8-inch slot
Technical Documentation