BA 2TR/502 Quad Gigabit Ethernet Interface
The four channel Gigabit Ethernet 10BASE-T/100BASE-TX/1000BASE-T 3U VPX board provides front panel RJ45 I/O or Rear I/O via VPX P2.

The VPX connector P2 provides access to the Intel I350-AM4 controller via an PCIe x4 link. The Gigabit Ethernet ports supports 1000BASE-T over cat. 5e/6 UTP cable and 100BASE-Tx and 10BASE-T over cat. 5 UTP cable. Additional the interfaces allows transmit and receive IP, TCP and UDP checksum off-loading, transmit TCP segmentation, provides auto-negotiation, automatic retransmission, automatic polarity and MDI/MDI-X selection, and supports jumbo frames as well as full and half duplex operation.

The CONCURRENT Technologies module supports Microsoft Windows, Linux and VxWorks.
ORDER NOW
Technical Description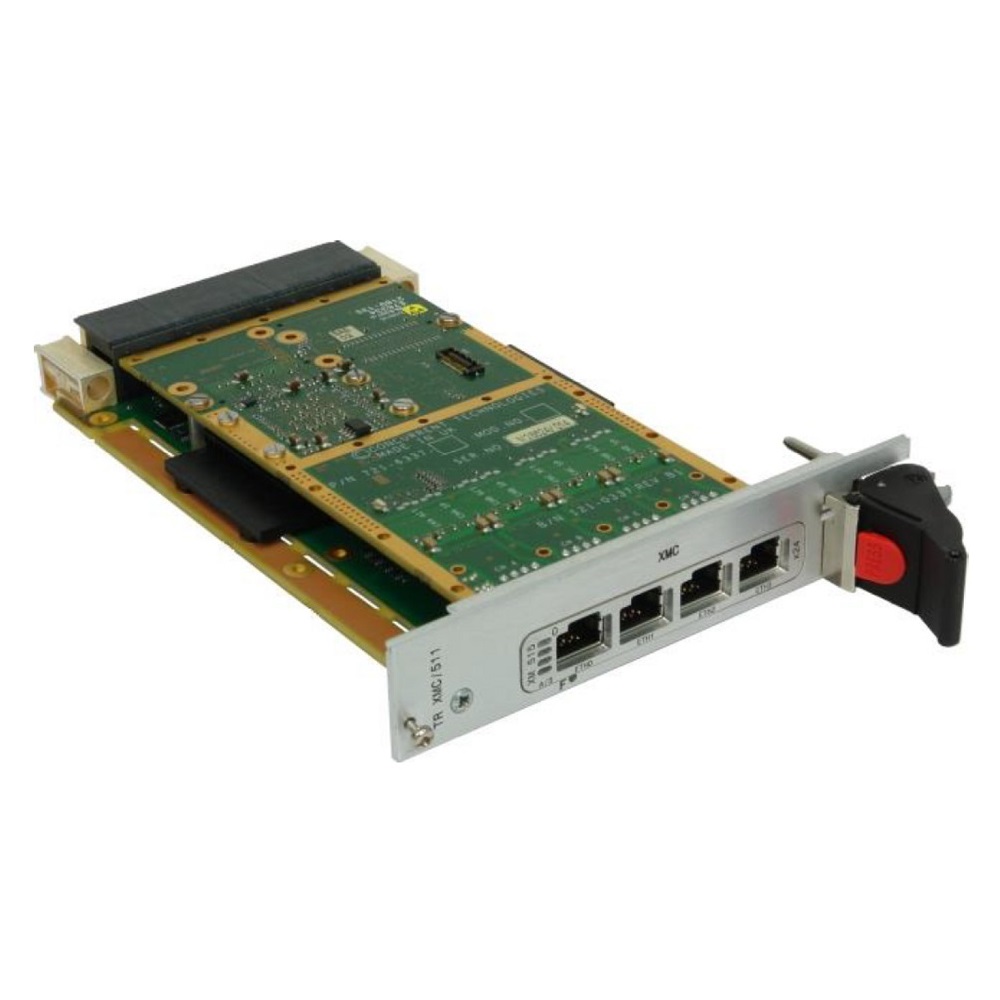 3U/4HP VPX board, VITA 42.0, VITA 46.0, VITA 46.9, VITA 47, VITA 48.0, VITA 48.2, VITA 65 conform

BKP3-CEN06-15.2.2-3 and SLT3-PAY-1F2F2U OpenVPX profil

es

Front or Rear-I/O

IEEE 802.3ab,1000Base-T over cat. 5e/6 UTP cable,
IEEE 802.3/802.3u,10Base-T and 100BaseTx over cat. 5 UTP cable

Intel I350-AM4 controller

Jumbo frames

Transmit and receive IP, TCP and UDP checksum off-loading

Transmit TCP segmentation

Automatic retransmission

Auto-negotiation

Automatic polarity and MDI/MDI-X selection

Full and half duplex operation

In 4 environmental classes available: standard (0°C .. 55°C), extended grade (-25°C .. +70°C), (-40°C .. +85°C) and conduction-cooled (-40°C .. +85°C)

2 years warranty
Order Information
VPX board, Quad GbE interface, 0 .. +55°C, 1,0-inch slot
VPX board, Quad GbE interface, -25 .. +70°C, 1,0-inch slot
VPX board, Quad GbE interface, conduction-cooled, -40 .. +85°C, VPX-REDI type 1: 0,85-inch slot
VPX board, Quad GbE interface, conduction-cooled, -40 .. +85°C, VPX-REDI type 2: 0,8-inch slot
Technical Documentation