BA 9TR/301 Rugged Conduction-cooled 3U VPX GPGPU Processor Board with Intel Xeon E3 Processor and NVIDIA GeForce GTX 1050Ti GPGPU
3U rugged conduction-cooled single-board computer GPGPU board with a Quad Core 2.0GHz Intel Xeon E3-1505L v5 processor, NVIDIA GeForce GTX 1050 Ti GPGPU and 2.29 TFLOPs floating-point performance. The BA 9TR/301 GPGPU from CONCURRENT Technologies is based on NVIDIA's Pascal GP107 CPU with 768 CUDA cores and 4GB GDDR5 (112 GB/s) RAM. CUDA 6.1 and OpenCL 1.2 are supported. The board is based on Intel's CM236 controller. 8 GB DDR4 ECC SDRAM and a 64GB Micro SSD are soldered on the board.

The BA 9TR/301 offers two Gigabit Ethernet ports with magnetics, one DisplayPort++ (with 4K Ultra High Definition resolution), DVI-D and VGA, two SATA 3Gbit/s ports, two RS-232 ports, and 2 USB 2.0 ports. The 3 independent graphics interfaces support DirectX 12 and OpenGL 4.6.

The board supports Microsoft Windows and Linux.
ORDER NOW
Technical Description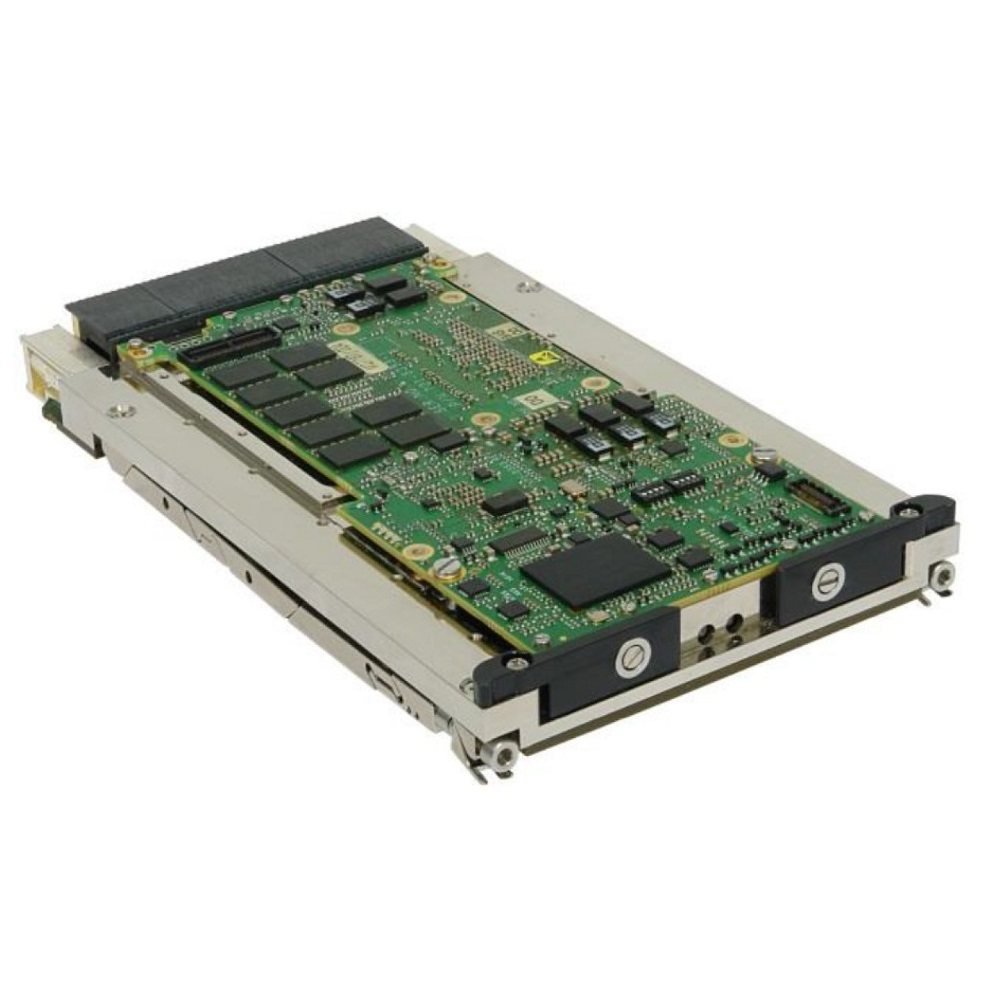 3U/4HP rugged VPX CPU board, VITA 46.0, VITA 46.4, VITA 46.6, VITA 46.9, VITA 47, VITA 48.0, VITA 48.2, and OpenVPX compliant

Quad core 2.0GHz Intel Xeon E3-1505L v5 CPU, 45W

NVIDIA GeForce GTX 1050 Ti GPGPU, based on NVIDIA Pascal GP107 CPU with 768 CUDA cores and 4GB GDDR5 (112 GB/s), giving 2,29 TFLOPs floating-point performance, CUDA 6.1 or OpenCL 1.2 support

Intel CM236 controller

8 GB ECC DDR4 RAM, soldered

Dual 16MB BIOS flash

3 independent graphics interfaces, DisplayPort++ (with 4K Ultra High Definition resolution), DVI-D and VGA via P2, DirectX 12 and OpenGL 4.6 support

Two SATA 3Gbit/s ports, one port via P1 and one port via P2

64GB micro SSD, soldered

Two Gigabit Ethernet (1000BASE-T/100BASE-TX/10BASE-T) ports with magnetics (50V isolation) VITA 46.6 via P1, Intel I210

Two RS-232 (Tx and Rx) ports via P2

2 USB 2.0 ports via P2

Data Plane switch supports one PCIe x8 Gen2 port to both the GPGPU device and the CPU module

UEFI 2.4 BIOS, LAN Boot Firmware, Secure Boot and Intel Boot Guard implemented

Real Time clock and watchdog timer

Opt. Trusted Platform Module (TPM 2.0)

Opt. Power-on Bulit-In Test (BIT), Initiated BIT and Continuous BIT

Max. 100W power consumption

Conduction-cooled (-40°C .. +85°C) operating temperature range

2 years warranty
Order Information
3U/4HP GPGPU board, NVIDIA GeForce GTX 1050Ti, Xeon E3-1505L, 8 GB RAM, conduction-cooled, VPX REDI type 1: 0,85-inch slot
3U/4HP GPGPU board, NVIDIA GeForce GTX 1050Ti, Xeon E3-1505L, 8 GB RAM, conduction-cooled, VPX REDI type 2: 0,8-inch slot
Technical Documentation