3U conduction cooled VPX Switch with 38 1/10/40GbE Ports
3U VPX 1/10/40 Gigabit Ethernet Layer 2+/3 switch with up to 38 ports that integrates two sets of independent Layer 2 (Ethernet) and Layer 3 switches and control processors to support physically separate control and data planes for highly secure 3U VPX systems. The ComEth4591a supports the new VITA 66.5 Style C VPX optical port through a LightCONEXTM 12-lane optical transceiver module. Together with its dual Ethernet packet processors, dual-core ARM processors and comprehensive software management stack, the ComEth4591a provides a state-of-the-art solution for 1G, 10G and 40G Ethernet switching requirements.

The ComEth4591a offers seven 40GbE ports or up to 28x 10GbE (one 40GbE port can be split into 4x 10GbE ports) ports and ten 10GbE ports, including three 10GbE front panel ports. The switch is aligned with the SOSA (Sensor Open Systems Architecture) technical standard. The SOSA (Sensor Open Systems Architecture) consortium is a voluntary, consensus-based member consortium of the Open Group, a vendor-neutral technology standards organization that develops an open technical standard for sensors.

The switch also supports VPX System Management as defined by VITA 46.11 and based on the Intelligent Platform Management Interface (IPMI v1.5) for sensor management (temperature, voltage, current), inventory management, system configuration, recovery and diagnostic management. Interface Concepts Switchware supports a wide range of Layer 2/3 functions that can be managed via an easy-to-use graphical user interface (GUI), command line interface (CLI) or SNMP (v2c or v3).

The ComEth4591a is available as a conduction-cooled type 1 plug-in unit compliant with the VITA 48.2 standard (version without front panel optical ports). It includes a secondary side cover and supports 2 Level Maintenance (2LM) environments.
ORDER NOW
Technical Description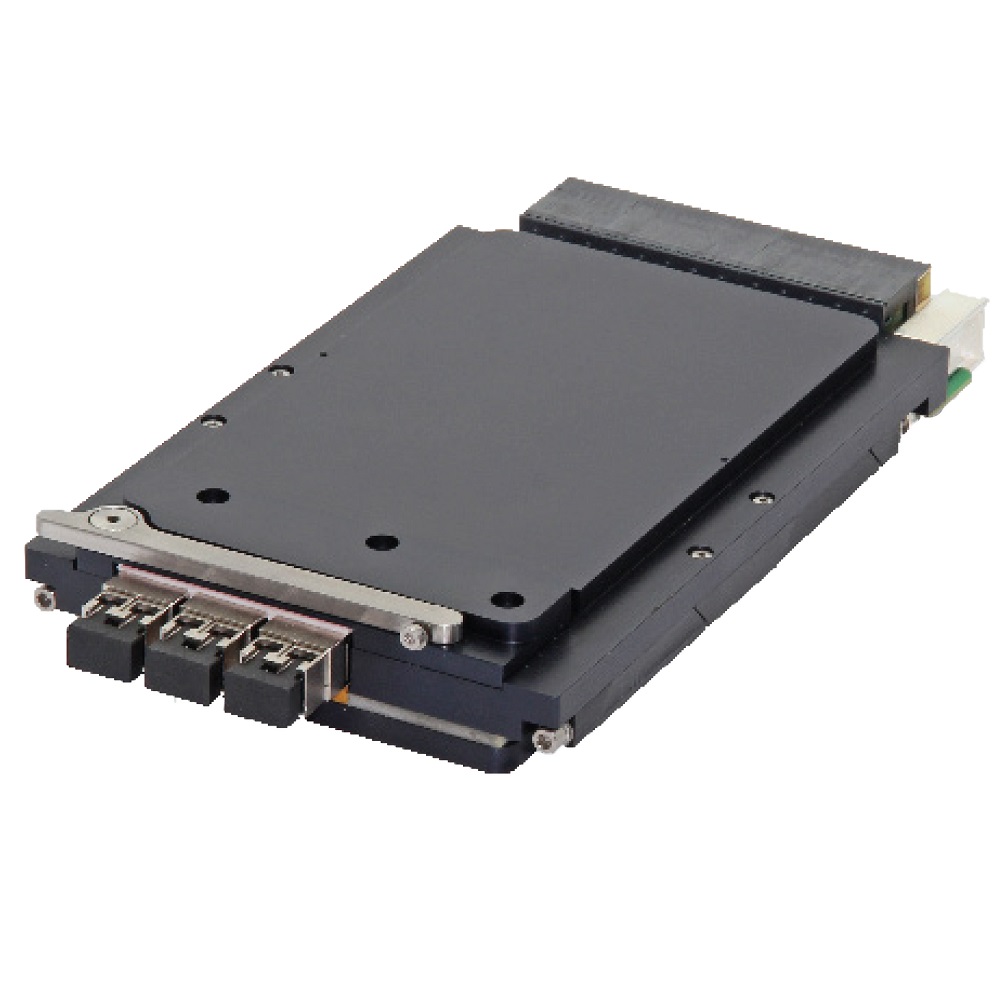 3U VPX Switch, VITA 46.0, VITA 46.11, VITA 48.2 VPX Redi, VITA 65.0 OpenVPX, VITA 66.5 and SOSA compliant
OpenVPX VITA 65.0 slot profiles:
SLT3-SWH-4F1U7U1J-14.8.7-n
40GbE, 10GGbE and GbE Layer 2+/3 switch
Up to 38 ports:
4x 40GBASE-KR4/10GBASE-KX4 on P1a/P1b or up to 16x 10GBASE-KR/1000BASE-KX ports
12x 10GBASE-SR or 1000BASE-SX VITA 66.5C ports or 3x 40GBASE-SR4 ports
7x 10GBASE-KR/1000BASE-KX ports on P2a
3x 10GBASE-SR or 1000BASE-SX front panel ports
Speed, duplex, auto-negotiation, flow control and power management on all ports
QoS on all ports
VLAN support / 802.1Q tagging
Port mirroring and port rights management
Static MAC address list and static IPM address list
Port static authentication
IEEE 802.1X port-based authentication
Ingress filtering
Storm prevention
Ingress / egress access lists
Static trunking / LACP
STP / RSTP
Secure switch management by HTTPS, SSH or SNMPv3
Login/password, key or certificate authentication
IGMP snooping (v1, v2, v3) and MLD snooping (v1, v2)
Layer3: ICMP, Proxy-ARP, DHCP-Relay, NAT, IPv4 & IPv6 routing (unicast/multicast), static IP routing (unicast and multicast), RIPv1, RIPv2 (IPv4), RIPng(IPv6), OSPFv2 (IPv4) / OSPFv3(IPv6), PIM-SSM (IPv4)
PBIT results
Conduction cooled (-40°C .. +85°C) operating temperature range
2 years warranty
Order Information
3U VPX 1/10/40 38 Port GbE Switch, conduction-cooled -40°C .. +85°C
Technical Documentation