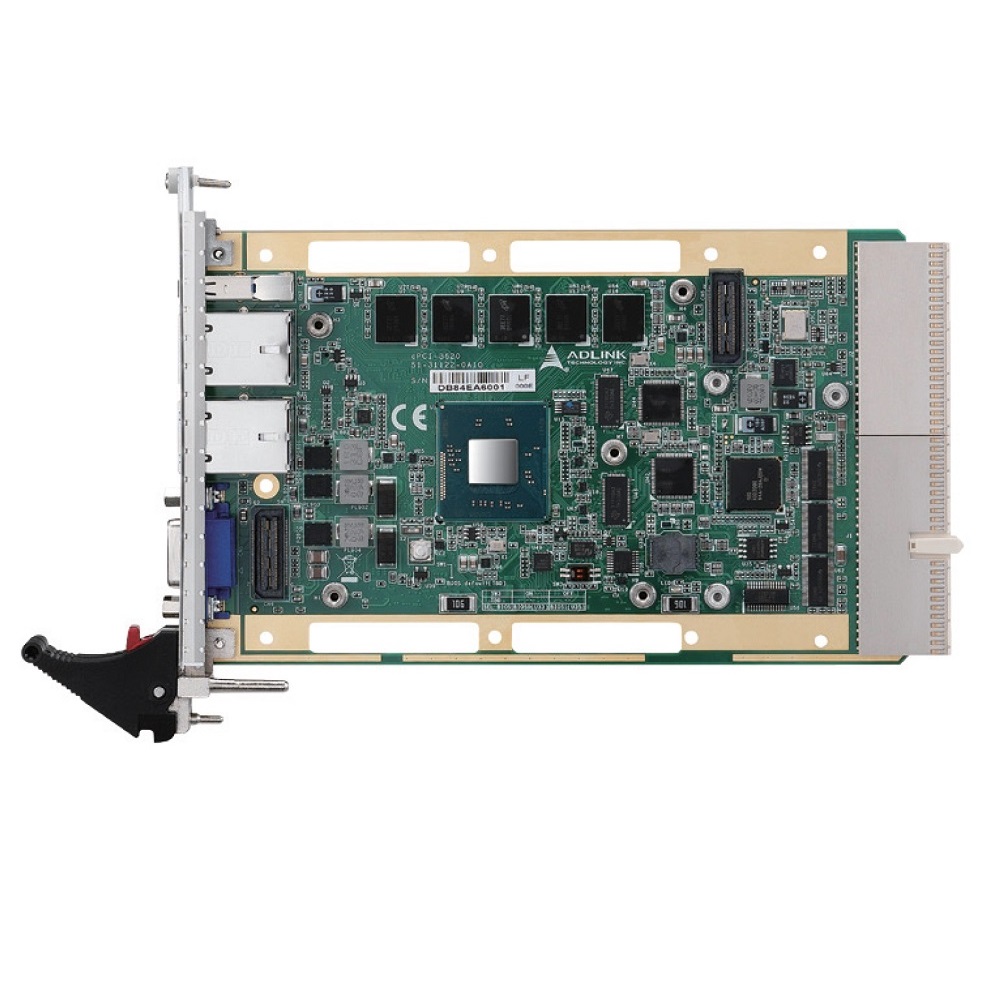 cPCI-3620 3U CPU board with extended temperature range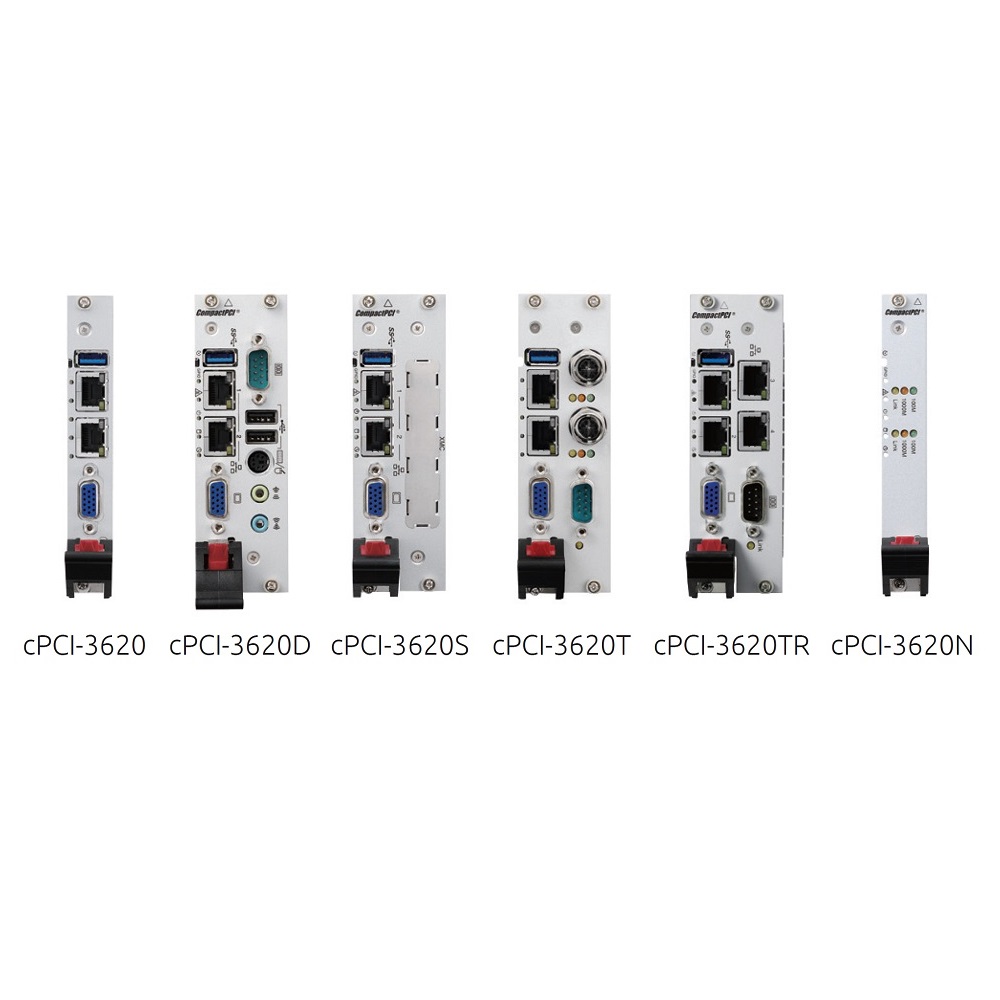 cPCI-3620 front panel view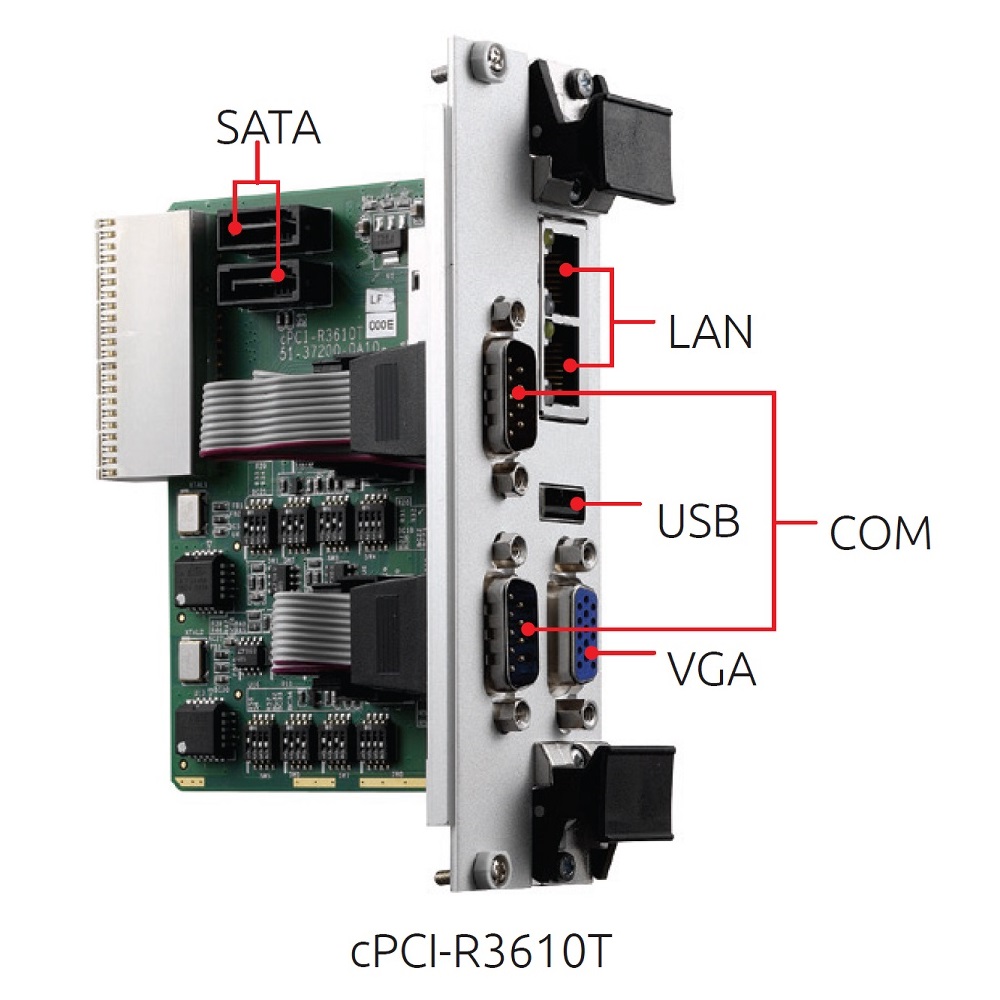 cPCI-R3610T rear transition module
cPCI-3620 3U CompactPCI Intel Atom Low Power CPU Board with VGA Graphics Interface and opt. PMC/XMC Slot
Intel Atom CPU board with up to four Gigabit Ethernet ports, VGA graphics Interface and opt. PMC/XMC slot. ADLINK's cPCI-3620 3U 4/8/12HP CompactPCI board with an Quad Core 1.9 GHz Intel Atom E3845 or a Dual Core 1.75 GHz Intel Atom E3827 has up to 4 GB DDR3L-1333 MHz soldered SDRAM .

The cPCI-3620 offers up to four Gigabit Ethernet ports, up to four USB ports, one VGA port, up to three RS-232 ports, a 32 GB SSD and one SATA port for a 2,5" HDD/SSD. Opt. one PS2 mouse/keyboard port, audio interfaces with line out and microphone input and one PMC/XMC site is available.

The cPCI-R3610T transition module has two Gigabit Ethernet ports, 2 RS-232 ports, one USB port, SATA port, and one VGA port.
ORDER NOW
Technical Description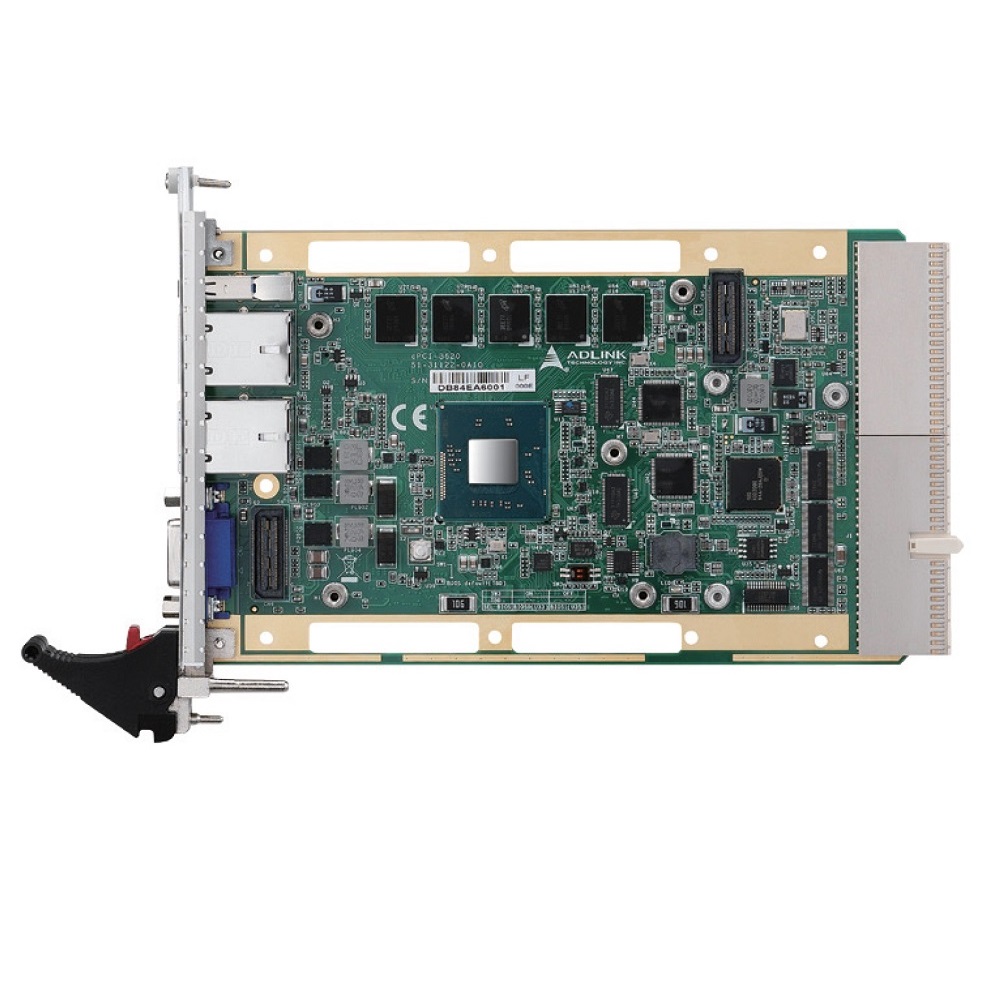 3U 4/8HP universal-slot CPU board, PICMG 2.0 R 3.0, PICMG 2.1 R 2.0 hot-swap, 32bit/33MHz cPCI bus interface, 3.3/5 Vio
Quad Core 1.9 GHz Intel Atom E3845 with 2 MB L3 cache
Dual Core 1.75 GHz Intel Atom E3827 with 1 MB L3 cache
Up to 4 GB DDR3L-1333 ECC SDRAM, soldered
VGA graphics integrated in CPU, front panel and rear I/O VGA connector
32 GB SSD
SATA port for a 2.5″ HDD
Opt. PMC/XMC slot, 32bit/66 MHz, XMC site with PCIe x1 link
Up to 4 Gigabit Ethernet ports, two front panel ports or via J2, opt. two M12 MIL-STD ports on the cPCI-3620T version, Intel I210, 82574L controller
Up to three RS-232 ports, two RS-232 ports via RTM, opt. one RS-232 port on the cPCI-3620D, cPCI-3620L and cPCI-3620T version
Up to four USB ports, one USB 3.0 front panel port and one USB 2.0 port via RTM, opt. 2 USB 2.0 ports on the cPCI-3620D version and opt. one USB 2.0 port on the cPCI-3620L version
Opt PS2 mouse/ keyboard front panel port on the cPCI-3620D version
Opt. transition module with connectors for 2 Gigabit Ethernet ports, 2 RS-232 ports, one USB 2.0 port, one SATA 3Gbit/s port, and one VGA port
Opt. Audio Mic-in and Line-out front panel ports on the cPCI-3620D version
AMI EFI BIOS with dual 64 Mbit SPI Flash memory
HW monitor and watchdog timer
In 2 environmental classes available: -40°C .. +85°C (with air flow) and -40°C .. +70°C (fanless)
2 years warranty
Order Information
3U/4HP CPCI Atom E3845 CPU board, 4GB RAM
3U/8HP CPCI Atom E3845 CPU board, 4GB RAM
3U/4HP CPCI Atom E3827 CPU board, 4GB RAM
3U/8HP CPCI Atom E3845 CPU board, 4GB RAM
3U/8HP CPCI Atom E3827 CPU board, 4GB RAM
8HP rear transition module for cPCI-3620, 50mm, 2 GbE ports, 2 RS-232 ports, USB, SATA, VGA
8HP rear transition module for cPCI-3620, 80mm, 2 GbE ports, 2 RS-232 ports, USB, SATA, VGA
Technical Documentation