cPCI-6530BL 6U CompactPCI Core i7 Gen. 5 CPU Board with up to 32 GB RAM and 3 independent Graphics Interfaces
Core i7 CPU Board with up to six Gigabit Ethernet Interfaces and up to 2 PMC/XMC Slots. ADLINK's cPCI-6530BL CPU board series based on Intel's Gen. 5 Core i7 processor. The board is available with an up to 3.4 GHz quad-core Intel Core i7 CPU. Up to 32 GB DDR3L-1600 ECC SDRAM are soldered and mounted on the board.

The cPCI-6530BL series offers up to two 64 bit/133 MHz PMC/XMC slot. The XMC slots support PCIe x8 Gen2. Furthermore up to six Gigabit Ethernet ports, up to three RS-232 ports, up to four SATA interfaces, up to 9 USB ports, one keyboard/mouse port, audio ports, one mSATA socket, one DVI-I port, one VGA, one eDP and opt. one more DVI graphics interfaces are available.

Two GbE ports, two PMC/XMC slots, one RS-232 port, 2 USB 3.0 ports, 1 USB 2.0 port, and 1 DVI-I front panel port. VGA, eDP, and one more DVI port via adapter cable.

Board Support Packages are available for Microsoft Windows 7 and 8 (32bit and 64bit), Red Hat Linux 6.4, and WindRiver VxWorks 6.9.
ORDER NOW
Technical Description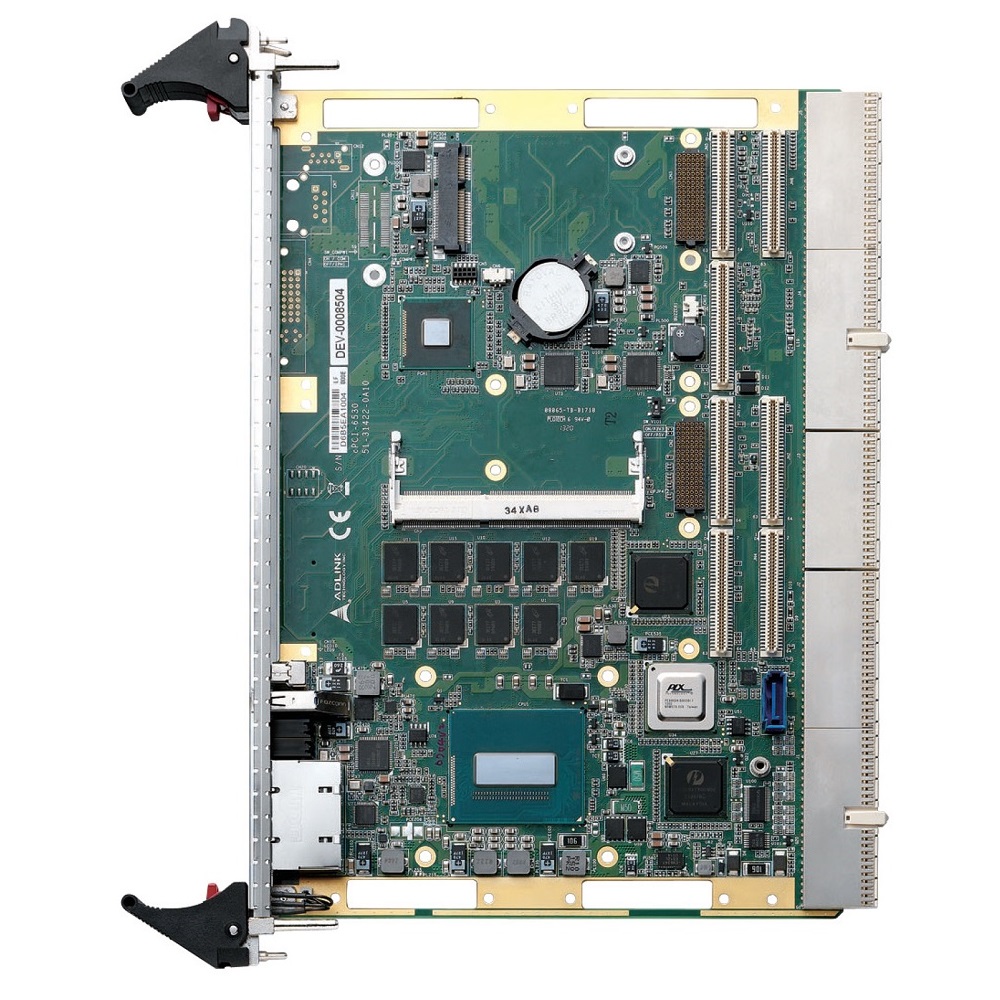 6U 4HP universal-slot CPU board, PICMG 2.0 R 3.0, PICMG 2.1 R 2.0, PICMG 2.9 R 1.0, PICMG 2.16 R 1.0, 64-bit/66 MHz cPCI bus interface, 3,3/5 Vio
Quad-Core 3.4 GHz Intel Core i7-5850EQ, 6MB L3 cache,
Quad-Core 3.4 GHz Intel Core i7-5700EQ, 6MB L3 cache
Up to 32 GB ECC 1600 MHz DDR3L SDRAM
Intel QM87 express chip set
Graphics integrated in CPU, 3 independent graphics interface channels ,1 DVI-I front panel port, one VGA, eDP, and DVI port via RTM, DirectX 11.2 and OpenGL 4.3 support
Additional graphics MXM with ATI or nVidia GPU supporting 2 DVI ports on RTM cPCI-R6500
Up to 6 Gigabit Ethernet ports, 2 front panel ports (one with iAMT support), 2 PICMG 2.16 rear IO ports on J3, opt. 2 Gigabit Ethernet port via RTM (cPCI-R6100 or cPCI-R6110), Intel I210 and Intel I217, opt. Intel 82576 EB
Up to 2 PMC/XMC sites, 64bit/133 MHz or PCIe x8 Gen2
Up to three RS-232 ports, 1 RS-232 front panel port and two rear IO ports
Up to 9 USB ports, up to two USB 3.0 and one USB 2.0 front panel ports, 6 USB 2.0 rear IO ports
Up to four SATA ports, 1 SATA 6Gbit/s port for onboard 2.5 HDD/SSD, up to 3 SATA ports via RTM
mSATA socket
CompactFlash and SD socket via RTM
Opt. CFast socket occupy 2.5″ HDD/SSD space
Intel High Definition audio via rear-I/O
PS/2 keyboard/mouse port via rear-I/O
AMI EFI BIOS with 8 MB SPI Flash
Watchdog and hardware monitor
In 2 environmental classes available: Extended grade (-20°C .. +70°C) and for the Core i7-4700EQ version (-40°C .. +85°C)
2 years warranty
Order Information
6U/4HP CompactPCI CPU board, Quad Core 3.4 GHz Core i7-5850EQ, 8 GB RAM, 1 PMC/XMC site, 2 GbE, 1 USB 2.0, 2 USB 3.0, 1 RS-232
6U/4HP CompactPCI CPU board, Quad Core 3.4 GHz Core i7-5700EQ, 8 GB RAM, 1 PMC/XMC site, 2 GbE, 1 USB 2.0, 2 USB 3.0, 1 RS-232
4HP Transition module with 2x GbE, 3x USB, 2x SATA, 2 RS-232, DVI-I
4HP Transition module with 4x GbE, 4x USB, 2x SATA, RS-232, DVI, VGA, PS/2, CF, SD socket
4HP Transition module with 2x GbE, 4x USB, 3x SATA, RS-232, DVI, VGA, PS/2, CF, SD socket
8HP Transition module with Nvidia GeForce GTX660M MM 3.0 module, DVI-I, DVI-D, USB 2.0, 2x GbE, RS-232/422/485, PS/2
CFast socket adapter board with screws
DisplayPort to DVI adapter
DisplayPort to VGA adapter
DisplayPort to HDMI adapter
Technical Documentation