CPCI-CPU/5201 Low Power 3U CompactPCI PowerPC CPU Board with CAN, Ethernet and USB
PowerPC MPC5121e CPU Board with CAN, Ethernet and USB. ESD electronics' CPCI-CPU/5201 CPU board is a 3U/4HP CompactPCI board with 400 MHz PowerPC MPC5121e CPU with e300 core, up to 760 MIPS and Floating Point Unit (FPU). The superscalar processor core comes with instruction and data MMU and integrated double-precision floating-point unit. The board was designed for cost sensitive applications with low power consumption and a long product availability. The board has 512 MB SDRAM, 128 MB NAND flash, 4MB NOR flash and opt. 512 KB MRAM.

The CPCI-CPU/5201 offers a high speed CAN interface on the front panel, a 10BASE-T/100BASE-Tx Ethernet front panel port and an RS-232 front panel port as well as flexible and fast storage options via a CompactFlash card and USB 2.0 port. Optional is one SDHC class 10 connector, up to 64 GB eMMC onboard memory and 32 GB NAND flash with ATA controller are available. Additionally up to two CAN and/or three RS‑232 interfaces can be provided via a 4HP enlargement at the front on request.

The flash memory carries the standard "U-Boot" program that enables the CPCI-CPU/5201 to boot various operating systems like real-time operating systems QNX and VxWorks from network or on-board flash. It also supports protocols such as CANopen, J1939 and ARINC 825 as well as an EtherCAT master stack.
ORDER NOW
Technical Description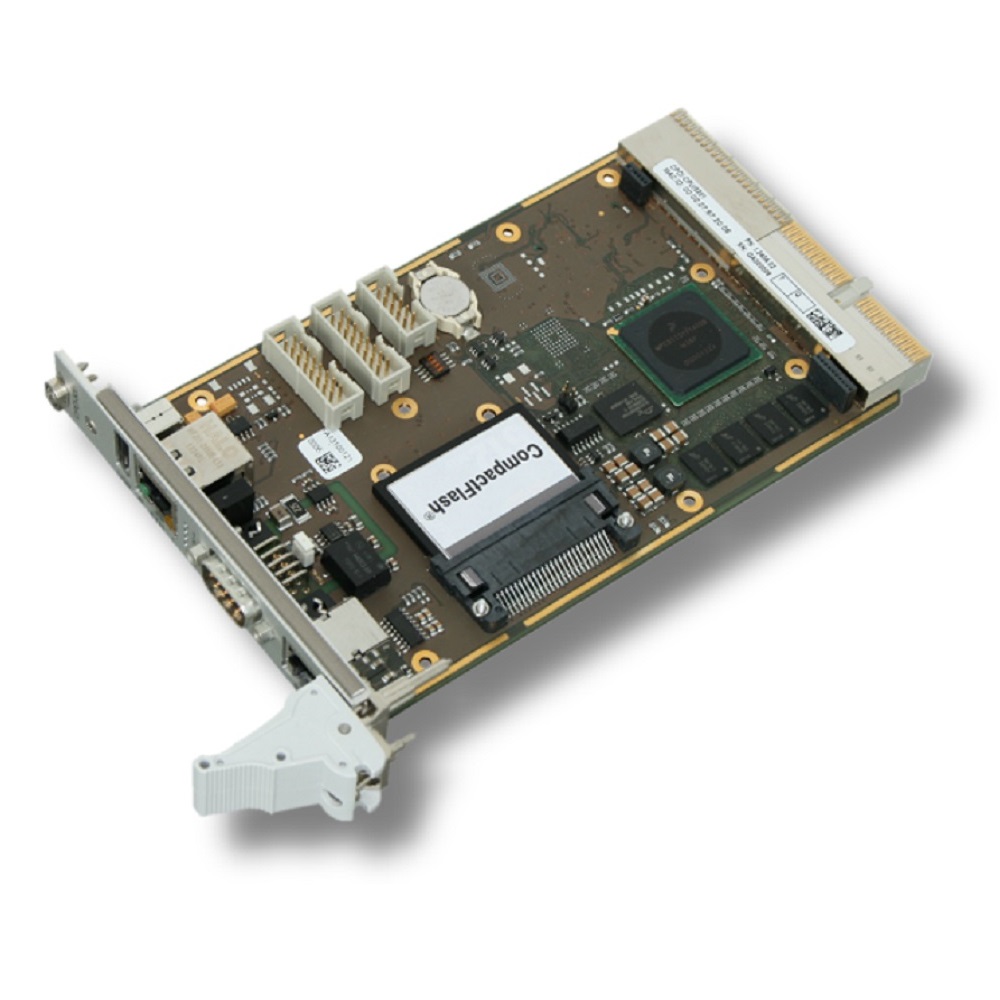 3U/4HP system slot CPU board, 32-bit 33/66 MHz cPCI bus interface, 3.3V
400 MHz / 760 MIPS PowerPC MPC5121e CPU with e300 core
512 MB DDR2-200 SDRAM
128 MB NAND and 4 MB NOR flash
Opt. 512 KB MRAM
One 1 Mbit/s CAN interface with D-SUB connector, ISO11898
CANopen, J1939 und ARINC 825 protocol available
One 10BASE-T/100BASE-Tx Ethernet front panel port
EtherCAT Master stack available
Opt. 32GB NAND flash with ATA controller
Opt. up to 64 GB eMMC onboard memory
CompactFlash connector
Opt. SDHC class 10 connector
One RS-232 front panel port
One USB 2.0 front panel port
Battery buffered real time clock
Max. 3W power consumption, 3.3V/5V 400mA/60mA power supply
0°C .. 55°C operating temperature range, opt. -40°C .. +75°C
2 years warranty
Order Information
3U CPU board, 400 MHz MPC5121e CPU
Technical Documentation