FP 210/024 24 or 22 Port Unmanaged Gigabit Ethernet Layer 2 Switch
6U VMEbus Gigabit Ethernet Layer 2 switch with 24 or 22 ports. 12 Gigabit Ethernet ports are available via P2. The front panel offers additional 12 RJ45 Gigabit Ethernet ports or 8 RJ45 Gigabit Ethernet ports and two SFP LC optical connectors. In addition, an RS-232 port is available to control switch management on the front panel. The configuration is maintained in flash EPROM.

CONCURRENT Technologies' FP 210/024 series offers auto-negotiation on all ports, an 8000 MAC address cache with automatic learning and aging, and full-duplex operation at 10/100/1000 Mbps and half-duplex operation at 10/100 Mbps.

Quality of Service (QoS) supports prioritized packet streams for management of voice, video, and data, as well as four hardware priority queues per port. The queues may have a fixed or a weighted fair priority. The QoS traffic classification is determined by Port ID, IEEE 802.1p multimedia traffic tags, and IPv6 traffic class.

The FP 210/024 series comes in five different environment classes from standard (0°C to 55°C), extended temperature (-25°C to +70°C), (-40°C to +85°C), ruggedized air-cooled (-40°C to +70°C) up to ruggedized conduction-cooled (-40°C to +85°C).
ORDER NOW
Technical Description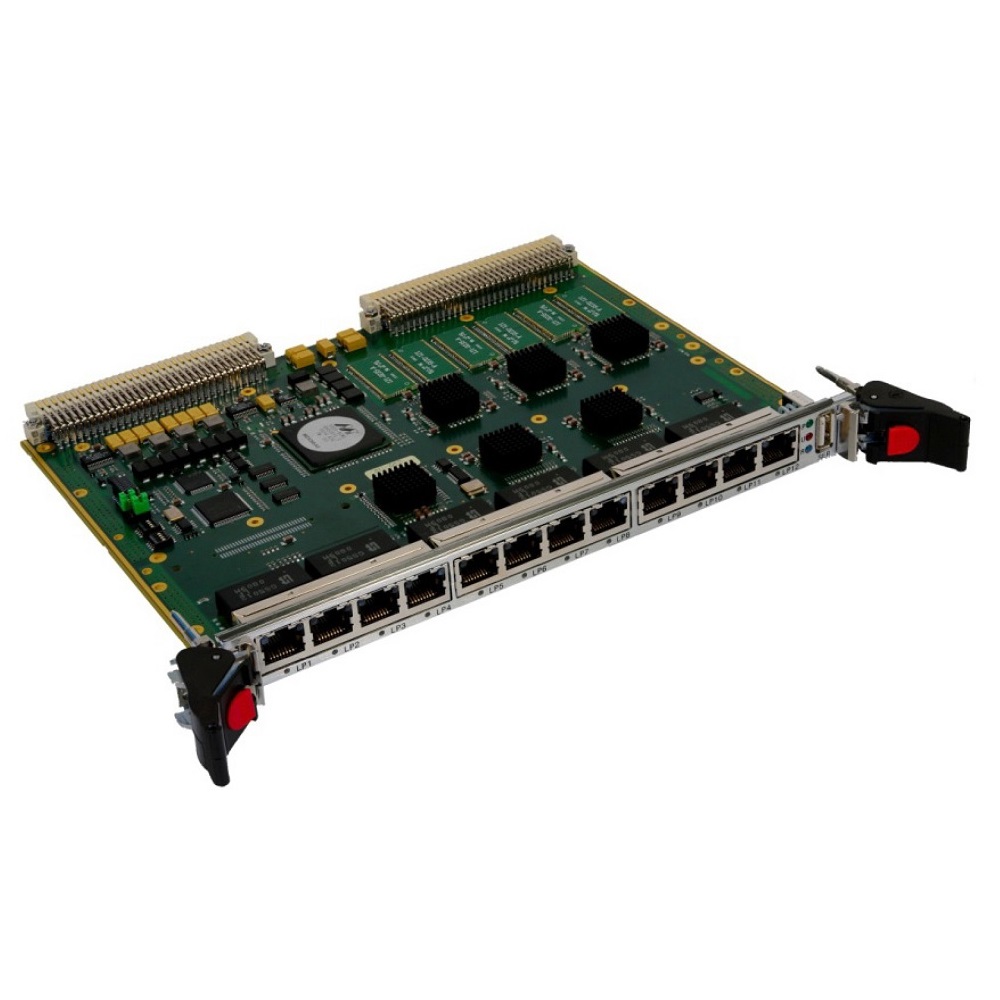 6U VMEbus switch, IEEE 802.1p compliant
24/22 port layer 2 Gigabit Ethernet switch
12 RJ45 front panel ports, opt. with magnetics or
8 RJ45 front panel ports and 2 SFP LC optical connectors on the front panel
12 Gigabit Ethernet ports via P2
8000 MAC address cache with automatic learning and aging
Auto-negotiation
Full and half duplex mode
One RS-232 front panel port for controlling switch management
Configuration maintained in flash EPROM
Quality of Service (QoS):

QoS supports prioritized packet streams for management of voice, video and data
4 hardware priority queues per port
Fixed priority or weighted fair queuQoS traffic classification, determined by:
port ID
IEEE 802.1p multimedia traffic tags
IPv6 Traffic Classing

In 5 environmental classes available: standard (0°C .. 55°C), extended grade (-25°C .. +70°C), (-40°C .. +85°C), ruggedized air-cooled (-40°C .. +70°C), and ruggedized conduction-cooled (-40°C .. +85°C)
2 years warranty
Order Information
24 Port GbE switch with 12 FP RJ45 ports and 12 ports via P2 with magnetics
24 Port GbE switch with 12 FP RJ45 ports and 12 ports via P2 without magnetics
22 Port GbE switch with 8 FP RJ45 ports, 2 SFP ports and 12 ports via P2 with magnetics
22 Port GbE switch with 8 FP RJ45 ports, 2 SFP ports and 12 ports via P2 without magnetics
-40°C .. +70°C, ruggedized air-cooled
-40°C .. +85°C, ruggedized conduction-cooled
Technical Documentation