FR 331/306 PCIe and Gigabit Ethernet OpenVPX Switch
The 3U VPX fabric switch providing a PCI Express x4 Gen1 or Gen 2 data plane (VITA 46.4) and a 1000BASE-BX Gigabit Ethernet control plane (VITA 46.6) per payload board. Concurrent Technologies VPX switch supports 6 payload boards. The front panel has one Gigabit Ethernet and one RS-232 port. The RS-232 port is also available via P1 and is for the switch configuration. The switch comes with a fabric switch configuration software to set up Ethernet and PCI Express features such as VLAN and non-transparent bridging.

The FR 331/306 is available in standard (0°C to 55°C) operating temperature range, extended temperature (-25°C to +70°C), and conduction-cooled (-40°C to +85°C).
ORDER NOW
Technical Description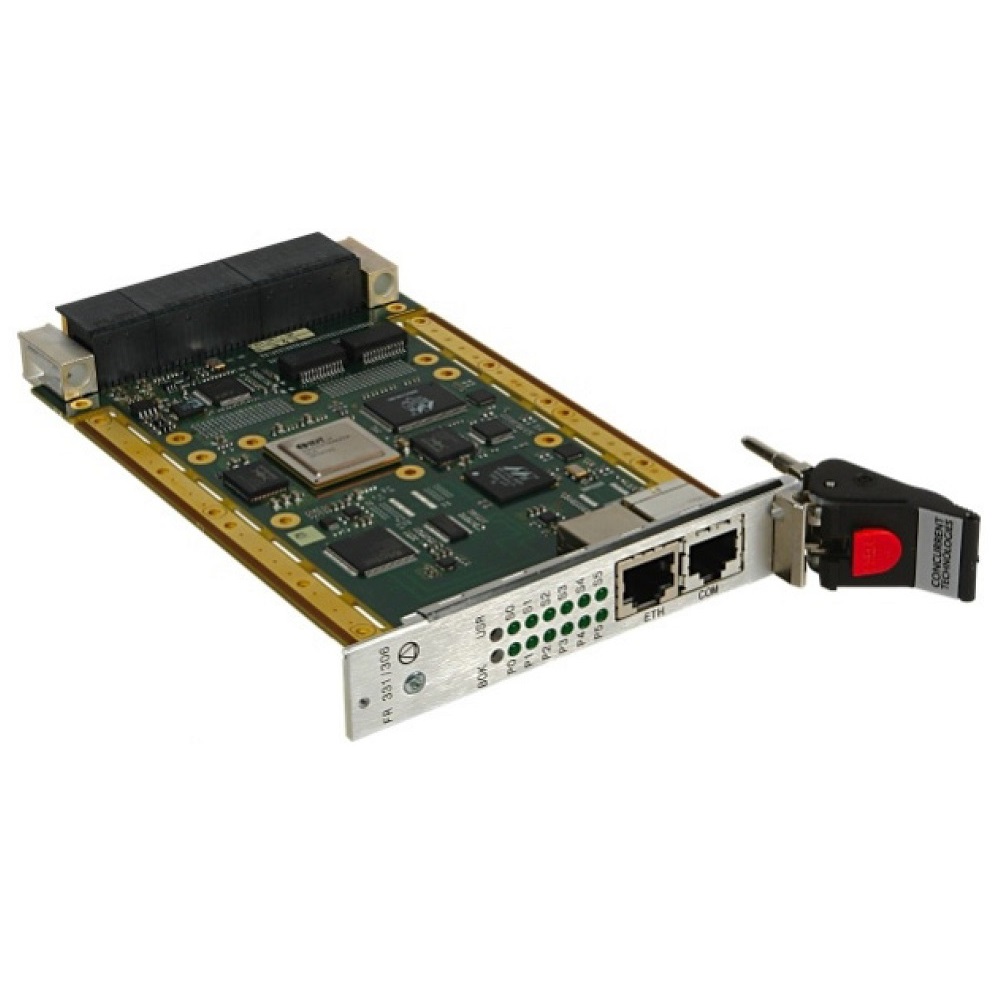 3U VPX switch, VITA 46.0, VITA 46.4, VITA 46.6, VITA 47, VITA 48.2 and OpenVPX VITA 65 compliant, IEEE 802.1  compliant

PCIe and GbE fabric switch

2 GbE ports, 1 front panel port and 1 port via P2

1 RS-232 front panel port or via P1 for switch configuration

Fabric Switch Configuration software

6 port VITA 46.4 data plane switch for PCIe fabric backplanes

6 port VITA 46.6 control plane switch for 1000BASE-BX backplanes

PCIe x4 links with Gen1 or Gen2

Transparent and non-transparent bridge functionality on each port

Two DMA engines

8K MAC address cache with automatic learning and aging

EEPROM storage for switch configuration data

System management interface

In 3 environmental classes available: standard (0°C .. 55°C), extended (-25°C .. +70°C), and conduction-cooled (-40°C .. +85°C)

2 years warranty
Order Information
6 port GbE/PCIe Gen 2 fabric switch, 0°C .. 55°C, 0,8-inch slot, VITA 46.0
6 port GbE/PCIe Gen 2 fabric switch, 0°C .. 55°C, 1-inch slot, VITA 46.0
6 port GbE/PCIe Gen 2 fabric switch, 0°C .. 55°C, 1-inch slot, VITA 65
6 port GbE/PCIe Gen 2 fabric switch, -25°C .. +70°C, 0,8-inch slot, VITA 46.0
6 port GbE/PCIe Gen 2 fabric switch, -25°C .. +70°C, 1-inch slot, VITA 46.0
6 port GbE/PCIe Gen 2 fabric switch, -25°C .. +70°C, 1-inch slot, VITA 65
6 port GbE/PCIe Gen 2 fabric switch, -40°C .. +85°C, conduction-cooled VPX-REDI type 1: 0,85-inch slot
6 port GbE/PCIe Gen 2 fabric switch, -40°C .. +85°C, conduction-cooled VPX-REDI type 2: 0,8-inch slot
Technical Documentation