FR 341/x06 PCIe and Gigabit Ethernet OpenVPX Switch
The 3U VPX fabric switch providing a PCI Express x4 Gen1, Gen2 or Gen3 data plane (VITA 46.4) and a 1000BASE-BX Gigabit Ethernet control plane (VITA 46.6) per payload board. The Concurrent Technologies switch supports 6 payload boards. The front panel has one Gigabit Ethernet and one USB 2.0 port or XMC front IO. The USB port is also available via P1 and is for the switch configuration. The two switches and other board setup configurations can be configure via USB or via Ethernet. USB provides the configuration with a serial console via command line. Ethernet offers the configuration with web browser menus via HTML interface.

The FR 341/x06 is VITA 42.3, VITA 46.0, VITA 46.4, VITA 46.6, VITA 47, VITA 48.0, VITA 48.1, VITA 48.2, and OpenVPX VITA 65 compliant.

The board is available in standard (0°C to 55°C) operating temperature range, extended temperature (-25°C to +70°C), and conduction-cooled (-40°C to +85°C).
ORDER NOW
Technical Description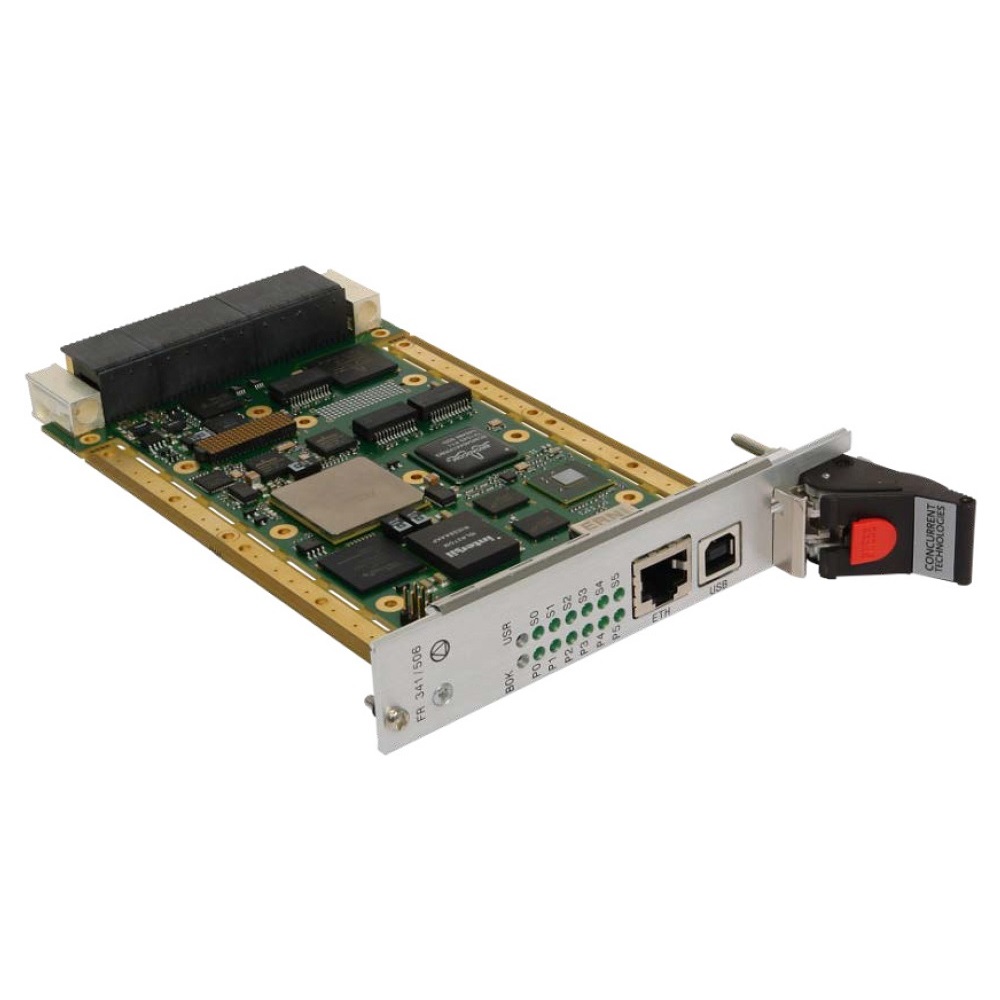 3U VPX switch, VITA 42.3, VITA 46.0, VITA 46.4, VITA 46.6, VITA 47, VITA 48.0, VITA 48.1, VITA 48.2 und OpenVPX VITA 65 and OpenVPX VITA 65 compliant, IEEE 802.1 and IEEE 1101.10 compliant

PCIe and GbE fabric switch for 6 payload boards

OpenVPX (VITA 65) backplane profile:
BKP3-CEN07-15.2.3-1
BKP3-CEN07-15.2.3-2
OpenVPX module profile:
MOD3-SWH-6F6U-16.4.1-2
MOD3-SWH-6F6U-16.4.1-3

OpenVPX slot profile: SLT3-SWH-6F6U-14.4.1

Opt. XMC slot with front or rear-IO, 1x PCIe x8 or 2x PCIe x4 Gen3, VITA 42.3

Up to 3 GbE ports:
1 port via P2 and opt. 1 front panel port or
1 port via P2 and opt. 2 ports via XMC Pn6

1 USB 2.0 port via P1 or opt. via front panel provides serial console with command line to configure the two switches and other board setup options

Web browser interface, configuration menus via Ethernet: HTML-Interface provides web browser menus to configure the two switches and other board setup options

6 port VITA 46.4 data plane switch for PCIe fabric backplanes

6 port VITA 46.6 control plane switch for 1000BASE-BX backplanes

PCIe x4 links with Gen1, Gen2 or Gen3

Transparent, virtual switch and fabric mode

Integrated DMA engine

EEPROM storage for switch configuration data

System management interface

In 3 environmental classes available: standard (0°C .. 55°C), extended (-25°C .. +70°C), and conduction-cooled (-40°C .. +85°C)

2 years warranty
Order Information
6 port GbE/PCIe Gen 3 fabric switch, 0°C .. 55°C, 0,8-inch slot, VITA 46.0
6 port GbE/PCIe Gen 3 fabric switch, 0°C .. 55°C, 1-inch slot, VITA 46.0
6 port GbE/PCIe Gen 3 fabric switch, 0°C .. 55°C, 1-inch slot, VITA 65
6 port GbE/PCIe Gen 3 fabric switch, -25°C .. +70°C, 0,8-inch slot, VITA 46.0
6 port GbE/PCIe Gen 3 fabric switch, -25°C .. +70°C, 1-inch slot, VITA 46.0
6 port GbE/PCIe Gen 3 fabric switch, -25°C .. +70°C, 1-inch slot, VITA 65
6 port GbE/PCIe Gen 3 fabric switch, conduction-cooled, -40 .. +85°C, VPX-REDI type 1: 0,85-inch slot
6 port GbE/PCIe Gen 3 fabric switch, conduction-cooled, -40 .. +85°C, VPX-REDI type 2: 0,8-inch slot
Front-I/O with 1x USB and 1x GbE
XMC site, onboard 2 GbE ports on Pn6
Technical Documentation