FR 351/m06 10Gigabit Ethernet and Gigabit Ethernet OpenVPX Switch
The 3U VPX fabric switch providing a 10Gigabit Ethernet 10GBASE-KX4, 10GBASE-KR or 10GBASE-BX4 data plane (VITA 46.7) and a 1000BASE-BX Gigabit Ethernet control plane (VITA 46.6) per payload board. The Concurrent Technologies switch supports 6 payload boards. The front panel has two 10Gigabit Ethernet SFP+ ports, one Gigabit Ethernet and one USB 2.0 port. The USB port is also available via P1 and is for the switch configuration. The two switches and other board setup configurations can be configure via USB or via Ethernet (GbE front panel port and 10/100Mbps port with onboard magnetics via P2). USB provides the configuration with a serial console via command line. Ethernet offers the configuration with web browser menus via HTML interface.

The FR 351/m06 is VITA 46.0, VITA 46.6, VITA 46.7, VITA 46.11, VITA 47, VITA 48.0, VITA 48.1, VITA 48.2 and OpenVPX VITA 65 compliant.

The board is available in standard (0°C to 55°C) operating temperature range, extended temperature (-25°C to +70°C), and conduction-cooled (-40°C to +85°C).

The product is end of life. The FR 351/m06 can still be ordered until December 15th, 2022. If you have any questions, please contact us.
ORDER NOW
Technical Description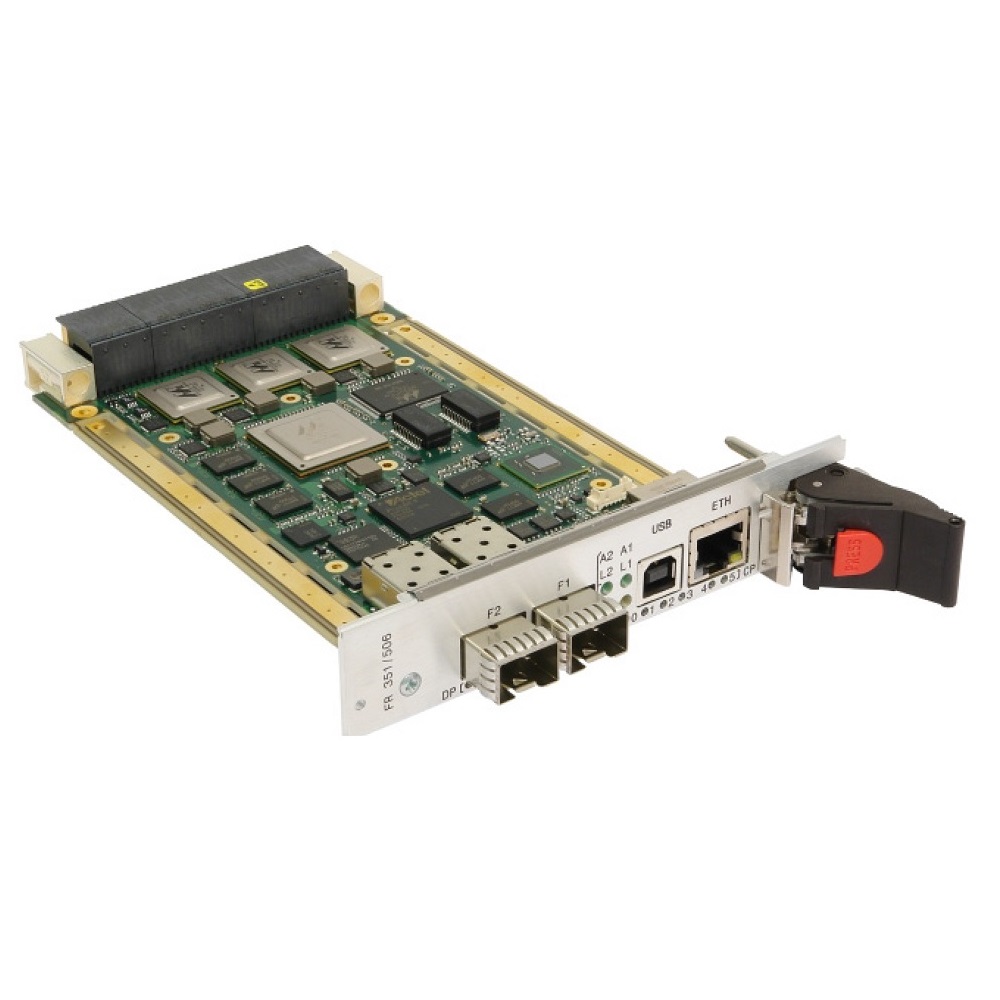 3U VPX switch, VITA 46.0, VITA 46.6, VITA 46.7, VITA 46.11, VITA 47, VITA 48.0, VITA 48.1, VITA 48.2 and OpenVPX VITA 65 compliant, IEEE 802.1 and IEEE 1101.10 compliant
1

0Gigabit Ethernet and GbE fabric switch for 6 payload boards

OpenVPX (VITA 65) backplane profile:
BKP3-CEN07-15.2.3-3
OpenVPX module profile:
MOD3-SWH-6F6U-16.4.1-4
MOD3-SWH-6F6U-16.4.1-5

OpenVPX slot profile: SLT3-SWH-6F6U-14.4.1

Two 10GbE SFP+ front panel ports, one GbE front panel port and one 10/100Mbps port with onboard magnetics via P2

1 USB 2.0 front panel port or via P1, provides serial console with command line to configure the two switches and other board setup options

Web browser interface, configuration menus via Ethernet: HTML-Interface provides web browser menus to configure the two switches and other board setup options

80 Gbps 8 port 10Gigabit Ethernet switch: 6 10GBASE-KX4, 10GBASE-KR or 10GBASE-BX4 ports for data plane (VITA 46.7) and two front panel ports

8 port Gigabit Ethernet switch with full line rate IEEE 802.1: 6 1000BASE-BX ports for control plane (VITA 46.6), one GbE front panel port and one 10/100Mbps port via P2

EEPROM storage for switch configuration data

System management interface with VITA 46.11 management

In 3 environmental classes available: standard (0°C .. 55°C), extended (-25°C .. +70°C), and conduction-cooled (-40°C .. +85°C)

2 years warranty
Order Information
6 port 10GbE/GbE fabric switch, 0°C .. 55°C, 1-inch slot, VITA 46.0
6 port 10GbE/GbE fabric switch, 0°C .. 55°C, 1-inch slot, VITA 65
6 port 10GbE/GbE fabric switch, -25°C .. +70°C, 1-inch slot, VITA 46.0
6 port 10GbE/GbE fabric switch, -25°C .. +70°C, 1-inch slot, VITA 65
6 port 10GbE/GbE fabric switch, conduction-cooled, -40 .. +85°C, VPX-REDI type 1: 0,85-inch slot
6 port 10GbE/GbE fabric switch, conduction-cooled, -40 .. +85°C, VPX-REDI type 2: 0,8-inch slot
Technical Documentation