IC-FEP-VPX3a 3U VPX Board with Xilinx Virtex-5 Processor and FMC Site
The 3U 4HP VPX board is equipped with an user configurable Xilinx Virtex-5 FPGA and an FMC slot. The Xilinx Virtex-5 SX95T FPGA of the INTERFACE CONCEPTs IC-FEP-VPX3 is configured by a serial flash and is programmable during process. The in-circuit debugging option is available via JTAG header for read back and real time debugging (ChipScope).

256 MB DDR2 SDRAM and opt. up to 8 MB QDR-II SRAM are available for pre-processing. I/O processing is handled on a separate VITA 57 FMC module that plugs into the FPGA base board. A variety of these external I/O cards offer an interface for your analogue and digital I/O signals.

The fabric links of the backplane allow data rates of 2,5 Gbps or 3,125 Gbps per lane depending on the typ of the interface (PCIe or Aurora-SRIO available thanks to specific IP). In addition two Ethernet 1000BASE-KX ports are available on the backplane.
ORDER NOW
Technical Description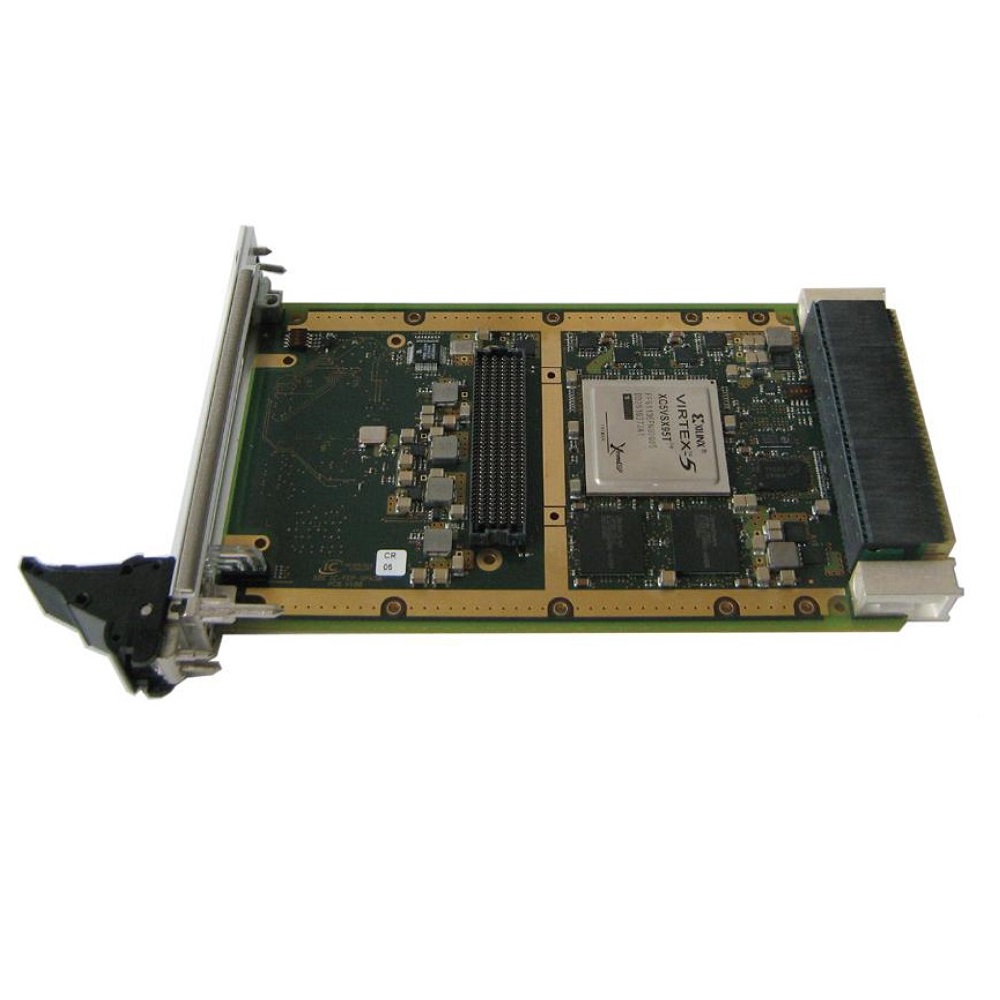 3U/4HP VPX CPU board, VITA 46.0, VITA 57.1 conform

Xilinix Virtex-5 XC5VSX95T with 640 DSP slices, 14.720 Virtex-5 slices and 244 BlockRAM, opt. FX70T or FX100T Virtex-5 FPGA

One FMC site, VITA 57.1

256 MB DDR2 RAM

Opt. 2 QDR2 banks with up to 8MB RAM

16MB flash

32MB SPI flash

2,5 Gb/s or 3.125 Gb/s data rate per lane, depending on the type of the interface (PCIe or SRIO)

Opt. PIC µ-controller for system management

24 GPIOs on P2, 8 single-ended IOs and 16 Differential pairs

One RS-232 port via P1

2 GTP x1 links usable as 2 1000BASE-KX ports

One PCIe x4 port

Two GTP x4 ports

In 3 environmental classes available: standard (0°C .. 55°C), extended (-20°C .. +65°C), and conduction-cooled (-40°C .. +75°C)

2 years warranty
Order Information
3U/4HP VPX board, Virtex-5 XC5VSX95T, FMC site, VITA 57.1
3U/4HP VPX board, Virtex-5 FX70T, FMC site, VITA 57.1
3U/4HP VPX board, Virtex-5 FX100T, FMC site, VITA 57.1
Quad 16bit 135/200 Ms/s ADC
Technical Documentation