IC-GRA-XMCc GPGPU with 6 independent Graphic Controller
High performance graphic controller based on the AMD Radeon E8860 processor. The graphic controller combined 768 GLFOPs floating point performance and a large temperature range with a long term availability. The Radeon E8860 chipset is full compatible to OpenCL 1.2 and DirectX 11.1. 2 GB GDDR5 RAM enables a resolution of up to 4096 x 2160 pixel at 30 Hz.

Interface Concept's IC-GRA-XMCc has six independent display interfaces including RGB, single-/dual-link DVI, single-/dual-link LVDS, HDMI 1.4a and DisplayPort 1.1a/1.2. Additionally to the standard VGA interface the IC-GRA-XMCc offers a TV encoder with Composite or S-Video interface and a Stanag 3350B/C compliant interface. The board supports PAL and NTSC colour video standards.

Drivers are available for Linux and Windows.
ORDER NOW
Technical Description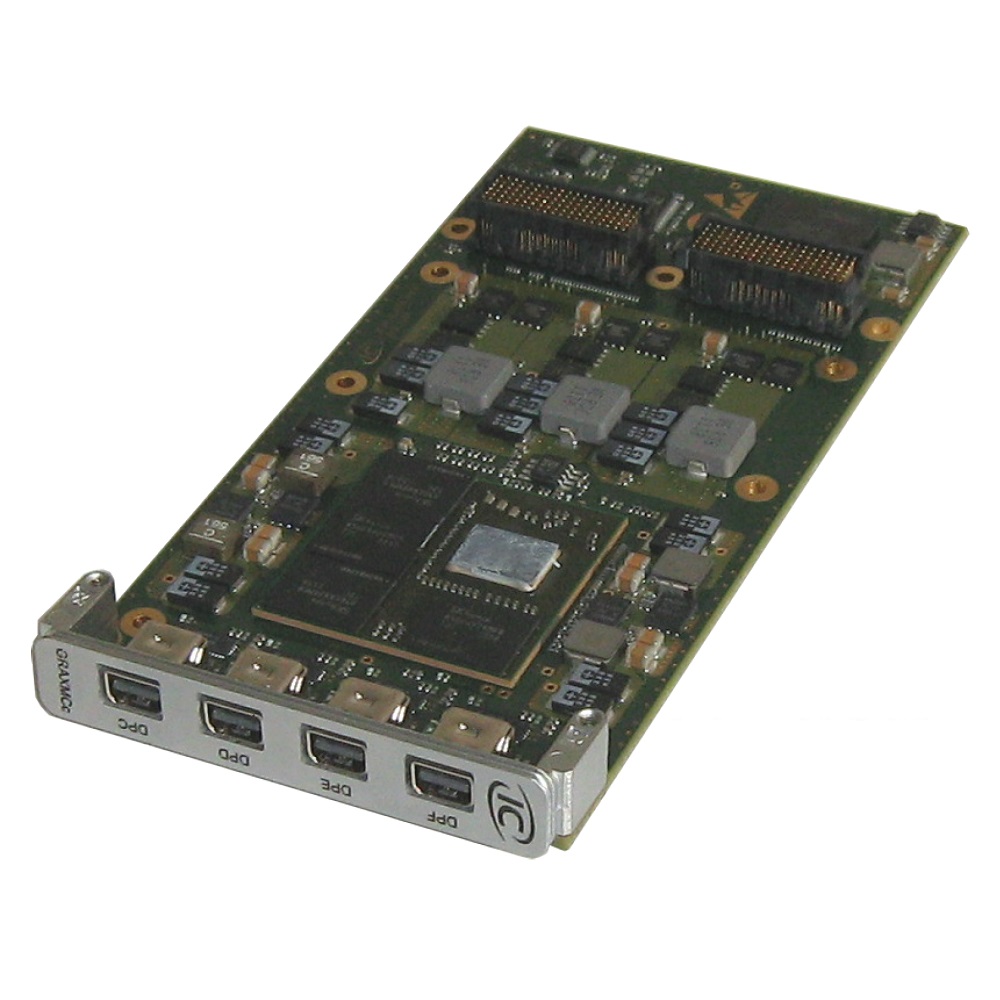 XMC module, 32 bit/66MHz PCI interface, IEEE P1386.1 and PCI 2.2 compliant

AMD Radeon E8860 GPU with DirectX 11.1 and OpenCL 1.2 support

2 GB 1 GHz 128 bit GDDR5 SDRAM

768 GFLOPs floating point performance

6 independent Display outputs via Pn6

Configuration:
VGA + 5 DisplayPorts
Single-Link DVI + 5 DisplayPorts
VGA + Single-Link DVI + DisplayPorts
2 Single-Link DVI + 4 DisplayPorts
1 Dual-Link DVI + 4 DisplayPorts
One VGA port configuration:
RGB,
STANAG3350B/C,
Composite or S-Video (NTSC/PAL)

Resolution up to 4096 x 2160 at 30Hz

Opt. 4 Mini DisplayPorts on the front panel

Auto-negotiation

PCIe 2.1 (x8 lanes on Pn5)

-40°C .. +85°C operating temperature range

Max. 40W power consumption

2 years warranty
Order Information
Technical Documentation