MVME2500/2502 Low Cost VMEbus CPU-Board with QorIQ P2020 and P2010 Processor for Harsh Environments
Freescale QorlQ P2010 processor with 800 MHz e500 core or Freescale QorlQ P2020 processor with two 1.0 GHz e500 cores or Freescale QorlQ P2020 processor with two 1.2 GHz e500 cores. The QorIQ processor has 512KB L2 cache. Up to 2 GB DDR3 800 MHz are soldered on the board. In addition 16 MB SPI flash is available.

The MVME2500 offers one PMC/XMC site and the MVME2502 offers 2 PMC/XMC sites. The board has also three Gigabit Ethernet ports, one USB 2.0 port, five serial ports, one SDHC flash slot, and opt. one SSD. The MVME2500 family is available with IEEE handles or standard handles.

The MVME2500 family uses the U-Boot firmware which provides power-on self-test, initialization and operating system booting capabilities. It is based on the 2009.08 patched U-Boot provided by Freescale.

The MVME2500 family is a perfect migration path for the PowerQUICC processor boards (MVME3100 and MVME4100), as well as the G4 processor boards (MVME5100 and MVME5110) and has only 28W power consumption with the Dual Core CPU. That's why the MVME2500 family provides an unbeatable cost-performance ratio.

Board support packages for VxWorks, Linux, QNX, and Integrity are available.
ORDER NOW
Technical Description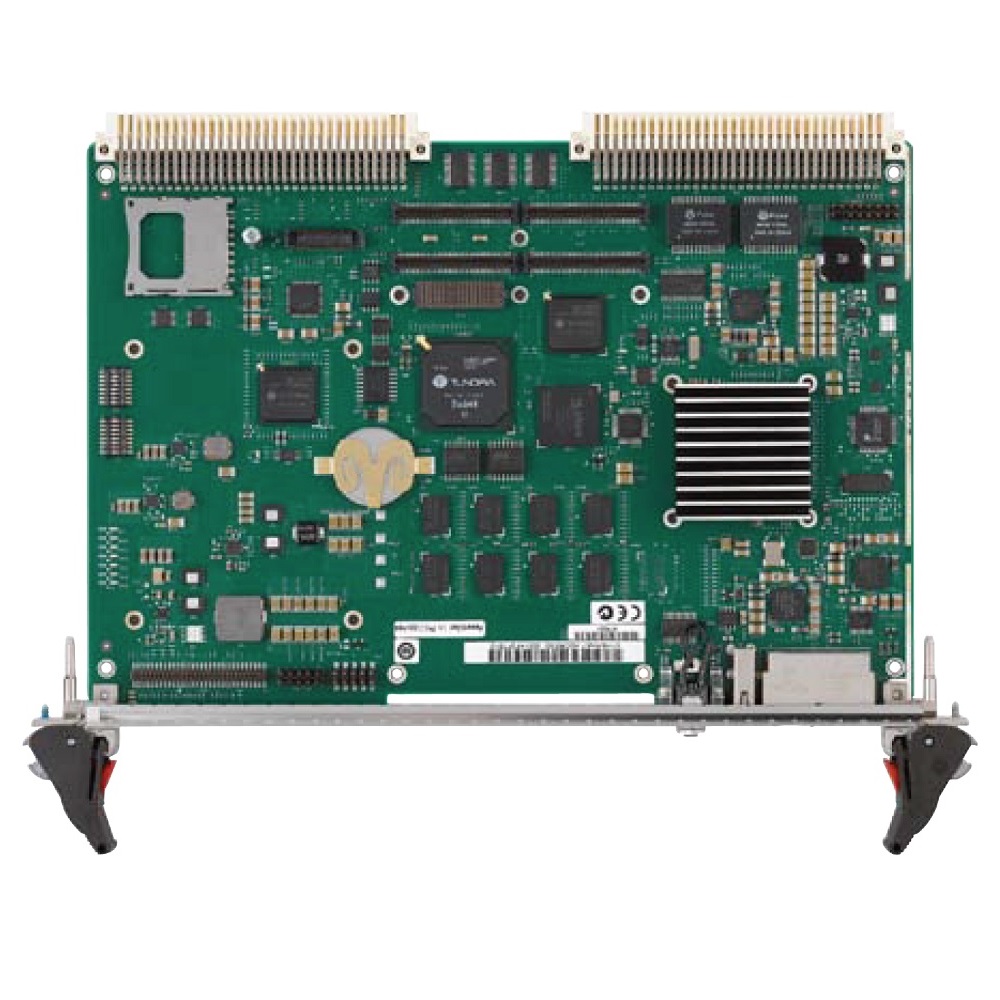 6U/4HP VMEbus board
800 MHz Freescale QorlQ P2010 CPU with one e500 core,
1.0 GHz Freescale QorlQ P2020 CPU with two e500 cores,
1.2 GHz Freescale QorlQ P2020 CPU with two e500 cores
Up to 2 GB 800 MHz DDR3 RAM, soldered
8 GB eMMC flash on the MVME2502
SDHC slot
512 KB MRAM
16 MB SPI flash
Up to 2 PMC/XMC sites
Three Gigabit Ethernet ports, 1 front panel port, 1 rear port, and 1 front panel or rear port, selectable
One serial Micro-DB9 front panel port
Front USB 2.0 interface
Four RS-232 ports
U-Boot firmware
2eSST VMEbus interface
Real time clock and watchdog timer
In 2 environmental classes available: standard 0°C .. 55°C and extended grade -40°C .. +71°C
2 years warranty, opt. extendable to 5 years
Order Information
VMEbus CPU board QorIQ P2010 800MHz, 1GB DRAM, standard handles
VMEbus CPU board QorIQ P2010 800MHz, 1GB DRAM, IEEE handles
VMEbus CPU board QorIQ P2020 1200MHz, 2GB DRAM, standard handles
VMEbus CPU board QorIQ P2020 1200MHz, 2GB DRAM, IEEE handles
VMEbus CPU board QorIQ P2010 800MHz, 1GB DRAM, IEEE handles, -40°C .. +71°C
VMEbus CPU board QorIQ P2020 1200MHz, 2GB DRAM, standard handles, -40°C .. +71°C
VMEbus CPU board QorIQ P2020 1200MHz, 2GB DRAM, IEEE handles, -40°C .. +71°C
VMEbus CPU board QorIQ P2020 1.2GHz, 2GB DRAM, 2 PMC/XMC slots, IEEE handles
VMEbus CPU board QorIQ P2020 1.2GHz, 2GB DRAM, 2 PMC/XM slots, standard handles
VMEbus CPU board QorIQ P2020 1.0GHz, 2GB DRAM, 2 PMC/XMC slots, IEEE handles, -40°C .. +71°C
VMEbus CPU board QorIQ P2020 1.0GHz, 2GB DRAM, 2 PMC/XMC slots, standard handles, -40°C .. +71°C
Transition module, I/O via 5 rowP2, 2xGbE, 4 serial, PIM
Transition module, I/O via 5 rowP2, 2xGbE, 4 serial, PIM, -40°C .. +71°C
Transition module, I/O via 5 rowP2, 2xGbE, 4 serial, PIM, -40°C .. +71°C, scanbe handles
Serial cable Micro D sub connector to standard DB9
Technical Documentation