MVME7100 VMEbus CPU Board with Dual Core 1.3 GHz MPC8641D Processor
The MVME7100 gets its performance from one MPC8641D 1.3 GHz PowerPC with two processor e600 cores. The MPC8641D CPU offers 32/32 KB L1, and 1 MB L2 cache for each core. The MVME7100 is available with 1 GB or 2 GB ECC DDR2-600 RAM and provides four 10/100/1000BastTX Gigabit Ethernet interfaces. For applications and operation systems 128 MB Flash are offered onboard. 2 GB user flash memory is optionally available.

The boards offers PMC-X slots for two 64-bit/100 MHz PMC modules. The PMC-X slots are connected via four lanes to a four port PCIe switch. The PCIe x8 lane from the PCIe switch to the MPC8641D processor ensures optimal I/O performance.
The MVME7100 is available with IEEE handles and standard handles.

Board support packages for LINUX, OS-9 and VxWorks are available.

The MVME7100 can be combined with the transition module MVME721A which offers two additional Gigabit Ethernet interfaces, and four RS-232 interfaces.
ORDER NOW
Technical Description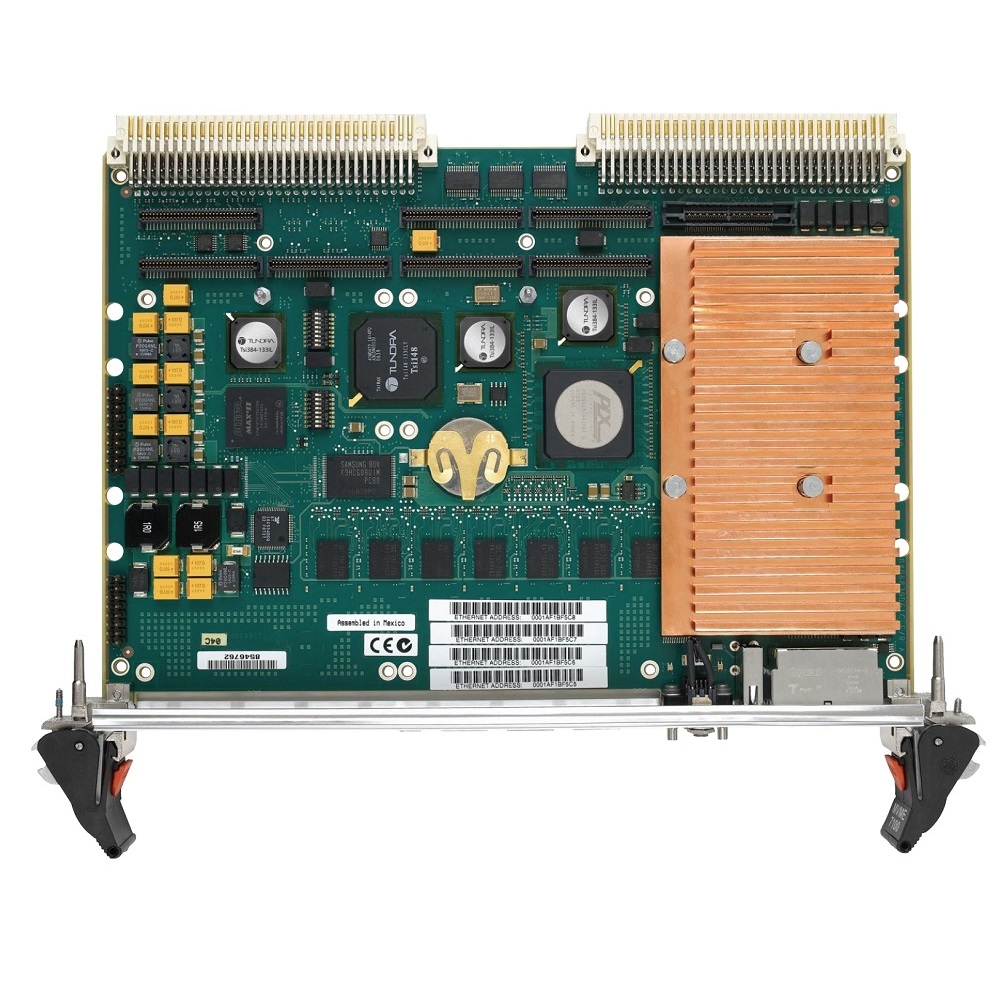 Dual core 1.3 GHz MPC8641D PowerPC, 6U/4HP VMEbus board
32KB/32KB L1 cache, 1 MB L2 cache
1 GB or 2 GB DDR2-600 ECC RAM
128 MB firmware flash and 2 GB user flash
512 MB MRAM
2 PMC-X sites for 33/66/100 MHz 3.3/5Vio PMC expansion cards, IEEE P1386.1 compliant, front panel, or P2 I/O and processor PMC support
MVME721A transition module
Four RJ-45 interfaces
Two 10/100/1000BaseTX interfaces
8 KB VPD SEEPROM
Front USB interface
PCIe x8 PMCspan expansion connector
Five 16550 comp. asyn. ser. interfaces (MPC8641D, ST16C554D)
Four 10/100/1000BaseTX Gigabit Ethernet ports
A16/A24/A32 : D8/D16/D32/D64, SCT, BLT, MBLT, 2eVME, 2eSST and UAT VMEbus master/slave interface with system controller functions, IRQ handler/generator IRQ1-7, Tundra Tsi148 VME/2eSST-to-PCI-X bridge
In 2 environmental classes available: standard 0°C .. 55°C and extended grade -40°C .. +71°C
2 years warranty, opt. extendable to 5 years
Order Information
1 GHz MPC8641D processor, 1 GB ECC DDR2 RAM, 2 GB flash, standard handles
1 GHz MPC8641D processor, 1 GB ECC DDR2 RAM, 2 GB flash, IEEE handles
1.3 GHz MPC8641D processor, 2 GB ECC DDR2 RAM, 2 GB flash, standard handles
1.3 GHz MPC8641D processor, 2 GB ECC DDR2 RAM, 2 GB flash, IEEE handles
1 GHz MPC8641D processor, 1 GB ECC DDR2 RAM, 2 GB flash, standard handles, -40°C .. +71°C
1.3 GHz MPC8641D processor, 2 GB ECC DDR2 RAM, 2 GB flash, IEEE handles, -40°C .. +71°C
VMEbus expansion board for 2 XMC Sites, IEEE handles
Technical Documentation