MVME8100 Rugged Conduction-cooled VMEbus CPU Board with QorIQ P5020 Processor and VXS Interface
Freescale P5020 QorIQ processor with 1.8/2.0 GHz. The board provides 512 KB FRAM, 8 GB eMMC NAND Flash, 16 MB SPI ROM and up to 8 GB ECC DDR3-1333 RAM. Standard 0°C .. +55°C and conduction-cooled -40°C .. +85°C versions are available.

The MVME8100 offers two PMC/XMC slots, up to five Gigabit Ethernet ports, one Micro DB9 port, three USB 2.0 ports, one SATA Port, four GPIO ports, up to 2 PCI x4 links, up to 2 SRIO x4 links and up to 4 RS-232/422/485 ports. The MVME8100 is available with IEEE handles and standard handles.

Bard Support Packages for WindRiver VxWorks, Linux, Green Hills Integrity and Hypervison are available.

The MVME8100 can be combined with the transition module VXS-RTM1 which offers two additional USB 2.0, two serial interfaces (RJ-45 or DB9), two Gigabit Ethernet and one SATA interface. A PIM-module can be used via PMC slot 1.

The product is end of life. If you have any questions, please contact us.
ORDER NOW
Technical Description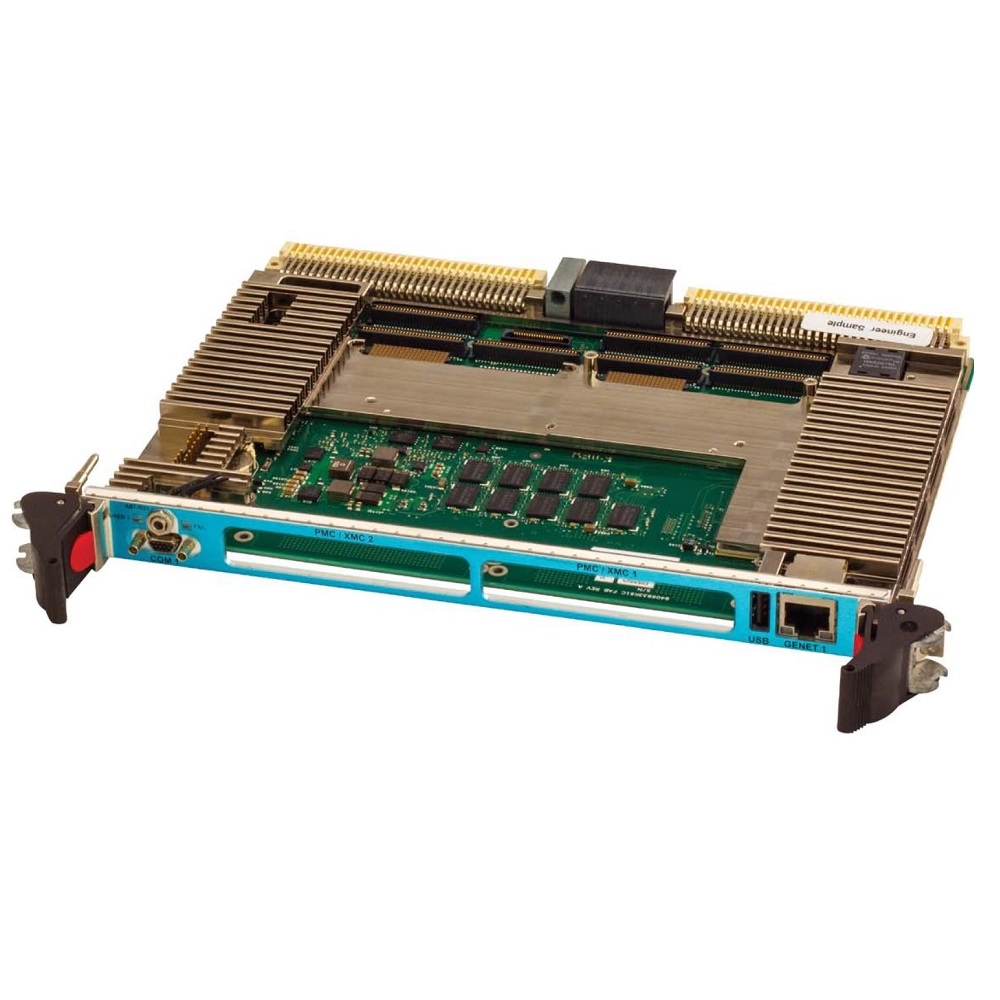 6U/4HP VMEbus board with VXS interface, VME64x, VITA 1.5 2eSST, VITA 39 XMC, VITA 41.0, 41.2, 41.4, 41.6 VXS compliant
1.8/2.0 GHz Freescale P5020 QorIQ processor
Up to 8 GB DDR3-1333 ECC RAM, soldered
16 MB SPI ROM
512 KB FRAM
8 GB eMMC NAND flash with SD/MMC interface
Two PMC/XMC slots
Opt. 2,5″ SATA HDD/SSD occupies PMC slot 1
Up to five Gigabit Ethernet ports
One Micro DB9 front panel port
Three USB ports, one USB 2.0 front panel port
One SATA port via P0
4 GPIO ports
Up to 2 PCIe x4 VITA 41.4 links via P0
Up to 2 SRIO x4 VITA 41.2 links via P0
3 or 4 RS232/422/485 ports via P2
Watchdog and real time clock
UBoot firmware
WindRiver VxWorks, Linux, Green Hills Integrity and Hypervisor Board Support packages
In 4 environmental classes available: standard 0°C .. 55°C, extended grade -40°C .. +71°C, conduction-cooled -40°C .. +71°C and conduction-cooled -40°C .. +85°C
2 years warranty, opt. extendable to 5 years
Order Information
VME/VXS CPU board, 2 GHz P5020, 4 GB RAM, 2 PMC/XMC slots, standard handles, 0°C .. +55°C
VME/VXS CPU board, 2 GHz P5020, 4 GB RAM, 2 PMC/XMC slots, IEEE handles, 0°C .. +55°C
VME/VXS CPU board, 1.8 GHz P5020, 4 GB RAM, 2 PMC/XMC slots, CC version
64GB SSD and mounting kit
Technical Documentation