PP F84/m3d 6U CompactPCI Core i3 Gen 9 CPU Board with 16 GB RAM, 4 GbE Ports and 2 PMC/XMC Slots
Core i3 6U CompactPCI CPU board with 4 GbE ports and two PMC/XMC slots. The board provides a 4-core 1.6 GHz Core i3-9100HL processor with 16GB soldered ECC DDR4 SDRAM.

The Concurrent Technologies PP F84/m3d offers two 32/64-bit 33/66/100 MHz PMC/XMC slots. The XMC slots support PCIe x8. In addition, the board has 4 GbE, one RS-232, one USB 2.0 and one M.2 SSD slot. On the front panel, there are two GbE, one RS-232 and one USB 2.0 port as well as the two PMC/XMC slots.

The board supports Linux.
ORDER NOW
Technical Description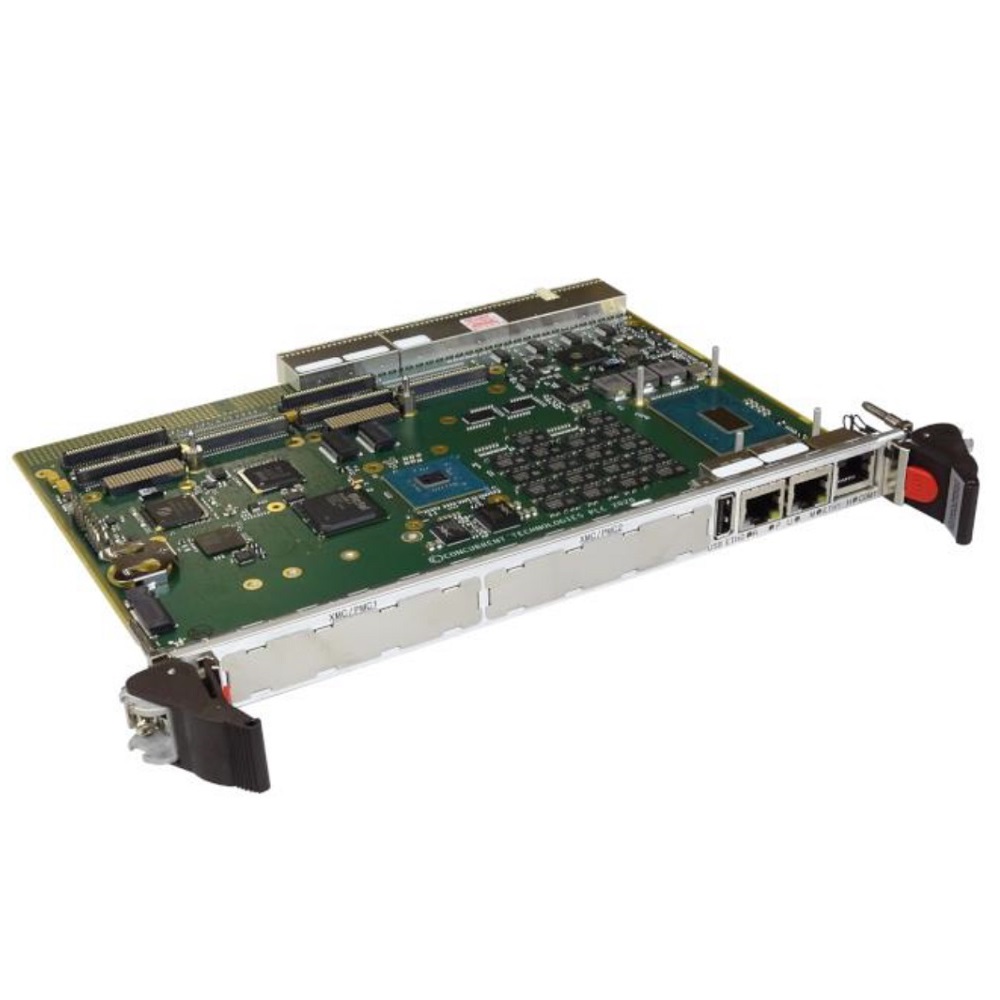 6U 4HP universal slot CPU board, PICMG 2.0 R3.0, PICMG 2.1 R2.0, PICMG 2.9 R1.0, 32/64-bit/33/66 MHz cPCI bus interface
Opt. satellite mode
4-core 1.6 GHz Intel Core i3-9100HL CPU, 6 MB cache
16GB ECC DDR4 SDRAM
Intel CM246 Controller
2 BIOS SPI Flash EPROMs
2 PMC/XMC slots, 32/64-bit, 33/66/100 MHz, 3.3/5Vio, front I/O, XMC slot with PCIe x8 Gen1 and Gen2 (and opt. Gen 3) port
Four GbE ports, 2 front panel ports, 2 PICMG 2.16 R1.0 ports via J3, Intel i350-AM4 controller
One RS-232 front panel port with Tx/Rx signal lines
M.2 SSD slot: 2230, 2242, 2260 and 2280 module formats supported, PCIe x4 interface (M-key), NVM Express (NVMe) logical interface, NVMe 1.3 compatible
Two Gigabit Ethernet ports, one RS-232 port, one USB 2.0 port and two PMC/XMC slots on the front panel
UEFI 2.7 BIOS with Secure Boot, LAN Boot Firmware, Intel Boot Guard
Watchdog timer, real-time clock and 32-bit counter
Trusted Platform Module (TPM 2.0)
0°C … 55°C operating temperature range
2 years warranty
Order Information
6U CPCI CPU Board, 4 Core 1.6 GHz Core i3-9100HL
Technical Documentation