PR A11/61d-RCx conduction cooled 3U VPX Position, Navigation and Timing Board
3U conduction cooled VPX plug-in card for high accuracy and resilient position, navigation and timing applications with a 4-core 1.8 GHz ARM v8 A72 processor with secure boot and up to 8 GB soldered DDR4 ECC SDRAM for management and configuration. The board has an integrated GNSS receiver module for common SAT systems, high accuracy time synchronization (Chip Scale Atomic Clock) and a built-in inertial measurement unit.

The Concurrent Technologies PR A11/61d-RCx offers two 10GBase-KR ports with IEEE802.1AS Precise Time Protocol (PTP), which enables synchronization of systems to within 100ns of each other and Network Time Protocol (NTP) to enable synchronization to within 1ms or better. In addition, a maintenance port with Command Line Interface (CLI) is available for easy user configuration on P1.

The board is aligned with the SOSA (Sensor Open Systems Architecture) technical standard to be suitable for future electronic warfare and cyber security applications. The SOSA (Sensor Open Systems Architecture) consortium is a voluntary, consensus-based membership consortium of the Open Group, a vendor-neutral technology standards organization that develops an open technical standard for sensors.

ORDER NOW
Technical Description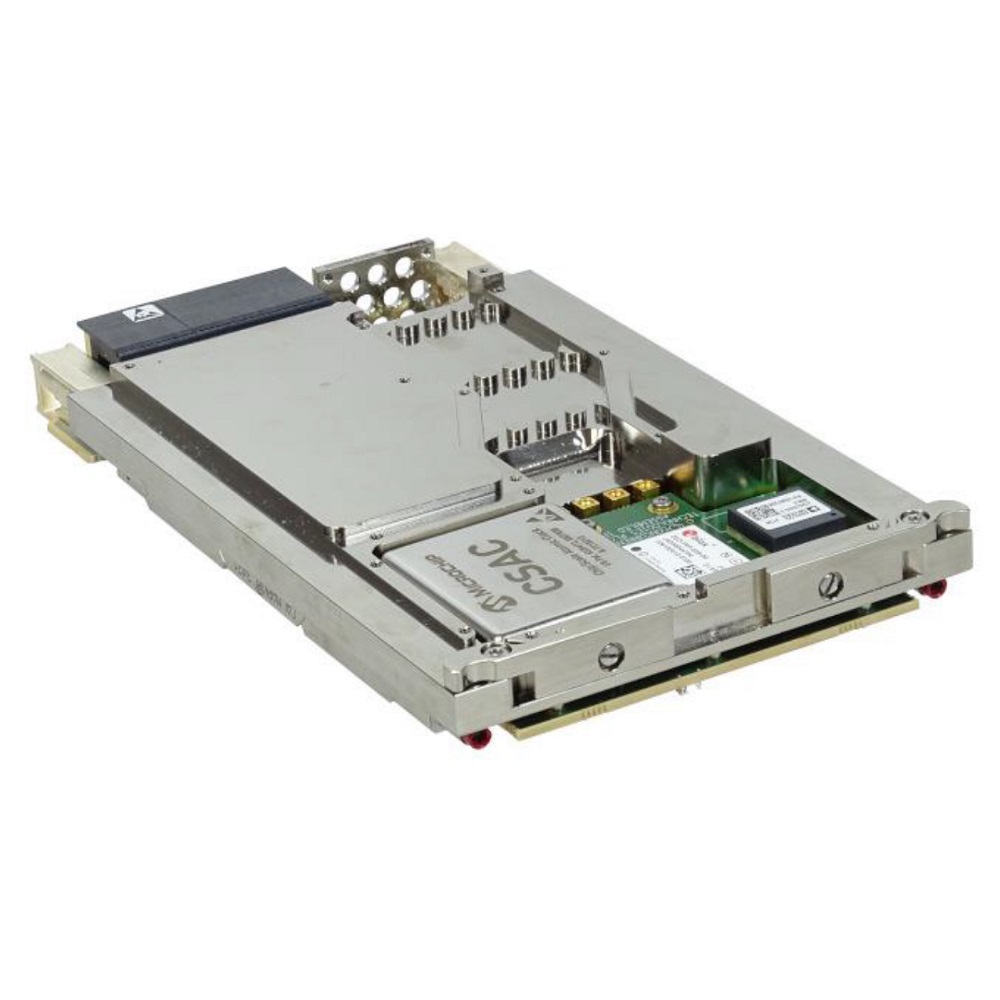 3U/4HP VPX board, VITA 46.0, VITA 46.11, VITA 47, VITA 48.0, VITA 48.2, VITA 67.3 and OpenVPX compliant
SLT3x-TIM-2S1U22S1U2U1H-14.9.2-1 slot profile,
MOD3x-TIM-2S1U22S1U2U1H-16.9.2-2 module profile
4-core 1.8 GHz ARM v8 A72 CPU
Up to 8 GB ECC DDR4 SDRAM, soldered
GNSS receiver with configurable satellite constellation tracking: GPS: L1C/A, L2C, GLONASS: L1OF, L2OF, Beidou: B1I, B2I, Galileo: E1B/C, E5B, QZSS: L1C/A, L1S, L2C, SBAS: L1C/A, configurable mode SBAS, RTK and 100Hz measurement output
Chip Scale Atomic Clock with 10,0 MHz frequency, 1PPS output for synchronization, ±5,0E-11 accuracy at shipment, 9,0E-10 /mo aging rate and 1.5E-11 @1000s short term stability
Inertial Measurement Unit with 3-axis accelerometer, 3-axis gyrometer and optional odometer integration
Timing signals with LVDS radial clocks (P1), 11 differential REF clocks, 11 differential AUX clocks, RF Timing (VITA 67.3 aperture 2 10 SMPM contacts), one GNSS antenna, AUX CLK in/out and REF CLK in/out
Two 10GbE 10GBase-KR ports via P1
1 Maintenance port with Command Line Interface (CLI) via P1
IEEE802.1AS Precise Time Protocol (PTP), Network Time Protocol (NTP) and Secure Boot
System management with CPU temperature and voltage monitoring and IPMC onboard controller via SM0-1 and SM2-3
Conduction cooled, -40°C … +85°C operating temperature range
2 years warranty
Order Information
3U VPX timing board, 4-core ARM CPU, 8GB RAM
Technical Documentation