RackPak/V5-1.4Dev 3U Development Chassis with 5 VPX Slots
VPX development systems with five front and five rear 3U slots with 1.4" pitch. powerBridge Computers RackPak/V5-1.4Dev has a VPX and OpenVPX backplane with 100G technology as well as cooling from below and above. The conduction and convection slot cooling options can be swapped in under 2min by a user.

The system offers a comprehensive stand-alone monitoring solution with voltage, current and fan tachometer sensors as well as a graphical display to show sensor data in real time, user access to all sensors via I2C interface, controllable fan speed from the front panel and opt. VPX-ready chassis manager. The chassis manager is plugged from the rear. In addition the system has a shelf manager.

The system has an AC on/off switch at the back to de-energize the entire chassis and a DC on/off switch at the front to disable VPX slots' power.
ORDER NOW
Technical Description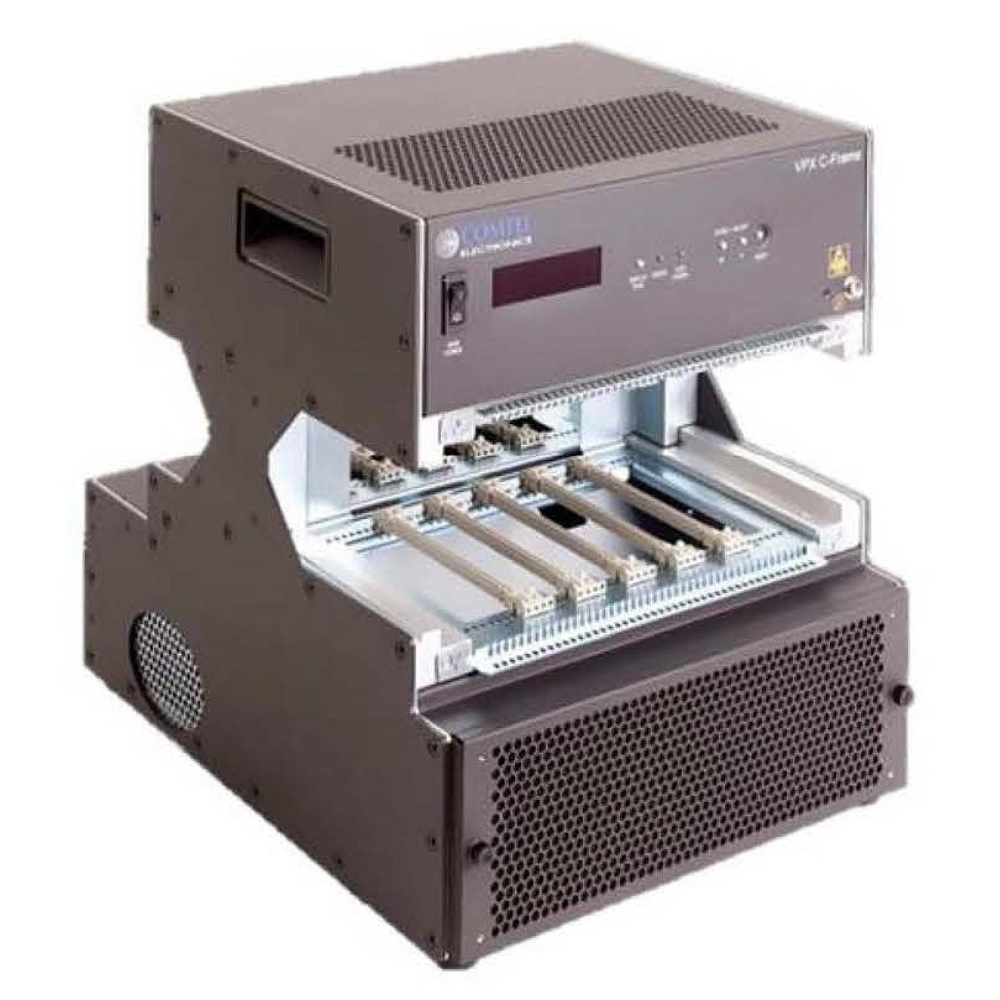 Development system for 3U VPX boards

5 front 3U board slots with 1.4″ pitch

5 RTM slots with 1.4″ pitch

Conduction and convection slot cooling options, convertible in under 2min by a user

Push-pull cooling with 2 lower and 2 upper fans

VPX and OpenVPX backplanes with 100G air-/-plane technology

1150W AC power supply, 19A/5V, 40A/5V, 40A/3.3V

Comprehensive stand-alone monitoring solution

Voltage sensors

Current sensors

Fan tachometer sensors

Graphical display to show sensor data in real time

User access to all sensors via I2C interface

Fan speed controllable from the front panel

Opt. VPX ready chassis manager based on Pigeon Point Systems SHMM700 module or SAMway SMW4A002 module

Chassis manager pluggable from the rear, 3U VPX form factor

Shelf manager high reliability bussed IPMB shared among all slots

AC on/off switch at the back to de-energize the entire chassis

DC on/off switch at the front to disable VPX slots' power

Side handles for carrying

Ribbon feet for secure position on a desk

2 years warranty
Order Information
5 Slot 3U VPX development system
Technical Documentation