SY TR2/525 5 Slot 3U VPX System with installed Intel Xeon CPU-Board and 10Gigabit Ethernet
VPX development system with five 3U VPX slots and integrated Intel Xeon processor board. It has one payload slot and four slots for I/O boards. There is a fat pipe data plane connection between system controller slot (slot 3) and each peripheral slot. The chassis has an included VITA 46.11 chassis manager and is suitable for applications in transportation and defence.

CONCURRENT Technologies' SY TR2/525 with PCIe x4 Gen3 data plane is available in two different versions. The SY TR2/525-31 version comes with installed 8 core 2.0 GHz Intel Xeon D-1548 CPU board TR C48/582-15 with 32GB RAM. The SY TR2/525-32 version provides the TR G4C/543-15 CPU board with 12 core 1.5 GHz Intel Xeon D-1559 processor and 64GB RAM.

Additional in all versions the 64GB SATA AD 231/104-22 flash module, the AD EN1/103-10 front panel module, the AD TR1/511-10 rear transition module, and a 300W power supply are mounted. The front panel module provides a 1Gigabit Ethernet port, a USB 3.0 and a USB 2.0 port via USB type A connector, a VGA interface via a supplied connection cable and up to 3 RS-232 (Tx/Rx) or 1 RS-232 full-modem port available via the connection cable. The RTM features two 10Gigabit Ethernet ports and two USB 2.0 ports as well as two onboard SATA600, one onboard RS-232 and four onboard GPIO connectors.

The SY TR2/525 can be extended with the opt. XMC carrier module TR XMC/511 and the FIN-S software.

The system supports Linux, Windows and VxWorks.
ORDER NOW
Technical Description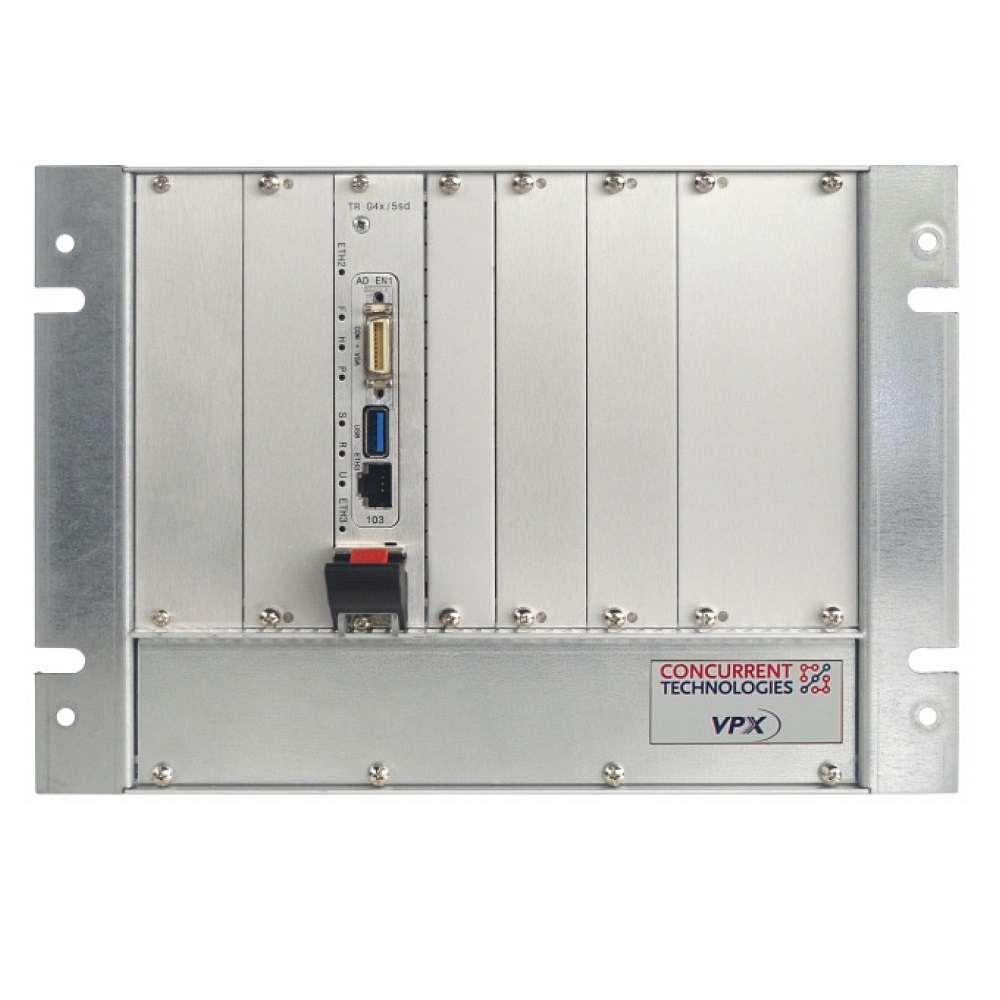 Development system for 3U VPX boards

Backplane with five 3U VPX slots

1 payload slot (SLT3-PAY-2U4F)

4 I/O board slots (SLT3-PER-1F)

PCIe Gen 3 data plane:

SY TR2/525-31: TR C48/582-15 with 8-Core 2.0 GHz Intel Xeon D-1548 processor, 32 GB RAM

SY TR2/525-32: TR G4C/543-15 with 12-Core 1.5 GHz Intel Xeon D-1559 processor, 64 GB RAM

64GB SATA flash module AD 231/104-22

Rear transition module AD TR1/511-10 with two 10Gigabit Ethernet SFP+ and two USB 2.0 ports, two onboard SATA600, one onboard RS-232 and four onboard GPIO connectors

Front panel I/O module AD EN1/103-10 with one 1Gigabit Ethernet port, one USB 3.0 and one USB 2.0 port via USB type A connector, one VGA interface via supplied connector cable and up to 3 RS-232 (Tx/Rx) or 1 RS-232 full modem port via connector cable

Opt. XMC carrier (TR XMC/511)

Opt. Fabric Interconnect Networking Software (FIN-S)

VITA 46.11 chassis manager

Fat Pipe data plane connection between system controller slot (slot 3) and each peripheral slot

5HP (1.0-inch) backplane slot pitch supports 0.8-inch and 1.0-inch

300W power unit

Cooling from bottom to the top of the system

5 .. 40°C operating temperature range

2 years warranty
Order Information
5 slot 3U VPX development system (PCIe Gen3 data plane)
5 slot 3U VPX development system (PCIe Gen3 data plane) with TR_C48/582-15 8-Core 2.0 GHz Intel Xeon D-1548 CPU, 32 GB RAM, AD 231/104-22 64GB SATA flash module, AD TR1/511-10 RTM and AD EN1/103-10 front panel I/O module
5 slot 3U VPX development system (PCIe Gen3 data plane) with TR_G4C/543-15 12-Core 1.5 GHz Intel Xeon D-1559 CPU, 64 GB RAM, AD 231/104-22 64GB SATA flash module, AD TR1/511-10 RTM and AD EN1/103-10 front panel I/O module
3U VPX PMC/XMC carrier board with VITA 42.0 connector, 5V VPWR
3U VPX PMC/XMC carrier board with VITA 42.0 connector, 12V VPWR
3U VPX PMC/XMC carrier board with VITA 61 connector, 5V VPWR
3U VPX PMC/XMC carrier board with VITA 61 connector, 12V VPWR
Fabric interconnect networking software (FIN-S)
Technical Documentation