TMPE627 Reconfigurable FPGA with AD/DA and Digital I/Os
PCI Express mini card providing a user programmable Xilinx Artix-7 XC7A50T-2 FPGA. The TEWS Technologies TMPE627 provides 14 ESD-protected 5 V-tolerant TTL lines. All I/O lines are individually programmable as input or output. The TTL I/O lines can be set to high, low, or tristate. Each TTL I/O line has a pull-resistor to a common programmable pull-up voltage that can be set so +3.3 V, +5 V and GND.
The 16 bit ADC offers 4 input channels that can be software configured to operate in single-ended or differential mode. It offers software selectable input voltage ranges of 0-5.12 V, 0-10 V, 0-10.24 V, ±5 V, ±5.12 V, ±10 V and ±10.24 V with a sampling rate of up to 200 ksps.
The DAC offers 4 channels of 16 bit analogue outputs with software selectable output voltage ranges of 0-5 V, 0-10 V, 0-10.8 V, ±5 V, ±10 V or ±10.8 V. The output voltage range can be individually set per channel. The conversion time is typ. 10 μs and the DAC outputs are capable to drive a load of 2 kΩ, with a capacitance up to 4000 pF.

The FPGA is configured by a SPI flash. An in-circuit debugging option is available via a JTAG header for read back and real-time debugging of the FPGA design.

Each TMPE627 is factory calibrated. The calibration information is stored in an on-board serial EEPROM unique to each TMPE627 module. The I/O signals of the TMPE627 are accessible through a 30 pin Pico-Clasp latching connector.

User applications for the TMPE627 with 7A50T FPGA can be developed using the design software Vivado Design Suite HL WebPACK Edition, which can be downloaded free of charge from www.xilinx.com.

Integrity, VxWorks, QNX, Windows, and Linux drivers are available.
ORDER NOW
Technical Description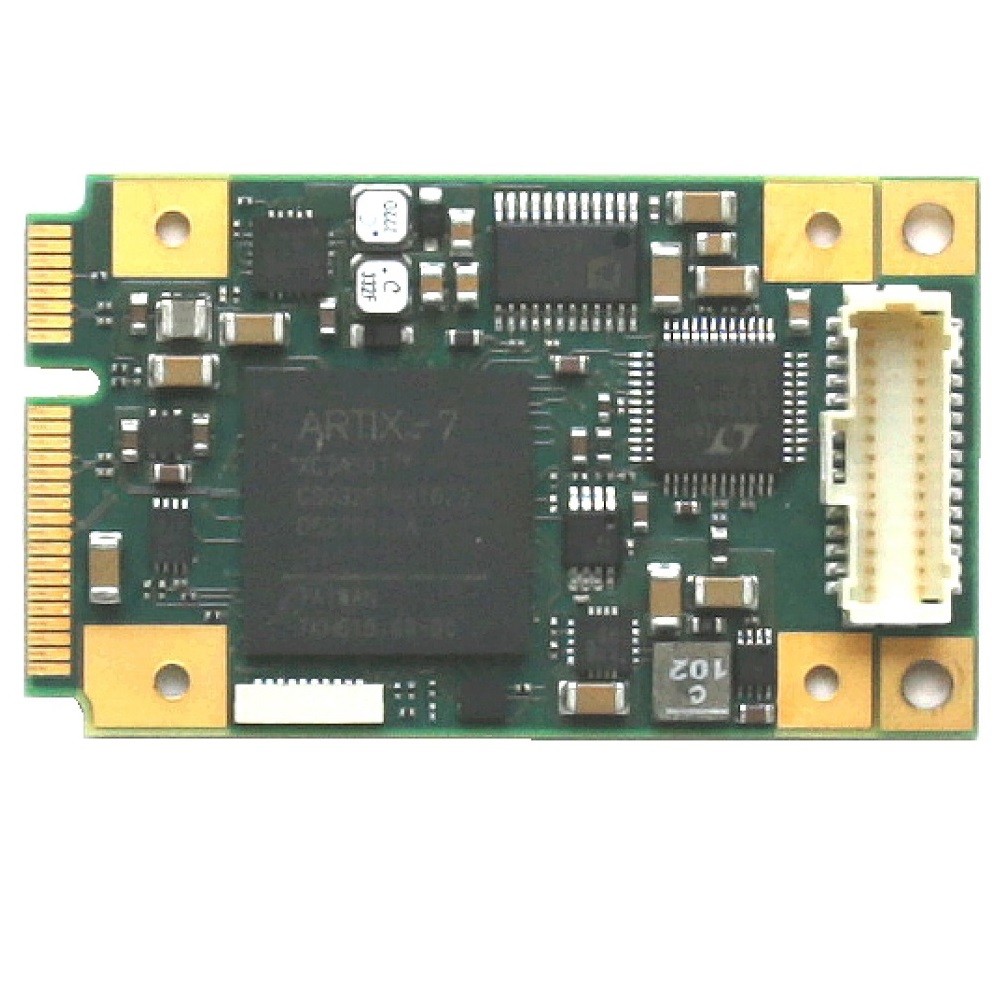 PCIe Mini Card, PCIe 1.1 interface, 50,95 x 30,00 mm
Xilinx XC7A50T-2 Artix-7 FPGA
128Mbit SPI EEPROM for FPGA configuration and user data
Digital I/O lines: 14 ESD protected 5V tolerant TTL I/O with prog. pull resistor, direction individually programmable
4 channels 16bit analogue inputs:

Simultaneous sampling
True differential inputs
Programmable input voltage (one setting for all channels): 0-5.12V, 0-10V, 0-10.24V, ±5V, ±5.12V, ±10V, ±10.24V
200kSPS Sampling rate
Overvoltage protection
Factory calibration

4 channels single-ended 16bit isolated analogue outputs:

Simultaneous update
Programmable output voltage: 0-5V, 0-10V, 0-10.8V, ±5V, ±10V, ±10.8V
Conversion time: typ. 10µs
Up to 2kΩ resistive, 4000pF capacitive load
Overcurrent protection
Factory calibration

I/O via 30pin Pico-Clasp latching connector
Integrity, VxWorks, Windows, QNX and Linux drivers available
5 years warranty
Order Information
Artix-7 FPGA PCIe mini card with 14 TTL I/Os, 4 AD and 4 DAs
Cable Kit for modules with XRS JTAG adapter
Cable Kit for modules with Pico-Clasp adapter
Technical Documentation