TP B9x/msd 3U CompactPCI Intel Core i Gen11 CPU Board with Dual Graphics Interface and opt. XMC Slot
3U CompactPCI CPU board with a 4-core 1.8 GHz (4.4 GHz) Intel® Core i7-1185GRE or a 2-core 2.2 GHz (3.9 GHz) Intel® Core i3-1115GRE processor. The board has up to 32 GB of soldered DDR4 IBECC (In Band Error Correction Code) SDRAM.

The CONCURRENT Technologies TP B9x/msd offers four GbE ports, one DisplayPort, one VGA port, two SATA 3Gbit/s ports, three USB 2.0 ports, 4 GPIO ports, one RS232 port and one RS422/485 port or one additional RS232 port. Optionally, an M.2 SSD and an XMC module can be mounted.

The board is supported by Microsoft Windows and Linux.
ORDER NOW
Technical Description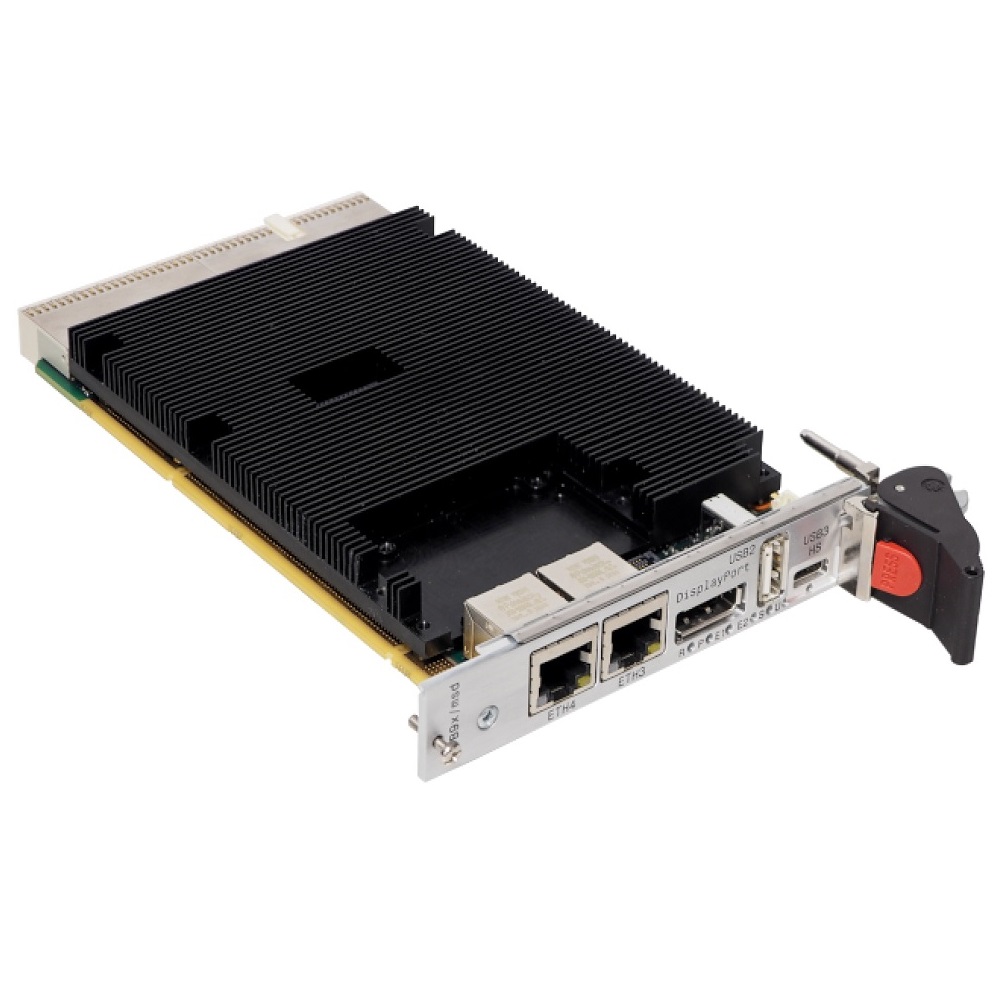 3U 4/8HP universal slot CPU board, satellite mode, PICMG 2.1 R2.0 hot-swap, PICMG 2.9 R1.0, 32-bit/33/66 MHz cPCI bus interface, 3.3/5 Vio
4-core 1.80 GHz (4.40 GHz) Intel® Core™ i7-1185GRE,
2-core 2.20 GHz (3.90 GHz) Intel® Core™ i3-1115GRE
Intel® Advanced Vector Extensions AVX-512 and Intel® Vector Neuro Network Instructions (VNNI)
Up to 32 GB DDR4-2666 IBECC SDRAM, soldered
Two 32 MB BIOS SPI Flash EPROMs
Graphics integrated in the CPU, Intel Iris Xe Gen12 graphics with up to 2 independent graphics ports
DisplayPort in front panel, 3840×2160 resolution,
VGA port via J2, 1920×1200 resolution,
DirectX 12 and OpenGL 4.5 support
4 GbE ports:
two 1000Base-T/100Base-TX ports on the front panel,
two 1000Base-T/100Base-TX ports via J2, Intel i350-AM4
One M.2 SSD slot: 2242 module formats supported, PCIe x4 interface, NVMe logical device interface, NVMe 1.3 compatible, write protection and Opal 2.0 AES-256 support
Two SATA 3 Gbit/s ports via J2
Opt. one XMC slot in 8HP version, front I/O, XMC slot with PCIe x4 link
Two serial ports via J2:
one RS232 port with Tx and Rx,
one RS232 port with Tx, Rx, RI, CTS, RTS, DSR, DTR and DCD or
one RS422/RS485 port with Tx and Rx
3 USB ports: 1 USB 2.0 port on the front panel, 2 USB 2.0 ports via J2
4 GPIO ports via J2
Two Gigabit Ethernet, one DisplayPort and one USB 2.0 front panel port
UEFI 2.7 BIOS with secure boot, LAN Boot Firmware, Intel Boot Guard, opt. Fast Boot solution using the Intel Firmware Support Package (FSP)
Watchdog, real-time clock and 32-bit counter
Trusted Platform Module (TPM 2.0) and opt. Built-In Test (BIT)
Onboard Board Management Controller (BMC)
Available in 4 environmental classes: standard (0°C .. 55°C), extended operating temperature range (-25°C .. +70°C), (-40°C .. +85°C) and conduction-cooled (-40°C .. +85°C)
2 years warranty
Order Information
3U/4HP CPCI Core i7-1185GRE CPU board, 32GB RAM
3U/8HP CPCI Core i7-1185GRE CPU board, 16GB RAM
3U/4HP CPCI Core i3-1115GRE CPU board, 32GB RAM
3U/8HP CPCI Core i3-1115GRE CPU board, 16GB RAM
0°C .. +55°C and -25°C .. +70°C operating temperature range
-40°C .. +85°C operating temperature range
Technical Documentation