TP CR1/XMC 3U CompactPCI XMC Carrier Board
3U CompactPCI carrier board for one XMC module. The CONCURRENT Technologies TP CR1/XMC provides front I/O and rear I/O. This XMC to 3U CompactPCI adapter is used to build modular, flexible and cost effective I/O solutions with XMC devices in CompactPCI systems.

32 bit 33/66 MHz accesses are supported on the PCI bus. The TP CR1/XMC is used as a mechanical adaptor to connect a standard XMC module in 3U CompactPCI systems. The TP CR1/XMC supports XMC front I/O and optional CompactPCI rear I/O at CompactPCI connector J2/Pn4. The pin assignment corresponds to the PICMG 2.3 R1.0 on CompactPCI signal mapping. The use of XMC I/O on the J2/Pn4 connector precludes the use of 64 bit CompactPCI backplanes. The TP CR1/XMC carrier complies with the PICMG 2.0 Revision 3.0 CompactPCI specification.
ORDER NOW
Technical Description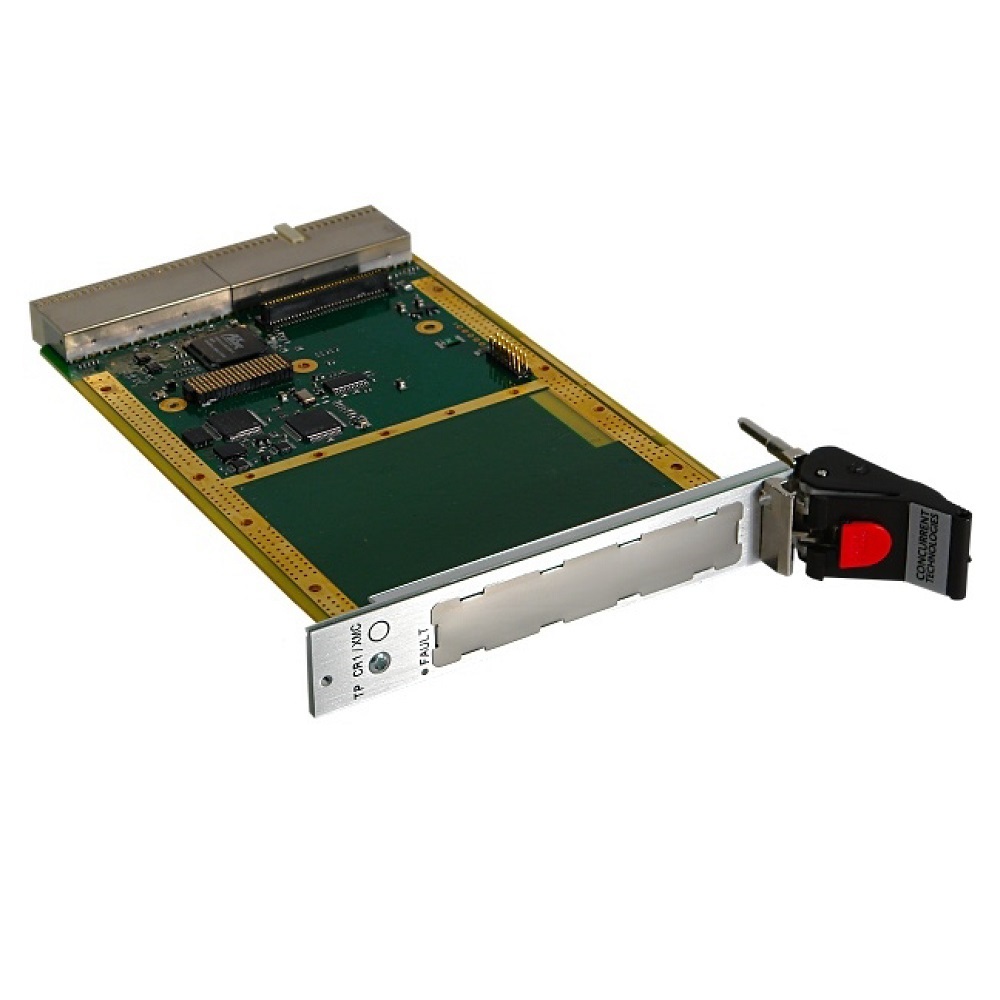 3U CompactPCI board, PICMG 2.0 R3.0 compliant, 32-bit 33/66MHz PCI interface, PICMG 2.3 R1.0, PICMG 2.9 R3.0, cPCI signal mapping, 3.3/5V Vio
One 32-bit 33/66MHz XMC site for IEEE 1386-2001 und IEEE 1386.1-2001 compliant modules with front panel I/O, opt. rear I/O via J2/Pn4
PCIe x1, x2 and x4 Gen1 support
Onboard baseboard management controller
Monitors board voltages and status indicators
8KB non-volatile memory
In 3 environmental classes available: standard (0°C .. 55°C), extended (-25°C .. +70°C) and conduction-cooled (-40°C .. +85°C)
2 years warranty
Order Information
XMC carrier board with front panel I/O
XMC carrier board with front panel and J2/Pn4 I/O
XMC carrier board, conduction-cooled
Technical Documentation