TPCE278 PCIe x4 Gen3 XMC Carrier
PCIe x4 Gen3 Carrier provides a XMC site with front panel/rear I/O. The TPCE278 board allows the use of XMC modules in PCIe based calculators - e.g. in systems for applications like process control, medical systems, telecommunication and traffic control.

The board supports XMC front I/O, P14 and P16 rear I/O. The P14 I/O lines of the XMC site are conducted via a Tyco AMPMODU System 50 0.050 x 0.100 connector. The I/O lines are routed differential. The P16 I/O is available via two Samtec QTH-DP 0.50mm Q Pairs® High Speed Ground Plane socket strip, Differential Pair connectors.

The TPCE278 is available in two different VPWR (voltage power) versions. The TPCE278-x0R versions provide 12V VPWR and the TPCE278-x1R have 5V VPWR.

The TPCE278-1xR uses the +12V of the PCIe edge card connector to generate all power supply voltages (+3,3V, VPWR, +12V) for the XMC slot. According to the PCIe specification, a PCIe x4 card is limited to 25W on the +12V.

The TPCE278-2x offer a PCIe graphics power connector for increased power requirements to supply the +12V for generating all the power supply voltages for the XMC slot providing power of up to 75W.
ORDER NOW
Technical Description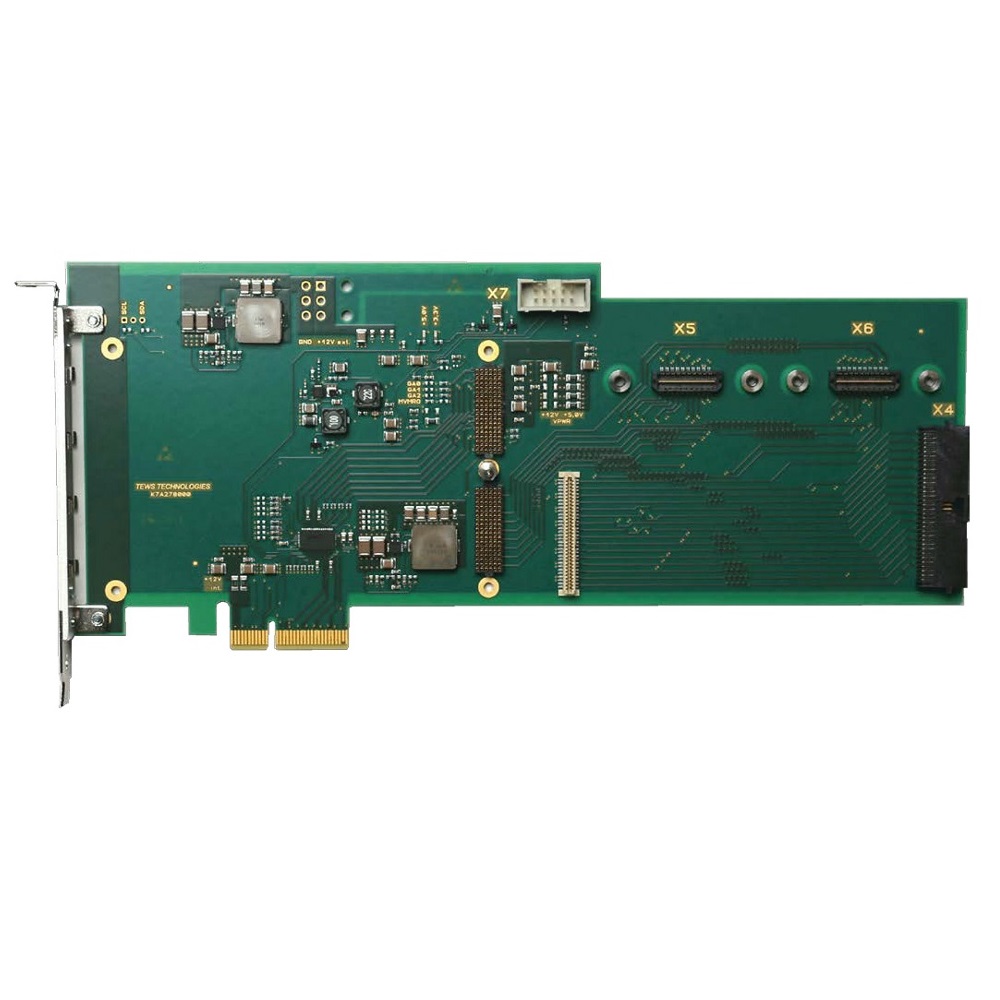 PCIe board, PCIe x4 Rev. 3.0 interface
One XMC site with FP/P14/P16 I/O
5V or 12V VPWR
P14 I/O via Tyco AMPMODU System 50 0.050 x0.100 connector
P16 I/O via two Samtec QTH-DP 0.50mm Q Pairs® High Speed Ground Plane socket strip, Differential Pair connectors
All XMC Power Supplies generated from +12V:
TPCE278-1xR from PCIe edge card connector
TPCE278-2xR from PCIe graphics power connector
-40°C .. +85°C operating temperature range
5 years warranty
Order Information
1 Slot XMC carrier, PCIe x4, VPWR: 12V, 12V from PCIe connector
1 Slot XMC carrier, PCIe x4, VPWR: 5V, 12V from PCIe connector
1 Slot XMC carrier, PCIe x4, VPWR: 12V, 12V from PCIe graphics power connector
1 Slot XMC carrier, PCIe x4, VPWR: 5V, 12V from PCIe graphics power connector
Technical Documentation