TPMC542 16/8 Channel Voltage and Current Range D/A and 20 Channel LVTTL/TTL Digital I/O
16 or 8 channels of simultaneous update single-ended unipolar/bipolar 16 bit analog output and 20 channels of tristate capable 5V tolerant LVTTL/TTL digital input/output. All signals are accessible via Mini-D Ribbon (MDR68) type front I/O connector. The TEWS TPMC542 PMC module provides a D/A sequencer unit for periodic simultaneous digital to analog conversions at a configurable conversion rate.

The DAC offers software selectable 0-5V, 0-10V, +/-5V, +/-10V, 0-6V, 0-12V, +/-6V and +/-12V output voltage ranges (one setting for all channels). The digital I/O lines are ESD protected. Each digital I/O line has a dedicated line transmitter with individual output enable control and a dedicated line receiver. The receivers are always enabled so the digital I/O line level can always be monitored. Each digital I/O line input is capable of generating an interrupt triggered on rising edge, falling edge or both.

Each TPMC542 is factory calibrated. The correction data is stored in an onboard serial EEPROM. These correction values may be used to perform a hardware correction for every D/A channel and output range.

A wide range of drivers is available: Linux, Integrity, QNX, VxWorks and Windows. All drivers - except the Windows drivers - are supplied as C source code.
ORDER NOW
Technical Description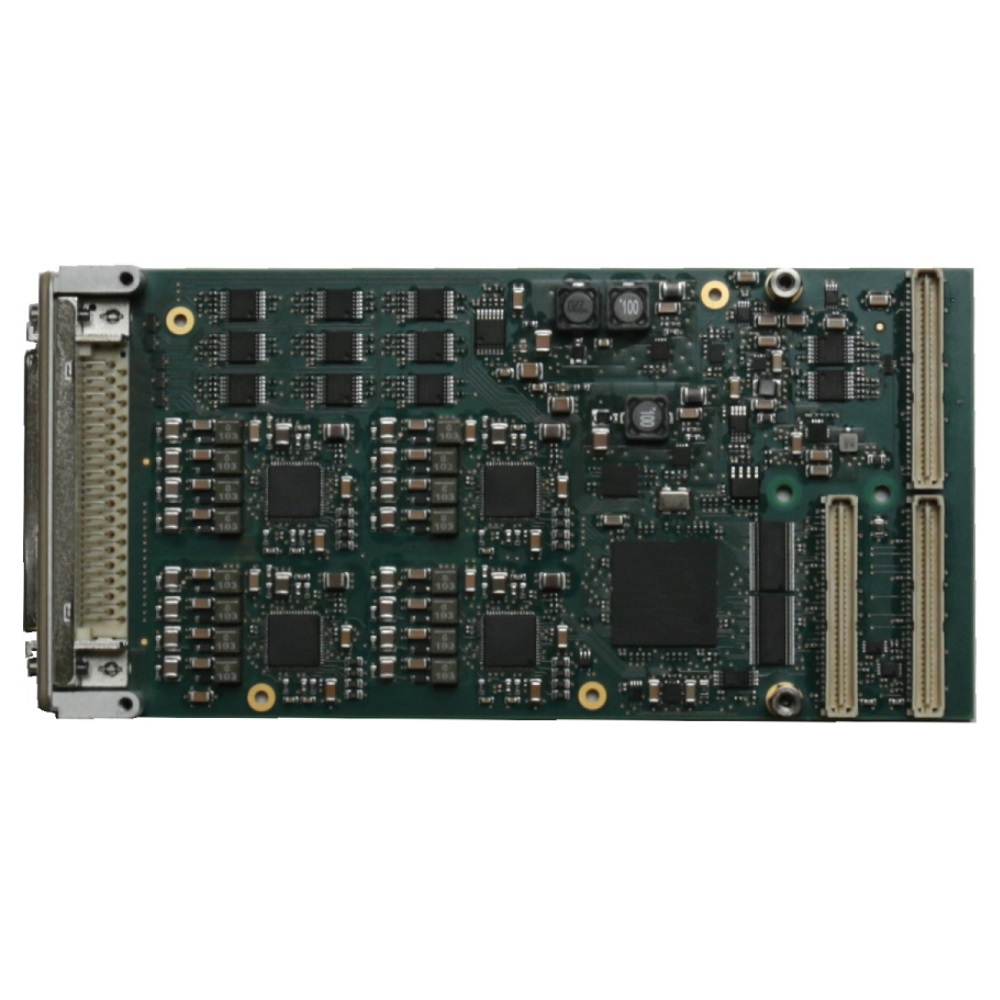 PMC module, 32 bit/33MHz PCI interface

DMA master functionality

16 or 8 channels of simultaneous update single-ended unipolar/bipolar 16bit analog output

Up to 38ksps

Settling time: typ. 24µs

Programmable output voltage: 0-5V, 0-10V, +/-5V, +/-10V, 0-6V, 0-12V, +/-6V, +/-12V

Up to 10mA load with a capacitance up to 10nF

Programmable output current ranges: 4-20mA, 0-20mA, 0-24mA

Onboard temperature sensor

Programmable conversion rates

Frame trigger signal for synchronization purposes

20 channels of tristate capable 5V tolerant TTL digital input/output, ESD protection

Mini D Ribbon (MDR68) type front I/O connector

Factory calibration data stored in EEPROM

-40°C .. +85°C operating temperature range

Integrity, Windows, Linux, QNX, and VxWorks drivers are available

5 years warranty
Order Information
16 port single-ended and 20 port LVTTL/TTL digital I/O
8 port single-ended and 20 port LVTTL/TTL digital I/O
MDR68 cable kit for modules with MDR68 connector
Technical Documentation