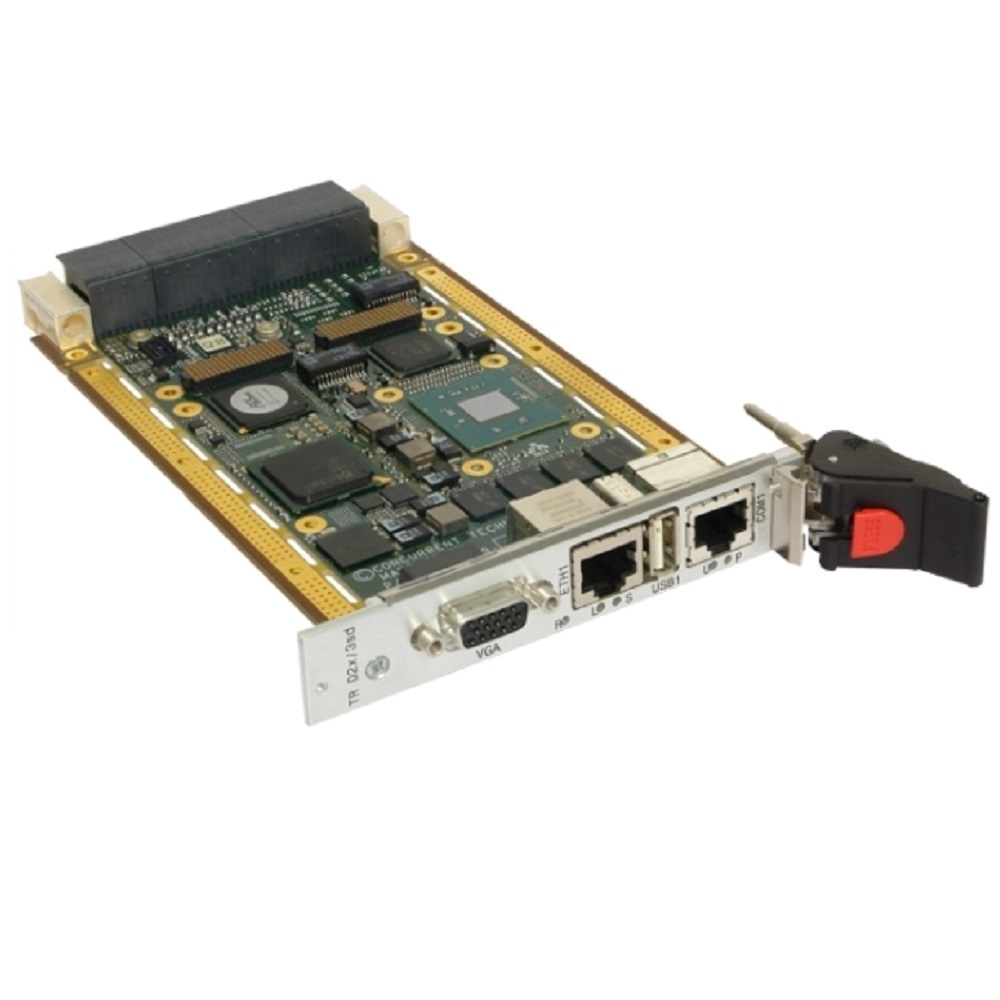 TR D2x/msd Intel Atom CPU Board with Front-I/O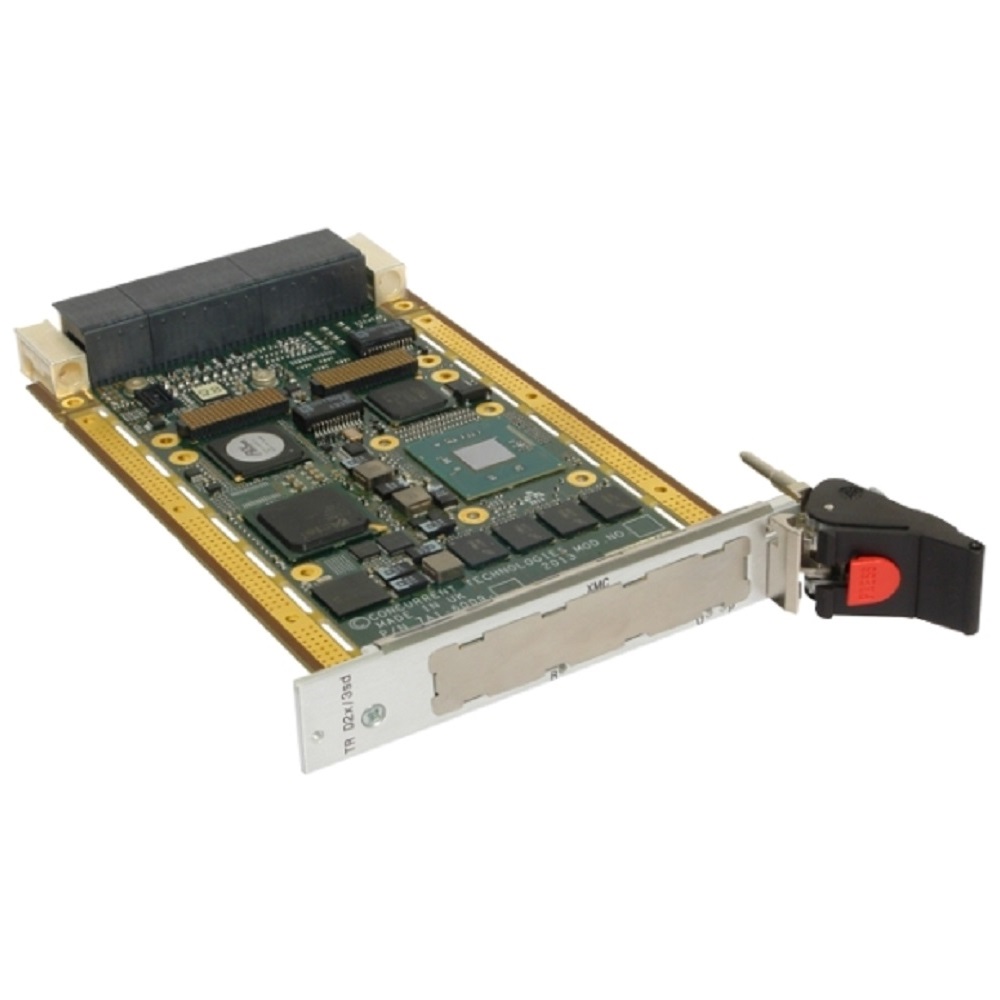 TR D2x/msd CPU Board with XMC Site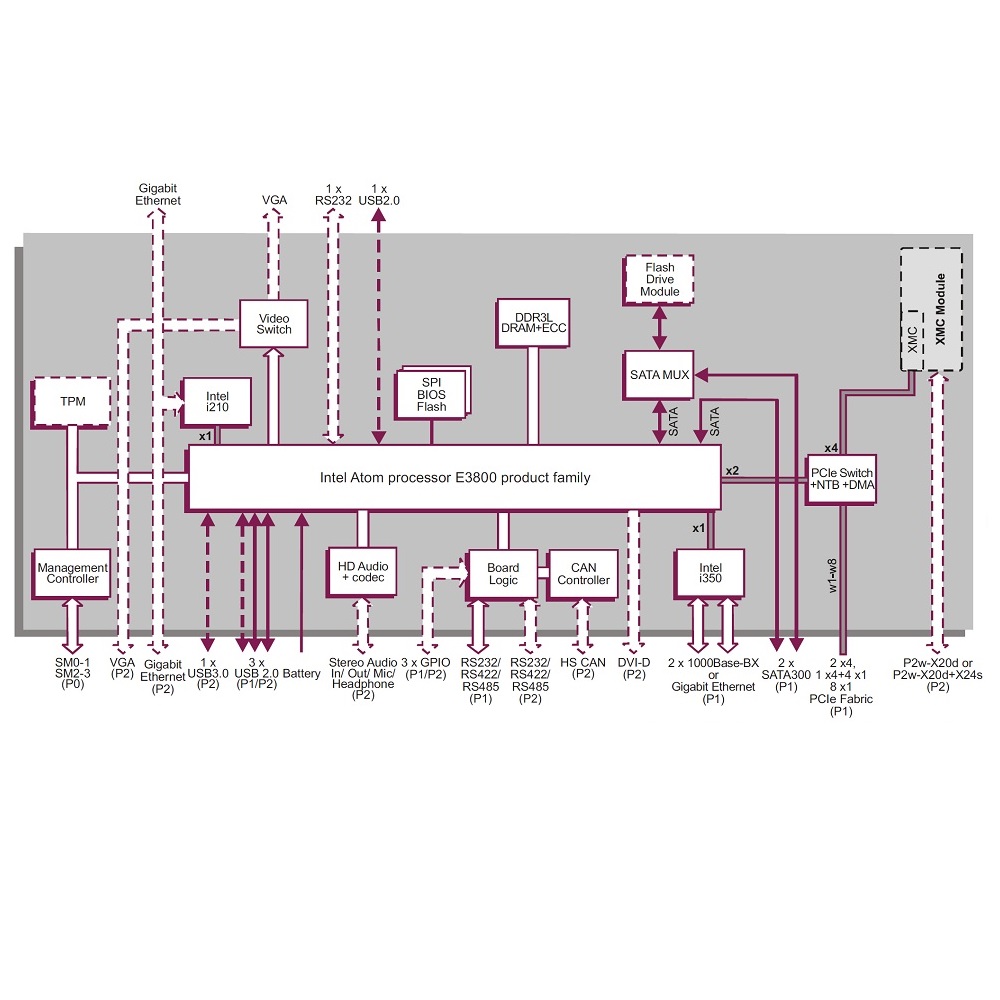 TR D2x/msd Block Diagram
TR D2x/msd 3U VPX CPU Board with Intel Atom Processor, DVI-D and VGA Graphics Interface
3U 4HP VPX universal slot single-board computer with a Quad Core 1.91 GHz Intel Atom E3845 or a Single Core 1.64 GHz Intel Atom E3815 processor. 4 GB soldered DDR3L SDRAM is available.

Die CONCURRENT Technologies TR D2x/msd bietet einen XMC site, up to three Gigabit Ehernet ports, one DVI-D, one VGA, two SATA 3Gbit/s, two RS-232/422/485, up to 5 USB, three GPIO ports, 8 PCIe Gen2 Lanes (2 PCIe x4 or 1 PCIe x4 and 4 PCIe x1 or 8 PCIe x1 ports), and opt. one CANbus high-speed interface, one RS-232 port, one HD audio interface, and SATA flash.

Board support packages are available for LINUX, Windows, and VxWorks.
ORDER NOW
Technical Description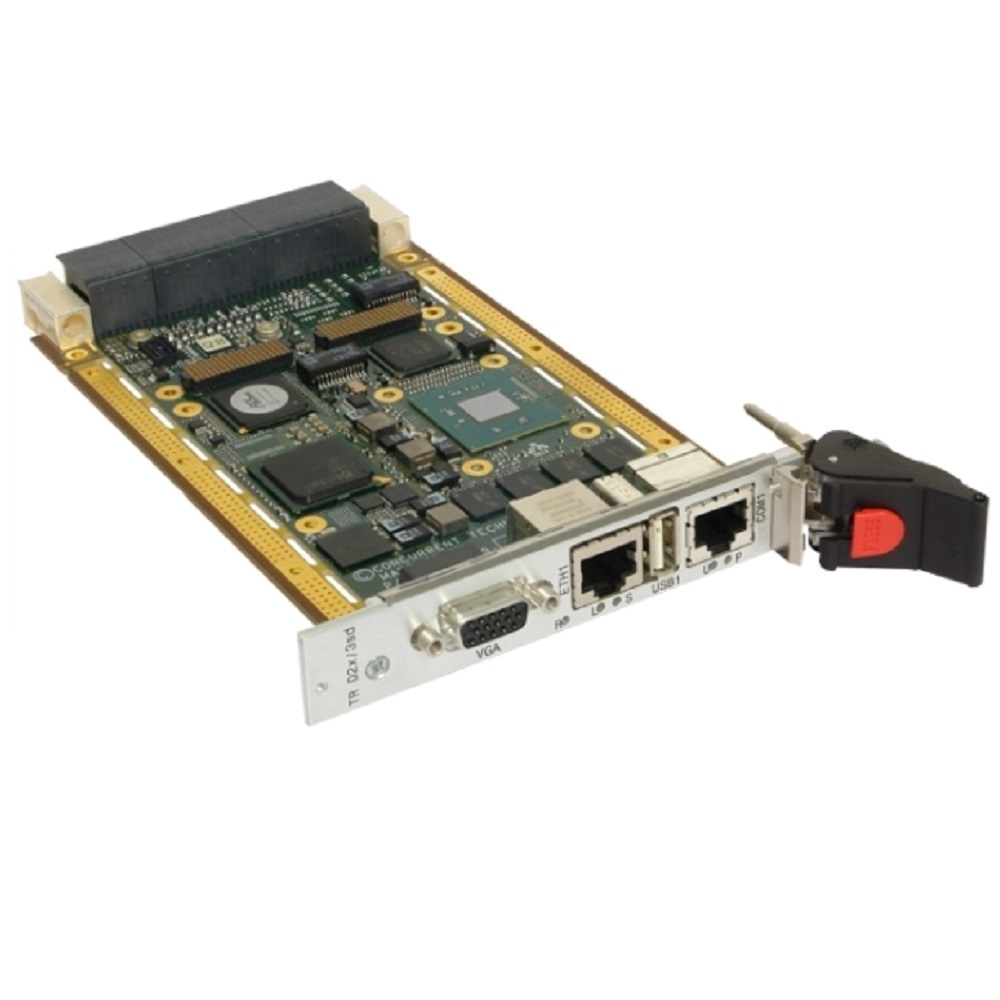 3U/4HP VPX CPU board, VITA 42.0, VITA 42.3, VITA 46.0, VITA 46.4, VITA 46.6, VITA 47.0, VITA 48.0, VITA 48.2, VITA 65, and opt. VITA 48.2 conform

Quad Core 1.91 GHz Intel Atom E3845
Single Core 1.46 GHz Intel Atom E3815

4 GB ECC DDR3L SDRAM, soldered

8 MB BIOS SPI flash

Opt. one XMC site, VITA 42.0, VITA 42.3, front-I/O

Graphics integrated in CPU with DVI-D and VGA port, DVI-D via P2, VGA front panel port or via P2, 1920×1080 pixel resolution digital, 2048×1536 pixel resolution analogue, DirectX 11.1 and OpenGL 3.0 support

Two SATA 3Gbit/s ports via P1

Opt. SATA flash, min. 8 GB

Up to three Gigabit Ethernet ports 1000BaseT or 1000BaseBX, 2 ports via P1, opt. one front panel port or one port via P2

Two RS-232/422/485 ports, one port via P1 and one port via P2

Opt. one RS-232 front panel port

Up to 5 USB ports, one USB 2.0 front panel port, two USB 2.0 ports via P1, one USB 2.0 port via P2, and one USB 3.0 port via P2

Three GPIO ports via P1/P2

8 PCIe Gen2 Lanes, 2 PCIe x4 or 1 PCIe x4 and 4 PCIe x1 or 8 PCIe x1 ports

Opt. CANbus high speed interface via P2

Opt. HD audio via P2

InsydeH20 BIOS, LAN Boot Firmware

Real Time clock and watchdog timer

Opt. Fast Boot Software Package

In 2 environmental classes available: standard (0°C .. 55°C) and conduction-cooled (-40°C .. +85°C)

2 years warranty
Order Information
3U/4HP CPU board, VPX, 0 .. 55°C
3U/4HP CPU board, VPX-REDI type 1, -55 .. +85°C
3U/4HP CPU board, VPX-REDI type 2, -55 .. +85°C
Fast boot software package
Technical Documentation