TR G4x/msd 3U VPX CPU Board with Intel Xeon D-1500 Processor, up to 64 GB RAM and 10Gigabit Ethernet
3U VPX CPU board with a 16-Core 1.3 GHz Intel Xeon D-1577 or 12-Core 1.5 GHz Intel Xeon D-1559 or a 8-Core 2.0 GHz Intel Xeon D-1548or a 8-Core 1.6 GHz Intel Xeon D-1539 processor. Up to 64 GB DDR4 ECC SDRAM are soldered on the board.

The CONCURRENT Technologies TR G4x/msd offers two 10Gigabit Ethernet Ports, 2 Gigabit Ethernet Ports, up to 6 SATA 6Gbit/s ports, up to 4 RS-232 ports, up to 2 USB 3.0 ports, 2 USB 2.0 ports, 4 GPIO ports and opt. one VGA port. In addition one PCIe x4 port via P1 and three PCIe x4 via P2 are available. The 16 lanes can be configured as 4 x4 ports or 2 x8 ports or one x16 port. Opt. one flash module and one 2.5" SSD or two M.2 SSDs via an I/O module can be mounted on the TR G4x/msd. The M.2 SSD sites supports RAID 0, 1, 5 and 10.

The front panel offers opt. up to two Gigabit Ethernet, one USB 3.0, up to 3 RS-232 (Tx/Rx) or one RS-232 (full modem) and one VGA port.

The board supports Microsoft Windows and Linux.

The TR G4x/msd is available in standard operating temperature range, extended temperature and in conduction-cooled.
ORDER NOW
Technical Description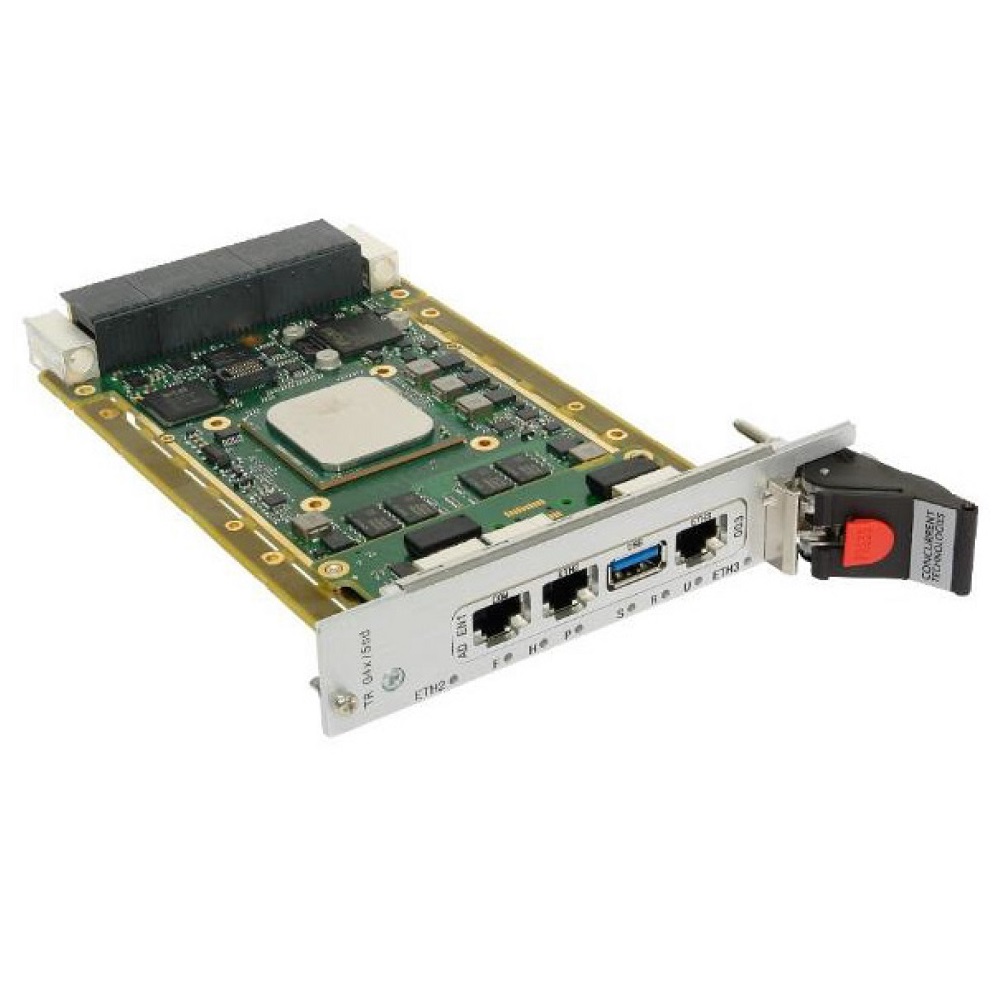 3U/4HP VPX CPU board, VITA 46.0, VITA 46.6, VITA 46.7, VITA 47.0, VITA 48.2, VITA 65, and OpenVPX compliant

MOD3-PAY-2F4F2U-16.2.10-8,
MOD3-PAY-2F1F2U-16.2.1-8 Module Profile

16-Core 1.3 GHz

Intel Xeon

D-1577

CPU,

24MB Cache,
12-Core 1.5 GHz

Intel Xeon

D-1559

CPU,

18MB Cache

,
8-

Core 2.0 GHz

Intel Xeon

D-1548

CPU,

12MB Cache,


8-Core 1.6 GHz Intel Xeon D-1539 CPU, 12MB Cache

Intel Advanced Vector Extensions 2 and Intel AES New Instructions

Up to 64 GB ECC DDR4 RAM, soldered

16 MB BIOS flash

Opt. VGA port via build option, 1920×1080 resolution (build option for either VGA port or GbE port)

Up to six SATA 6Gbit/s ports: two ports via P1, two ports via P2, one port for an opt. flash module and one port for a 2.5″ SSD via front I/O module (if the opt. SSD module is fitted the opt. M.2 SSD sites not fitted)

Opt. two M.2 SSD sites: 2242, 2260 and 2280 format modules are supported, RAID 0, 1, 5 und 10 support

Two 10Gigabit Ethernet ports: two 1000Base-KR VITA 46.7 ports via P1

Up to 4 Gigabit Ethernet ports: two SerDes 1000Base-BX VITA 46.6 ports via P1, opt. one GbE port via front I/O module and opt. one GbE port via build option (build option for either GbE port or VGA port), Intel I350-AM4

Up to 4 RS-232 ports:
one RS-232 (full modem) port via P2 and one RS-232 (full modem) front panel port or
up to three RS-232 (Tx/Rx) ports via P2 and one RS-232 (Tx/Rx) front panel port or
one

RS-232 (Tx/Rx) port via P2 and up to three RS-232 (Rx/Tx) front panel ports

Up to 4 USB ports: 1 USB 3.0 port via P2, 2 USB 2.0 ports via P2 and opt.

1 USB 3.0 front panel port via front I/O module

4 GPIO ports via P1

Opt. up to two Gigabit Ethernet, one USB 3.0, up to three RS-232 (Tx/Rx) or one RS-232 (full modem), and one

front panel VGA port

One PCIe x4 port via P1 and three PCIe x4 via P2, the 16 lanes can be configured as 4 x4 ports or 2 x8 ports or one x16 port

PCIe switch supports two non-transparent ports for multi processing configurations

4 channel DMA engine for fast data block moves

Dual UEFI 2.4 BIOS, LAN Boot Firmware

Real Time clock and watchdog timer

System management with baseboard management controller (BMC) and IPMI via SM0-1 and SM2-3

Opt. Trusted Platform Module (TPM) and Build-In Test (BIT)

In 3 environmental classes available: standard (0°C .. 55°C), extended (-25°C .. +70°C) and conduction-cooled (-40°C .. +85°C)

2 years warranty
Order Information
3U/4HP CPU Board, 16-Core Xeon D-1577, 0 .. 55°C, 1-inch Slot, 10GbE
3U/4HP CPU board, 12-Core Xeon D-1559, 0 .. 55°C, 1-inch slot, 10GbE
3U/4HP CPU board, 8-Core Xeon D-1548, 0 .. 55°C, 1-inch slot, 10GbE
3U/4HP CPU board, 8-Core Xeon D-1539, 0 .. 55°C, 1-inch slot, 10GbE
3U/4HP CPU board, 16-Core Xeon D-1577, -25 .. +70°C, 1-inch slot, 10GbE
3U/4HP CPU board, 12-Core Xeon D-1559, -25 .. +70°C, 1-inch slot, 10GbE
3U/4HP CPU board, 8-Core Xeon D-1548, -25 .. +70°C, 1-inch slot, 10GbE
3U/4HP CPU board, 8-Core Xeon D-1539, -25 .. +70°C, 1-inch slot, 10GbE
Mounting kit with 2.5" SSD, 0 .. 55°C
PCIe M.2 flash kit without M.2 modules
PCIe M.2 flash kit with one M.2 module
PCIe M.2 flash kit with two M.2 modules
Front panel I/O module with 1x USB 3.0, up to 3 RS-232 and 2 GbE
Front panel I/O module with 1x USB 3.0, up to 3 RS-232, 1 VGA and 1 GbE
RJ45 to DB9 adapter cable
20-way MDR to VGA and 9-way D-adapter cable
VPX switch configuration tool
Technical Documentation