TR XMC/m11 3U VPX Board with XMC Slot and PCIe Gen3 Support
3U VPX carrier that provides front I/O and rear I/O for a single XMC module. This XMC to 3U VPX adapter is used to build modular, flexible and cost effective I/O solutions with XMC devices in VPX systems.

The CONCURRENT TR XMC/m11 supports XMC front I/O and VPX rear I/O at VPX connector P2. The XMC interface supports PCIe x8 Gen 1, Gen2 and Gen3. The PCIe switch has transparent and opt. non-transparent bridge ports for multi-processor configurations. The switch can be easy configured for data and expansion plane connection/isolation for wide VPX compatibility. Advanced PCIe configurations through Fabric Switch Configuration Software.
ORDER NOW
Technical Description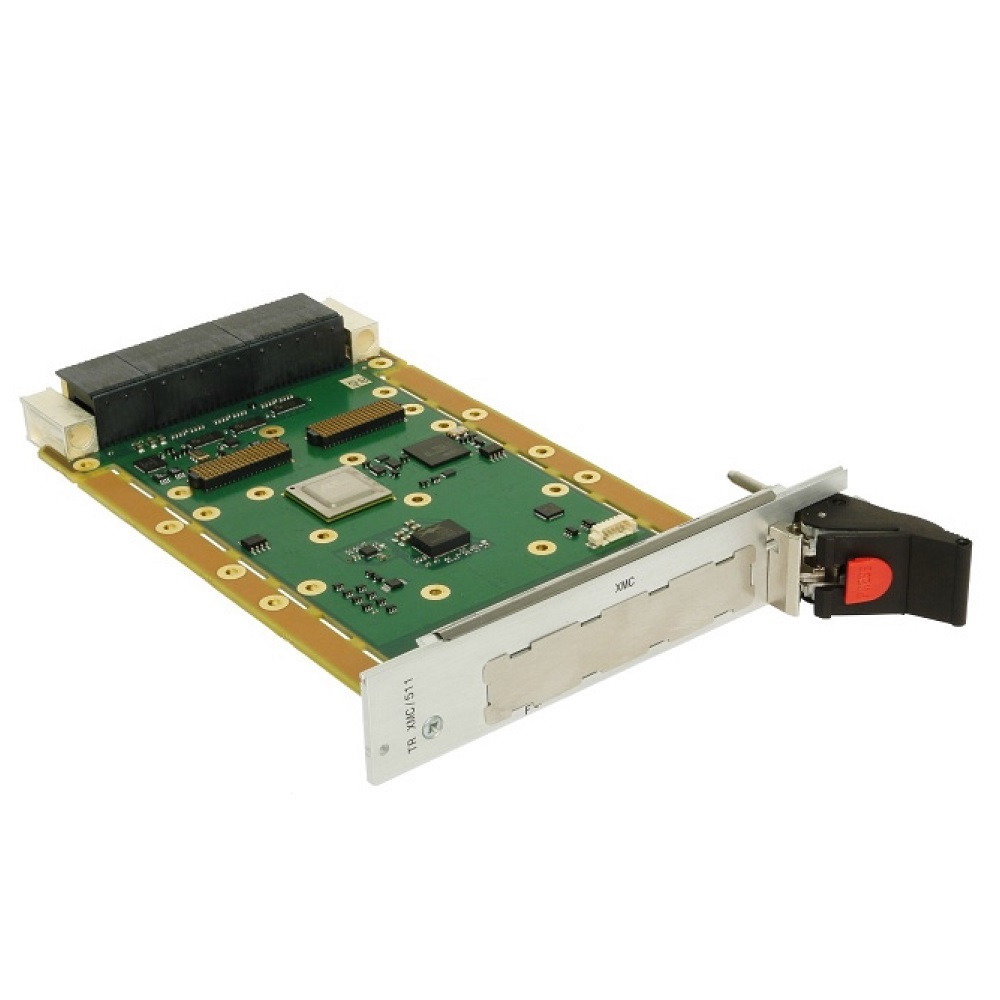 3U/4HP VPX board, VITA 42, VITA 46.0, VITA 46.9, VITA 47, VITA 48.0, VITA 48.2, VITA 48.2, VITA 61, VITA 65 conform

One XMC slot, Front-I/O, Rear-I/O via Pn6 auf P2 (P2 pin out VITA 46.9 compliant with P2w1-X24s+X8d+X12d), up to 24 single-ended und 20 differential XMC I/O signals to the rear

XMC interface with +5V or +12V VPWR and VITA 42 or VITA 61 connector

XMC Interface with PCIe x8 Gen 1, Gen2 and Gen3 support

PCIe x4 port to the data plane or to the expansion plane 1 (EP1)

PCIe x4 port to the expansion plane 2 (EP2)

PCIe x8 port (EP1 and EP2) with Gen 1, Gen2 and Gen3 support

PCIe switch with transparent and opt. non-transparent bridge ports for multi-processor configurations

Simple switch configuration for data and expansion plane connection/isolation for wide VPX compatibility

Advanced PCIe configurations through Fabric Switch Configuration Software

OpenVPX (VITA 65) backplane profile:
BKP3-CEN06-15.2.3-3

OpenVPX slot profile: SLT3-PAY-1F2F26U

System management interface with VITA 46.11 management, board temperature and voltage monitor

In 3 environmental classes available: standard (0°C .. 55°C), extended (-25°C .. +70°C), and conduction-cooled (-40°C .. +85°C)

2 years warranty
Order Information
3U/4HP VPX /XMC carrier board, 0°C .. 55°C, 1-inch slot, VITA 46.0, VITA 42.0 XMC connector, 5V VPWR
3U/4HP VPX /XMC carrier board, 0°C .. 55°C, 1-inch slot, VITA 46.0, VITA 42.0 XMC connector, 12V VPWR
3U/4HP VPX /XMC carrier board, 0°C .. 55°C, 1-inch slot, VITA 46.0, VITA 61 XMC connector, 5V VPWR
3U/4HP VPX /XMC carrier board, 0°C .. 55°C, 1-inch slot, VITA 46.0, VITA 61 XMC connector, 12V VPWR
3U/4HP VPX /XMC carrier board, -25°C .. +70°C, 1-inch slot, VITA 46.0, VITA 42.0 XMC connector, 5V VPWR
3U/4HP VPX /XMC carrier board, -25°C .. +70°C, 1-inch slot, VITA 46.0, VITA 42.0 XMC connector, 12V VPWR
3U/4HP VPX /XMC carrier board, -25°C .. +70°C, 1-inch slot, VITA 46.0, VITA 61 XMC connector, 5V VPWR
3U/4HP VPX /XMC carrier board, -25°C .. +70°C, 1-inch slot, VITA 46.0, VITA 61 XMC connector, 12V VPWR
3U/4HP VPX PMC/XMC carrier board, conduction-cooled, REDI type 1
3U/4HP VPX PMC/XMC carrier board, conduction-cooled, REDI type 2
3U VPX rear transition module, 1-inch slot width, XMC-I/O via 64w SCSI D-Type Connector
3U VPX rear transition module, 1-inch slot width, XMC I/O via Samtec QSH-DP Connector
Technical Documentation