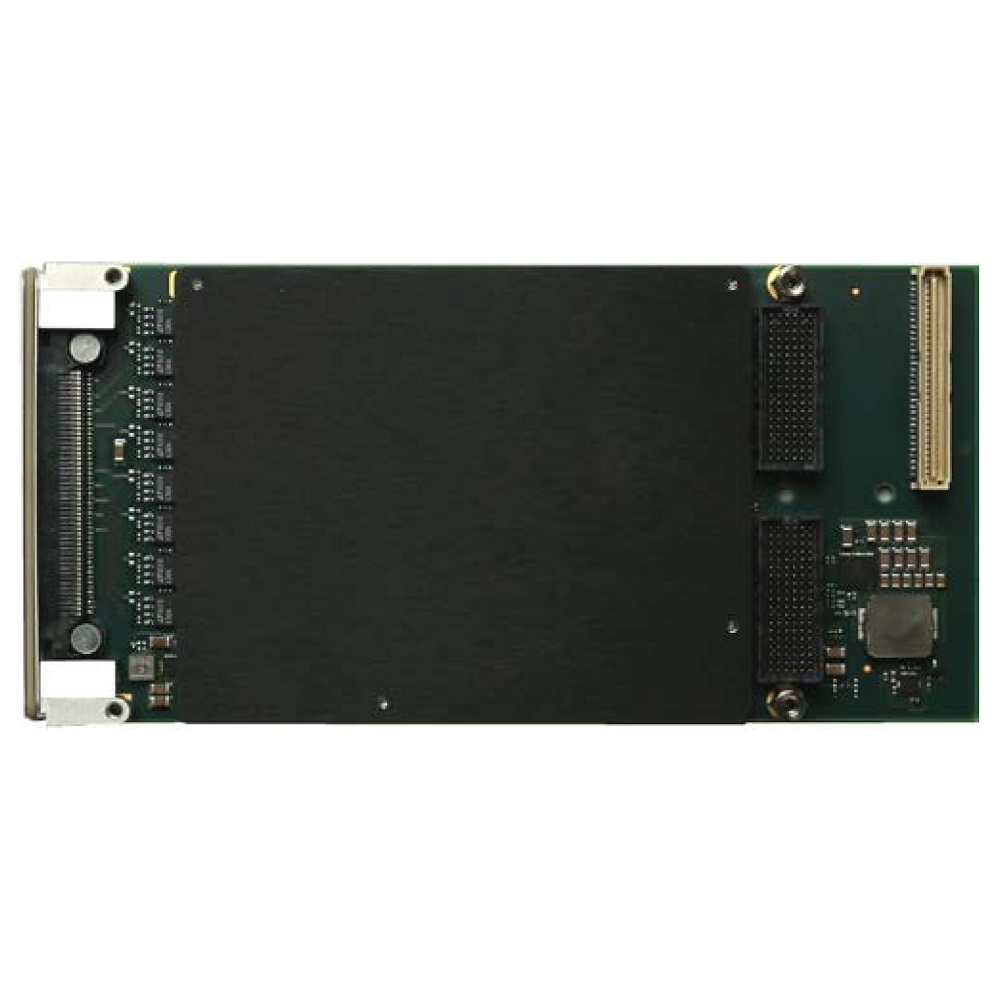 TXMC638 FPGA XMC module with 24 16bit diff. analog inputs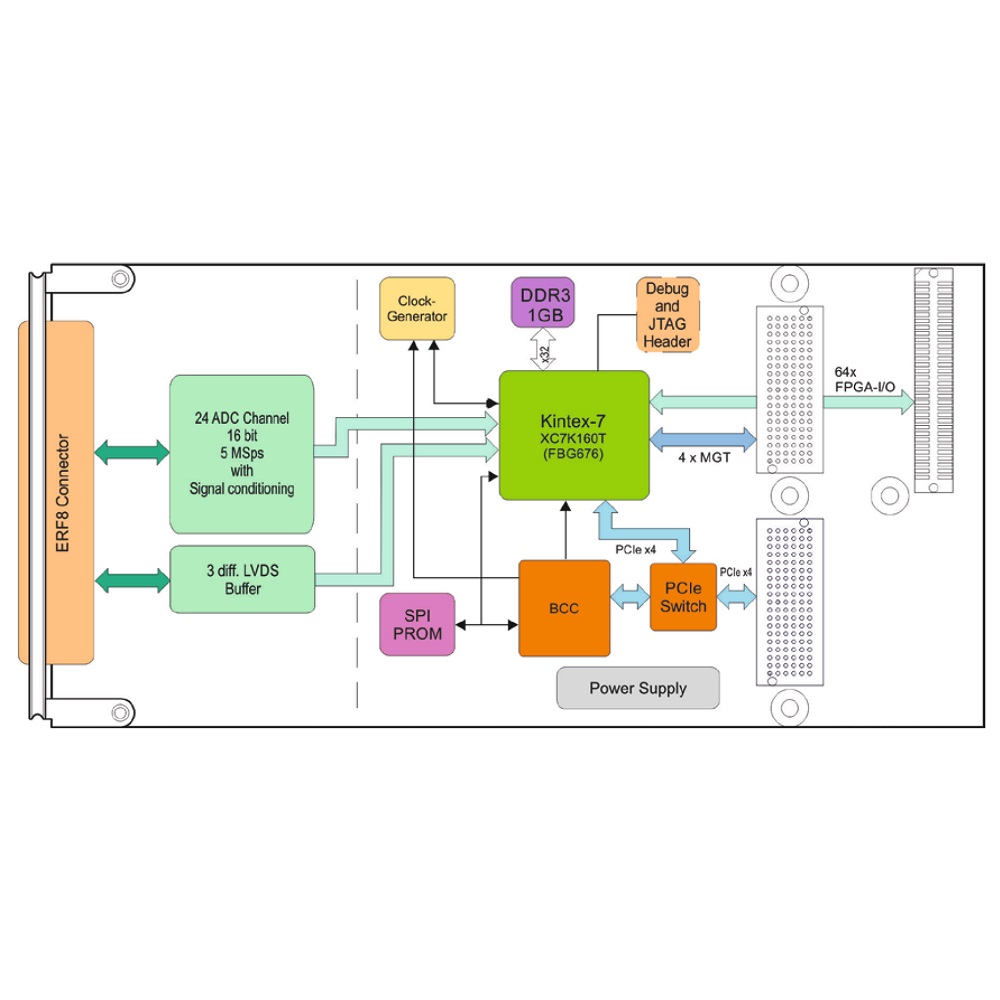 TXMC638 block diagram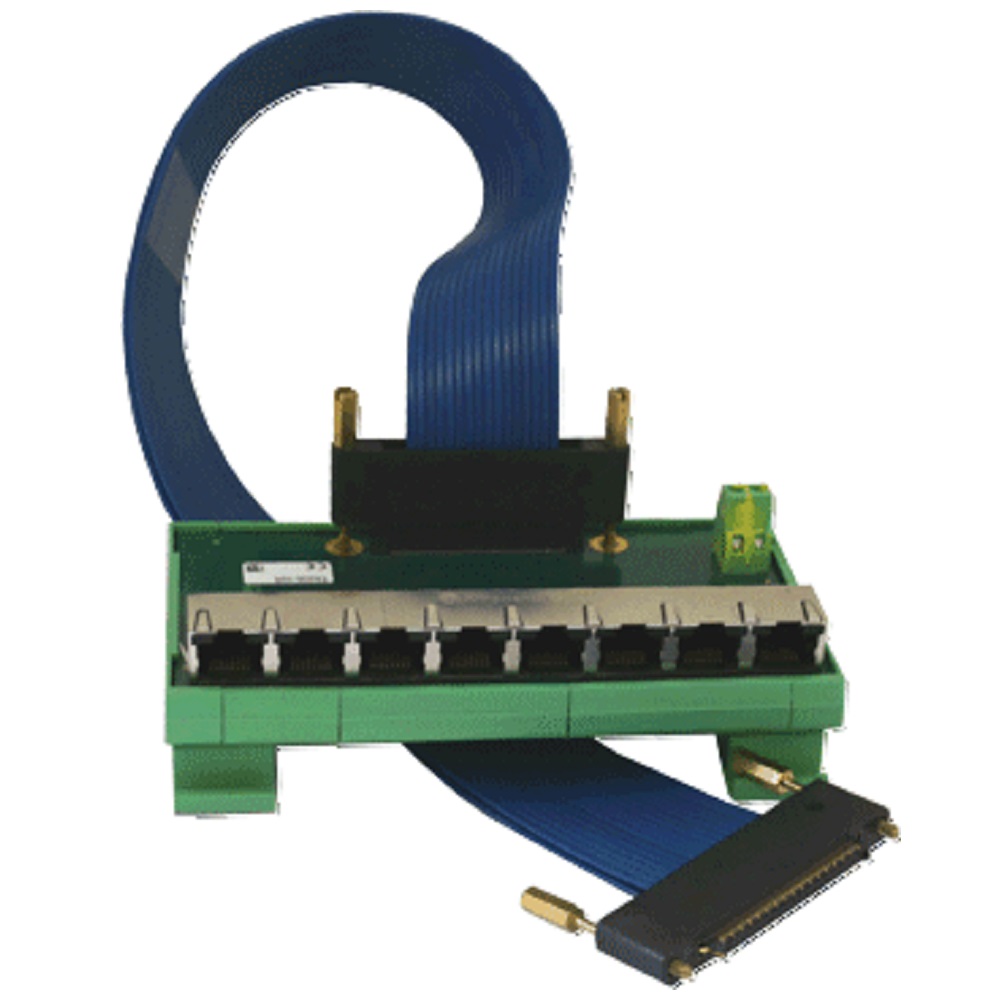 TA310-10R cable kit for modules with samtec edge rate connector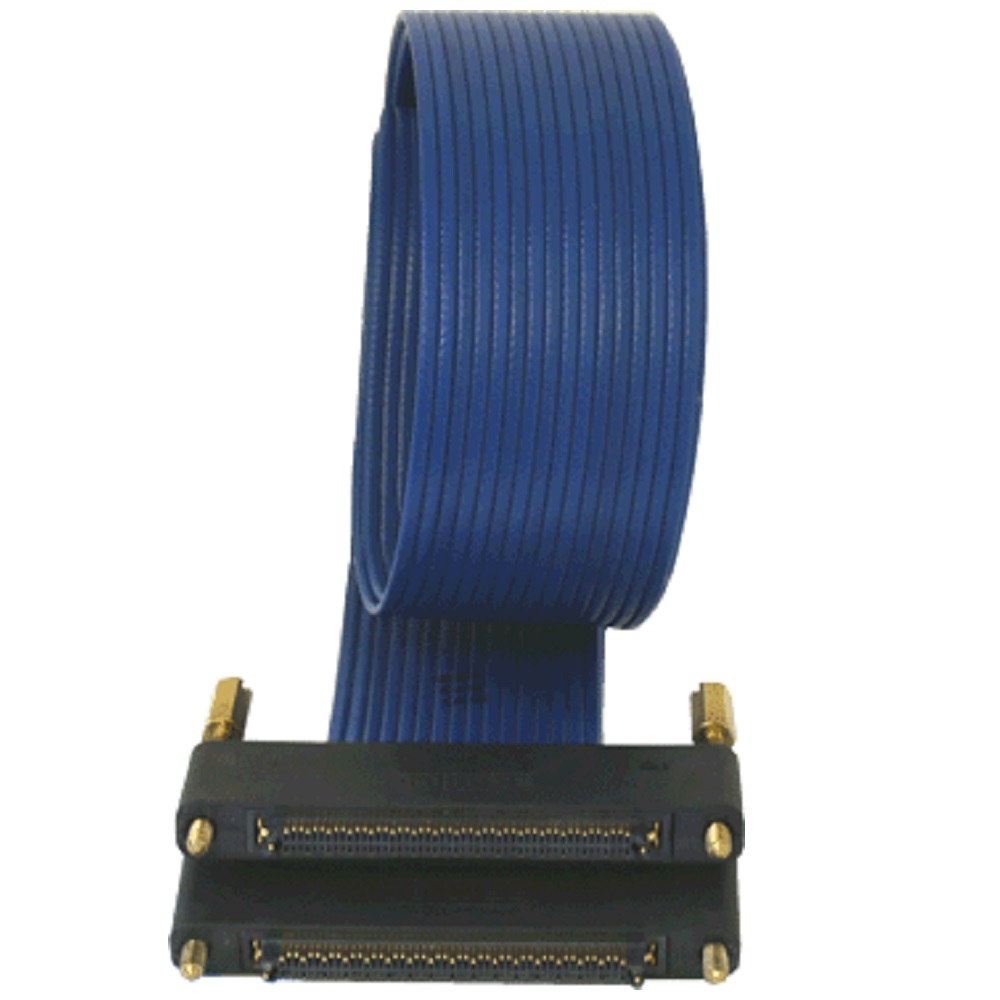 TA112-10R 32 pair twinax cable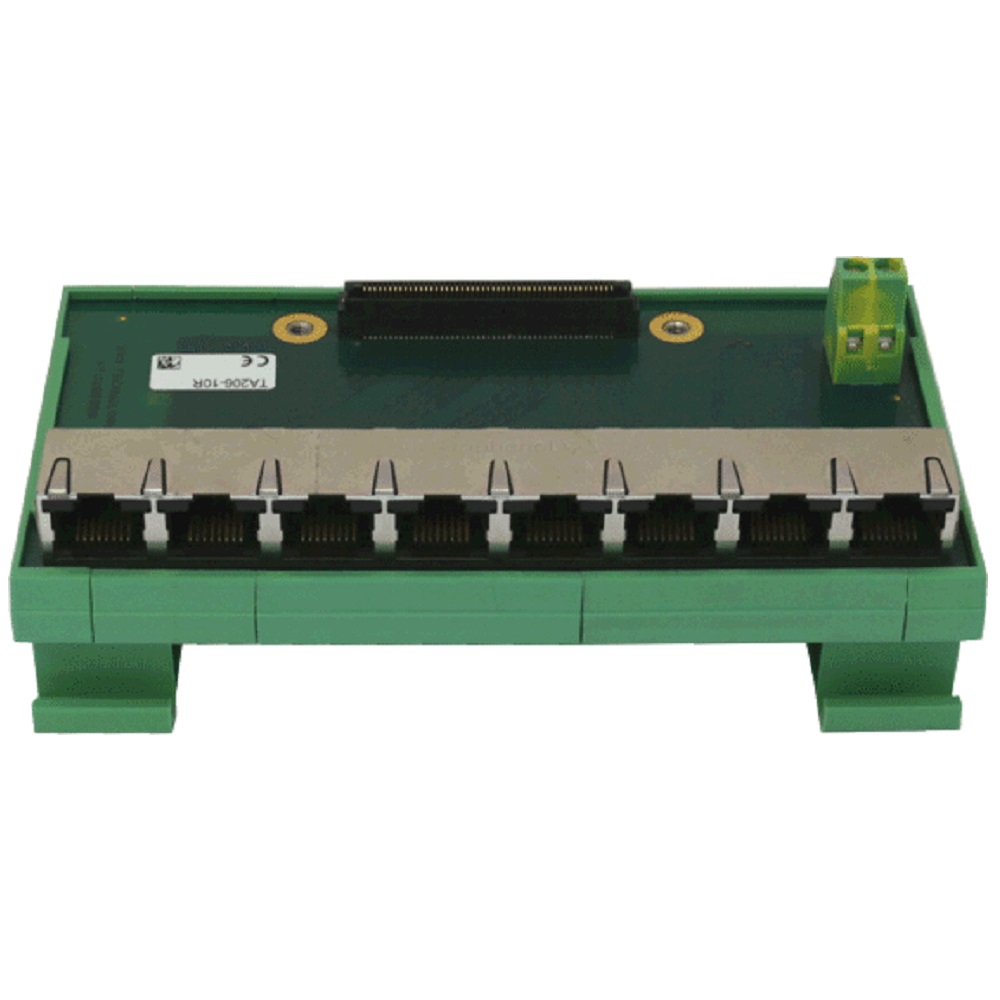 TA206-10R RJ45 terminal block
TXMC638 Reconfigurable FPGA with 24 16bit Analog In
XMC module providing a user configurable Kintex-7 FPGA with 24 ADC input channels. Each of the channels has 16bit resolution and works with up to 5 Msps. The analog input circuit is designed to allow input voltages up to ±2.5 V on each input-pin resulting in a ±5 V differential voltage range. A 1GB, 32 bit wide DDR3 SDRAM is connected to the user FPGA. The SDRAM-Interface uses an internal Memory Controller of the Kintex-7.

For customer specific I/O extension or inter-board communication, the TXMC638 provides 64 FPGA I/Os on P14 and 4 FPGA Multi-Gigabit transceiver on P16. P14 I/O lines could be used as 64 single-ended LVCMOS24 or as 32 differential LVDS25 interfaces. Additionally the TXMC638 provides three 100 Ohm terminated ac-coupled, differential inputs with wide Input voltage range.

All front I/O lines of the TXMC0638 such as the ADC interface and the three 100 Ohm inputs are connected to a 98-pin. Samtec ERF8-049 Rugged EdgeRate Connector.

The FPGA is configured by a serial SPI flash. The flash device is in-system programmable. An in-circuit debugging option is available via a JTAG header for read back and real-time debugging of the FPGA design (using Xilinx "ChipScope"). User applications for the TXMC638 with Kintex-7 FPGA can be developed using the design software Vivado Design Suite. A license for the Vivado Design Suite design tool is required.

A wide range of drivers is available: Linux, Integrity, QNX, VxWorks and Windows. All drivers - except the Windows drivers - are supplied as C source code.
ORDER NOW
Technical Description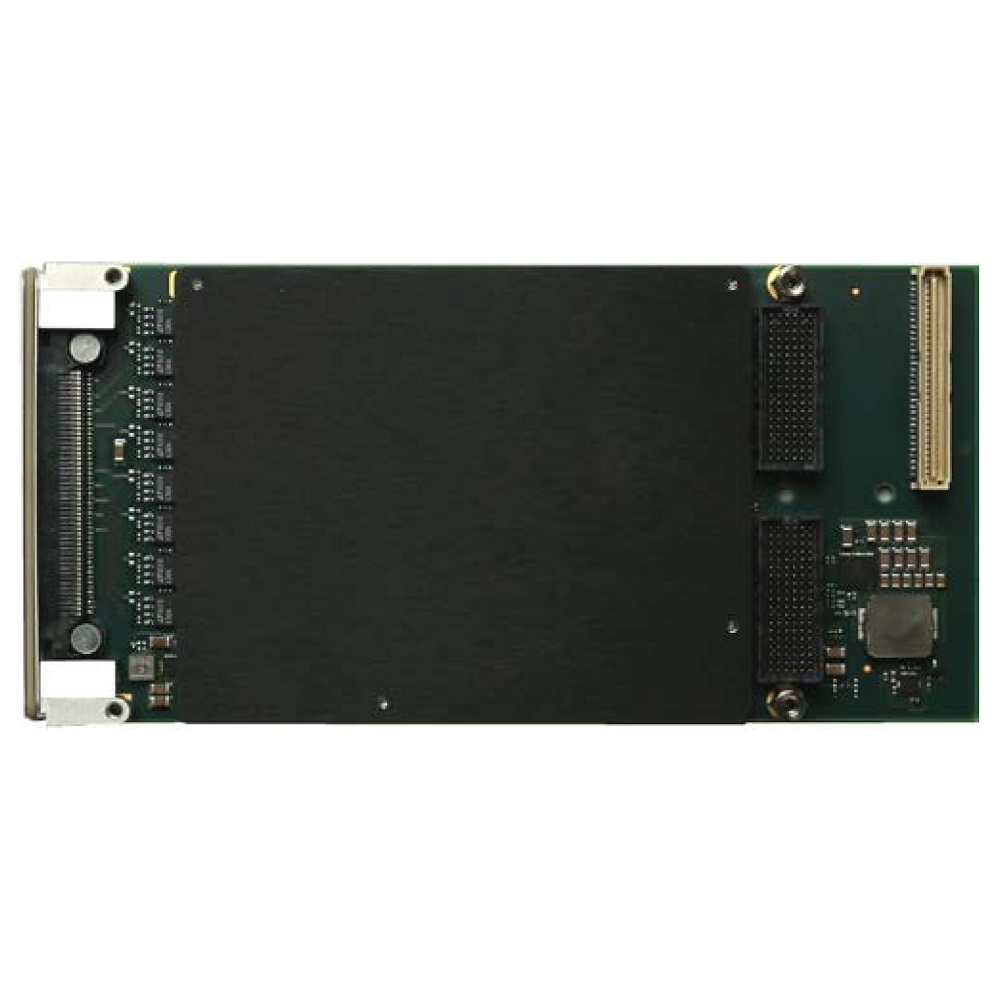 XMC module, PCIe 1.1 ANSI/VITA 42.3-2006 compliant
Kintex-7 FPGA: TXMC638-10R with Xilinx XC7K160T-2, TXMC638-11R with Xilinx XC7K325T-2, TXMC635-12R with Xilinx XC7K410T-2
Serial Flash
1 GB DDR3 SDRAM
Flash device programmable via JTAG and in-system
Front I/O lines: 24 16bit 5 Msps diff. analog inputs
Back I/O lines: 64 single-ended or 32 diff. I/O lines via P14 and 4 FPGA Multi-Gigabit transceiver via P16
-40°C .. +85°C operating temperature range
Integrity, Windows, Linux, QNX, and VxWorks drivers available
5 years warranty
Order Information
XC7K160T-2 FPGA XMC module, 1 GB RAM
XC7K325T-2 FPGA XMC module, 1 GB RAM
XC7K410T-2 FPGA XMC module, 1 GB RAM
Technical Documentation