VP B7x/msd VMEbus Intel Xeon E3 CPU Board with up to 32 GB RAM, 4 GbE Ports and Front Panel Graphics Interfaces
CPU board with six core 2.7 GHz Intel Xeon E3-2176M CPU and up to 32 GB ECC DDR4-2400 SDRAM are soldered on the board. CONCURRENT Technologies' VP B7x/msd offers up to 2 PMC/XMC slots, one DisplayPort, up to four Gigabit Ethernet, one RS-232, two RS-232/422/485, up to 4 SATA 3Gbit/s, up to 12 GPIO, up to 6 USB 2.0 ports, one M.2 SSD side, and two SATA 6Gbit/s ports for an opt. onboard SATA flash drive and an opt. onboard 2.5" HDD/SSD slot. In addition, opt. HD audio with CoDeC, up to two USB 3.1, two DVI-D, and one VGA port are available. The front panel has one DisplayPort, one RS-232, two USB 2.0, up to two GbE, and opt. one USB 3.1 port. The graphics interfaces support DirectX 12, OpenGL 4.5 and OpenCL 2.1 with up to 1920x1200 pixel resolution.

The board supports Microsoft Windows, Linux, and VxWorks.

The VP F6x/msd series is available in four different operating temperatures: standard (0°C .. 55°C), extended (-25°C .. +70°C), (-40°C .. +70°C) and conduction-cooled (-40°C .. +85°C).
ORDER NOW
Technical Description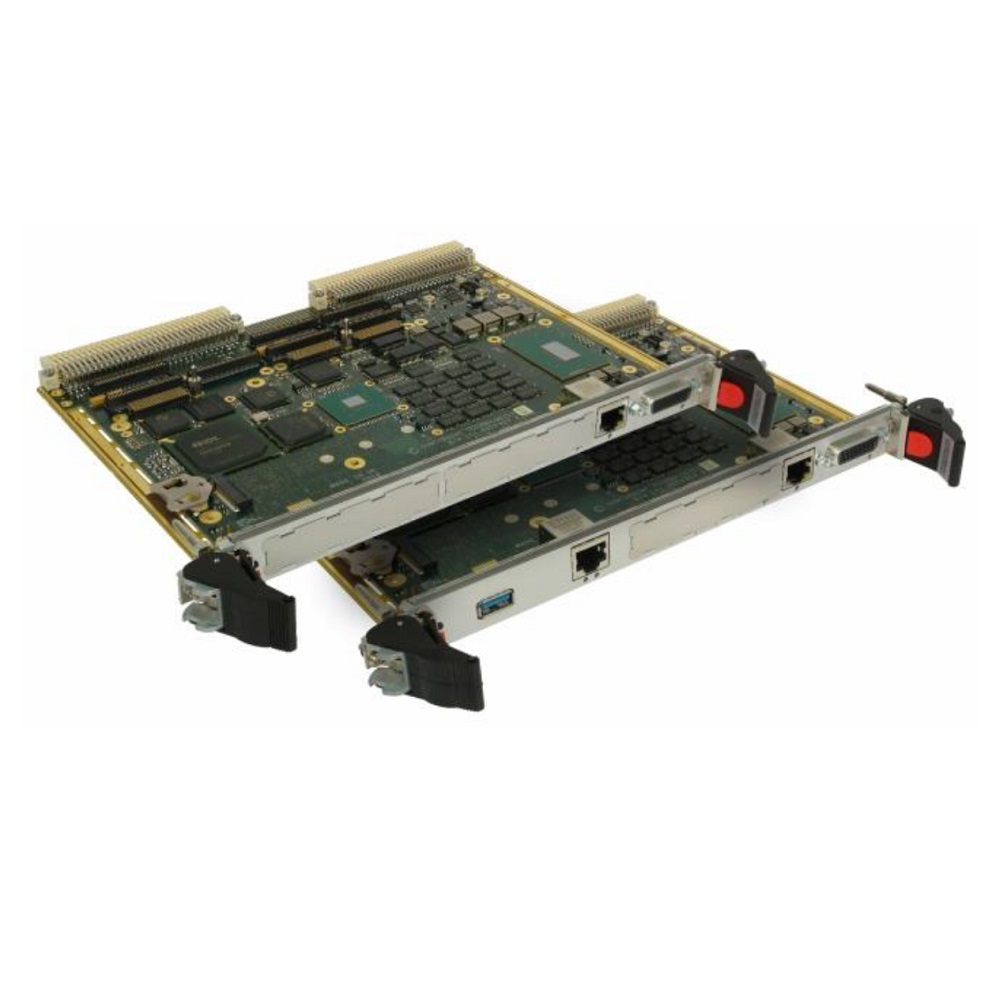 6U/4HP VMEbus board, VITA 31.1 compliant
Six core 2.7 GHz Intel Xeon E3-2176M CPU, 12MB cache
Up to 32 GB ECC DDR4-2400 SDRAM, soldered
32MB BIOS flash EPROM
Intel CM246 controller
Up to 4 graphics interface channels, one front panel DisplayPort via 60-way connector, opt. up to two DVI-D ports via P0 and opt. one VGA port via P2, 1920×1200 pixel resolution, Intel UHD graphics 630, DirectX 12, OpenGL 4.5 and OpenCL 2.1 support
Up to 4 Gigabit Ethernet ports, 1 front panel port, opt. 2 ports via P0 and opt. 1 port with onboard magnetics via P0 or on the front panel, Intel I350-AM4, VITA 31.1
3 RS-232 ports, 1 RS-232 front panel port via 60-way connector, 2 RS-232/422/485 ports via P2
Up to 2 PMC/XMC slots, 32/64bit, 33/66/100 MHz, 3.3/5Vio, site 1 with front IO or rear IO via P0 or P2, site 2 with front IO, XMC site with PCIe x8 Gen2 link, 5V
Up to 4 SATA 3Gbit/s ports, 2 ports via P2 and opt. two ports via P0
M.2 SSD side: 2242, 2260 and 2280 devices are supported, PCIe x4 interface (M-key), NVM Express (NVMe) logical interface
2 SATA 6Gbit/s ports for opt. onboard SATA flash drive and opt. onboard 2.5″ HDD/SSD, uses PMC/XMC site 2
Up to 6 USB 2.0 ports, 2 front panel ports via 60-way connector, 1 port via P2 and opt. 3 ports via P0
Opt. up to 2 USB 3.1 ports, 1 front panel port and 1 port via P0
Upt to 12 GPIO ports, 8 ports via P2 and opt. 4 ports via P0
Opt. Intel HD audio with CoDeC via P0
One DisplayPort, one RS-232, 2 USB 2.0, up to two GbE, and opt. one USB 3.1 port on the front panel
A16/A24/A32, D08-D64: MBLT64, VMEbus-Master/Slave interface, IDT Universe II PCI-X-to-VME64x Bridge
Opt. Build-In Test support: Power-on-BIT, Initiated BIT, Continuous BIT
UEFI BIOS with Secure Boot, LAN Boot Firmware, Intel Boot Guard, opt. Fast Boot solution using the Intel Firmware Support Package (FSP)
Watchdog, 32bit timer and real time clock
Trusted Platform Module (TPM 2.0)
In 4 environmental classes available: standard (0°C .. 55°C), extended grade (-25°C .. +70°C), (-40°C .. +70°C), and conduction-cooled (-40°C .. +85°C)
2 years warranty
Order Information
VMEbus CPU board, quad core 2.2 GHz Xeon E3
With Universe II VME bridge
Without Universe II VME bridge
RTM: 5-row P2, PMC1 (64 I/0), USB, 2x RS-232, DVI-D, 2x SATA, opt. HD analog audio
RTM: 5-row P2, PMC1 (40 I/0), USB, 2x RS-232, 2x DVI-D, VGA, 2x SATA, opt. HD analog audio
RTM: 5-row P2+P0, 2x PMC (64+64 I/0), USB, 2x RS-232, DVI-D, VGA, 2x SATA, GbE, GPIO, opt. HD analog audio
RTM: 5-row P2+P0, 2x PMC (32+64 I/0), 2x USB, 2x RS-232, DVI-D, VGA, 3x SATA, 2x GbE, 2x GPIO, opt. HD analog audio
RTM: 3-row P2, PMC1 (32 I/0), USB, DVI-D, 2x SATA, HD analog audio
High-Density to DisplayPort, 2 USB, RS-232- adapter cable
DisplayPort to VGA adapter
DisplayPort to DVI-D adapter
2,5" HDD/SSD incl. mounting kit
Dual PMC/XMC carrier board
Technical Documentation