VPX3010 3U Conduction-cooled VPX CPU Board with 12 Core Intel Xeon D Processor, 16 GB RAM and 10G Ethernet
3U VPX CPU board with a 12 Core Intel Xeon D-1559 or eight core Xeon D-1539 or quad core Pentium D-1519 processor. 16 GB DDR4-2133 ECC SDRAM are soldered on the board. Up to 64 GB flash are available.

ADLINKs VPX3010 offers one XMC site, one VGA port, two 10GbE ports, up to three Gigabit Ethernet ports, two RS-232/422 ports, three USB ports, eight GPIO ports, two PCIe x8 ports and one PCIe x1 port.

The board supports Wind River VxWorks 7.0, RedHat Enterprise Linux 6.5, Windows 7 Embedded, and Windows 7 32/64bit.

The product is end of life. If you have any questions, please contact us.
ORDER NOW
Technical Description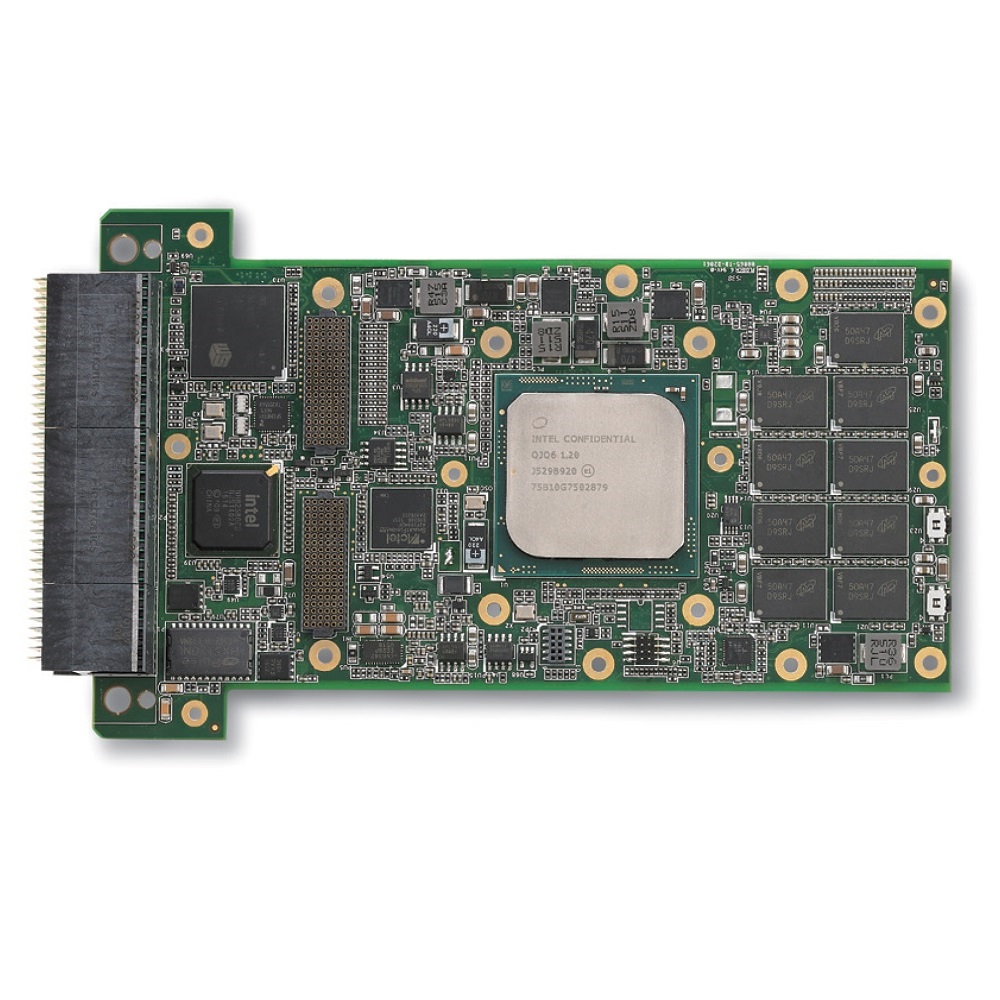 3U/4HP 1,0″ VPX CPU board, VITA 46.0, VITA 46.4, VITA 46.6, VITA 46.9, VITA 46.10, VITA 46.11, VITA 48.0 and VITA 65 OpenVPX compliant

MOD3-PAY-2F2T-16.2.5-3 module profile,


SLT3-PAY-2F2T-14.2.5 slot profile

12

core Intel Xeon D-1559 CPU,
8 core Intel Xeon D-1539 CPU,
4 core Intel Pentium D-1519 CPU

SMI750 on PCIe x1 with one VGA port via P2

16 GB ECC 2133 MHz DDR4 RAM, soldered

Up to 64 GB SLKC flash

XMC site with rear IO via P2, PCIe x8 Gen3,

XMC Signal: X8d+X12d

Two 10G-KR Ethernet ports via P2

Two 1000Base-T ports via P1 (or one 1000BASE-T and two 1000BASE-BX (BOM Option) Ethernet ports)

Two

SATA 6Gbit/s ports, one port via P1 and one port via P2

Two

RS-232 ports, one RS-232 port via P1 and one RS-232/422 port via P1

3 USB ports, 1 USB 3.0 port via P1,

1 USB 3.0 port via P2 and 1 USB 2.0 port via P1

PCIe x8 Gen3 port to P1 configurable to 1 x8 or 2 x4 to P1, supports DMA and non transparent bridge for peer-to-peer communication,
PCIe x8 Gen3 port to P2 (combined with PCIe x8 Gen3 to P1 for PCIe x16 Gen3, no XMC BOM option),
PCIe x1 Gen3 port to P1 (no XMC BOM option)

8 GPIO 5V tolerance ports via P1 and P2

AMI EFI BIOS in 64 Mbit SPI flash

Watchdog timer

Conduction-cooled (-40°C .. +75°C) operating temperature range

2 years warranty
Order Information
VPX-3010/1559/M16/S32/XMC-R1
3U/4HP VPX CPU board, 12 Core Xeon D-1559, 16 GB RAM, 32GB SLC
VPX-3010/1559/M16/S32/P16-R1
3U/4HP VPX CPU board, 12 Core Xeon D-1559, 16 GB RAM, 32GB SLC, PCIe x16
VPX-3010/1559/M16/S64/XMC-R1
3U/4HP VPX CPU board, 12 Core Xeon D-1559, 16 GB RAM, 64GB SLC
VPX-3010/1559/M16/S64/P16-R1
3U/4HP VPX CPU board, 12 Core Xeon D-1559, 16 GB RAM, 64GB SLC, PCIe x16
VPX-3010/1539/M16/S32/XMC-R1
3U/4HP VPX CPU board, 8 Core Xeon D-1539, 16 GB RAM, 32GB SLC
VPX-3010/1539/M16/S32/P16-R1
3U/4HP VPX CPU board, 8 Core Xeon D-1539, 16 GB RAM, 32GB SLC, PCIe x16
RTM for VPX-3010 with GbE, SATA, USB 3.0/USB 2.0, RS-232, GPIO
RTM for VPX-3010 with PCIe x16 slot, PCIe x1 slot
RTM for VPX-3010 with 10G SFP+
3U VPX NVIDIA GT745 GPU board, 384 CUDA GDDR5 2GB, conduction-cooled
XMC NVIDIA GT745M GPGPU board, 384 CUDA GDDR5 2GB, conduction-cooled
3U VPX conduction-cooled test frame with tBP-VPX3000
Technical Documentation