VPX3020 3U conduction cooled VPX CPU Board with Intel Core i3 or Xeon E Processor, 16 GB RAM and XMC Slot
3U VPX conduction cooled CPU board with an Intel® Xeon® E-2254ML or 9th generation Intel® Core™ i3-9100HL processor and Intel® CM246 controller. Up to 16 GB of DDR4-2666 ECC SDRAM is soldered on the board.

ADLINK's VPX3020 offers one XMC slot, one DisplayPort, up to three Gigabit Ethernet ports, one SATA 6 Gbit/s port, one RS-232 port, opt. one RS-232/422/485 port, two USB ports, up to 5 GPIO ports, one PCIe x8 port and one PCIe x1 port. An add-on card provides up to 64GB of SLC NAND flash over SATA 6 Gbp/s.

The board supports Wind River VxWorks 7.0, Linux and Windows 10.
ORDER NOW
Technical Description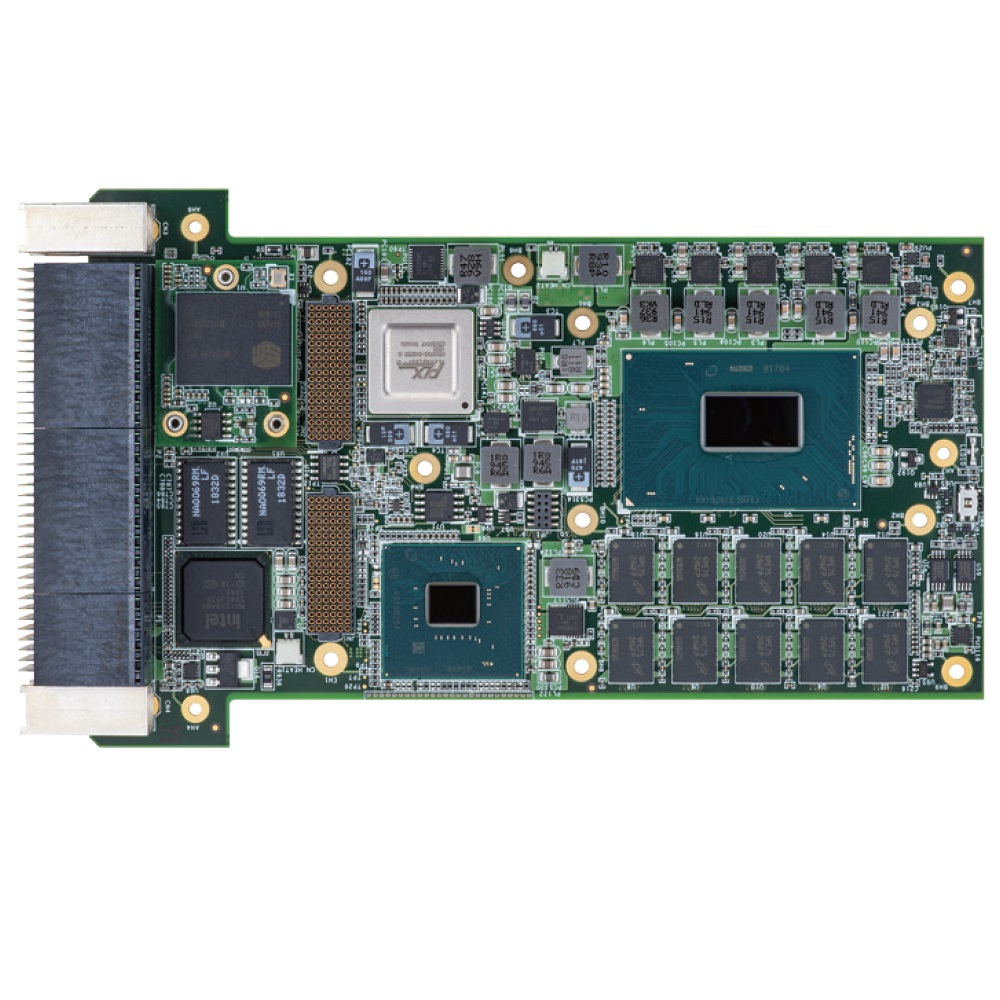 3U/4HP VPX board, VITA 46.0, VITA 46.4, VITA 46.6, VITA 46.9, VITA 46.10, VITA 46.11, VITA 48.0 and VITA 65 OpenVPX compliant
4 core Intel Xeon E-2254ML CPU,
4 core Intel Core™ i3-9100HL CPU
Chipset Intel® CM246
GPU engine integrated in the processor with a DisplayPort over P2
16 GB ECC DDR4-2666 SDRAM, soldered
Up to 64 GB SLC flash
One XMC slot with rear I/O over P2, PCIe x8 Gen3, XMC signal: X8d+X12d
One 1000BASE-T port and two 1000BASE-BX ports via P1 (or two 1000BASE-T ports)
One SATA 6Gbit/s port via P2
Two RS-232 ports, one RS-232 port via P2 and one RS-232/422/485 ports via P2
2 USB ports, 1 USB 3.0 port via P2, 1 USB 2.0 port via P2
PCIe x8 Gen3 port via P1 (configurable to one x8 or two x4 ports, DMA support and non-transparent bridge for peer-to-peer communication)
Up to 8 GPIO ports over P1 and P2
AMI EFI BIOS in 64 Mbit SPI flash memory
Watchdog timer
Conduction cooled (-40°C .. +85°C) operating temperature range
2 years warranty
Order Information
3U VPX CPU board, Intel® Xeon® E2254ML, 16GB RAM, XMC slot, -40°C .. +75°C conduction cooled
3U VPX CPU board, Intel® Xeon® E2254ML, 16GB RAM, XMC slot, -40°C .. +85°C conduction cooled
3U VPX CPU board, Intel® Xeon® E2254ML, 16GB RAM, -40°C .. +75°C
3U VPX conduction cooled test frame with tBP-VPX3000
Technical Documentation