VPX6000 6U VPX Conduction-cooled CPU Board with Intel Core i7 Generation 4 Processor, 32 GB RAM and 10GbE
6U VPX CPU board with a Single or Dual Quad Core 2.4 GHz Intel Core i7-4700EQ processor and Intel's QM87 controller. 32 GB DDR3L-1600 ECC SDRAM are soldered on the board. 64 GB SSD are available.

ADLINKs VPX6000 offers four 10GbE, four DVI/HDMI, two SATA 6Gbit/s, ten GbE, four RS-232/422, 8 USB, 32 GPIO, 2 PS/2 Keyboard/Mouse, HD audio line-in and line-out, and 2 PCIe x8 or 4 PCIe x4 (Gen2) ports. Two VGA, two RS-232 and 2 USB 3.0 front panel ports are available on the air-cooled version.

The board supports Wind River VxWorks 6.9.3, RedHat Enterprise Linux 6.5, and Windows 7 32/64bit.
ORDER NOW
Technical Description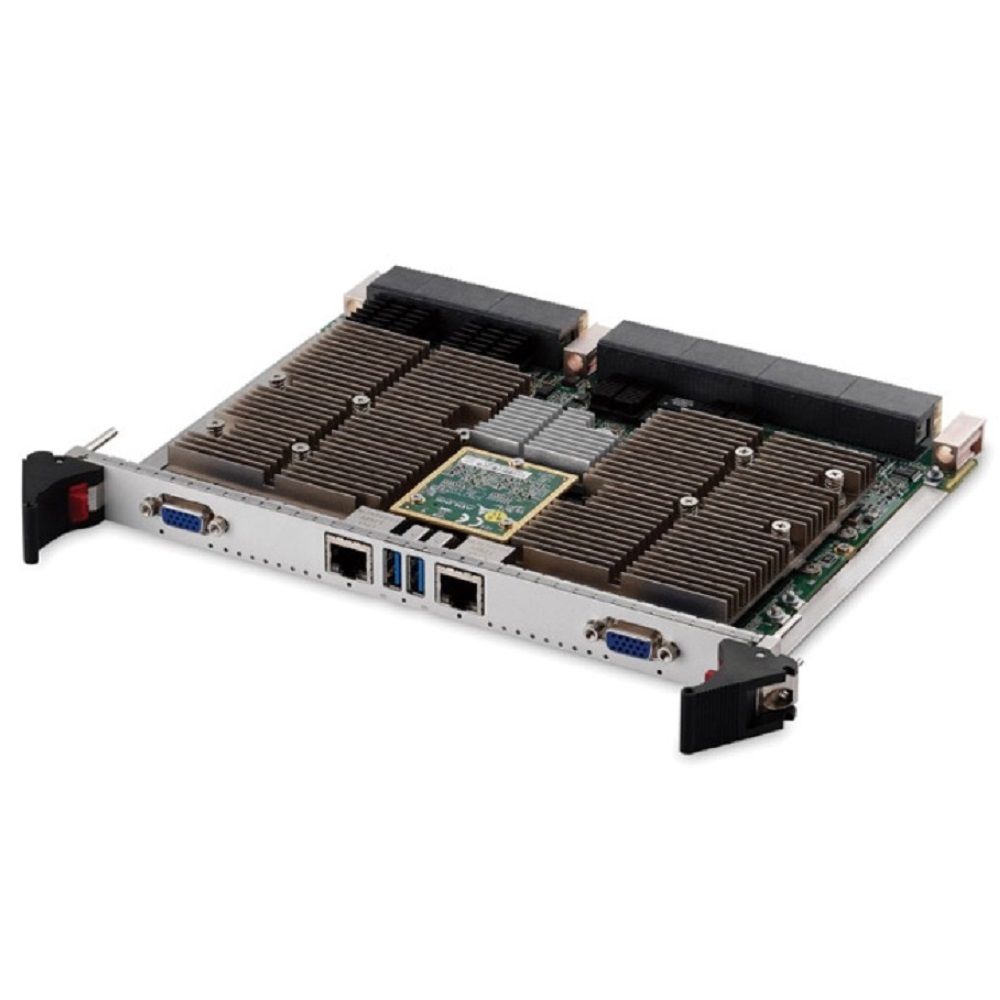 6U/4HP VPX CPU board, VITA 46.0, VITA 46.4, VITA 46.6, VITA 46.9, VITA 46.10, VITA 46.11, VITA 48.0 and VITA 65 OpenVPX compliant

MOD6-PAY-4F1Q2U2T-12.2.1-8 module profile,
SLT6-PAY-4F1Q2U2T-10.2.1 slot profile

Single or Dual Quad core 2.4 GHz Intel Core i7-4700EQ CPU, 6MB L2 cache

Intel QM87 controller

16 GB ECC 1600 MHz DDR3L RAM per CPU

Graphics integrated in CPU, two VGA front panel ports (air cooled version), four DVI/HDMI ports via P5/6, DirectX 11.2 and OpenCL 1.2 support

Two SATA 6Gbit/s ports via P3/P4

64Gb SSD, two 32 GB SLC SSDs, opt. 128 GB flash

Four 10GbE ports with RDMA via P1, Mellanox ConnectX-3

Ten GbE ports, four 1000BASE-T ports via P4-P6 and four 1000BASE-BX/KX ports via P4-P6, 2 GbE ports with iAMT via P4, Intel 82580EB, Intel I271

Two RS-232 front panel ports and two RS-232/422 ports via P5/6

Up to 10 USB ports, 2 USB 3.0 front panel ports (air-cooled version), 4 USB 3.0 ports via P3/P4 and 4 USB 2.0 ports via P5/6

2 PCIe x8 or 4 PCIe x4 (Gen2) with DMA via P2

32 GPIO ports via P3/P4

2 PS/2 Keyboard/Mouse ports via P5/P6

HD audio line-in and line-out ports via P5/P6

AMI UEFI BIOS with 16 MB SPI flash

HW monitor and watchdog timer

-40°C .. +75°C (Conduction-cooled) and 0°C .. +75°C (air-cooled) operating temperature range

2 years warranty
Order Information
VPX-6000/D4700/M32/S64-R1
3U/4HP VPX CPU board, Dual Quad Core 2.4 GHz Core i7-4700EQ, 32 GB RAM, 64 GB SSD, -40 .. +75°C, conduction-cooled
VPX-6000/S4700/M16/S32-A1
3U/4HP VPX CPU board, Single Quad Core 2.4 GHz Core i7-4700EQ, 16 GB RAM, 32 GB SSD, 0 .. +75°C, air cooled
VPX-6000/D4700/M32/S64-A1
3U/4HP VPX CPU board, Dual Quad Core 2.4 GHz Core i7-4700EQ, 32 GB RAM, 64 GB SSD, 0 .. +75°C, air-cooled
RTM for VPX-6000 with 2x 10GbE, 2 USB 3.0, 2x 1000BASE-t, 2x BASE-BX, 2x Micro-HDMI, Mini UART, Line-in, Line-out, RS-232, 6x SATA 3.0
Technical Documentation