VR E7x/msd 6U VPX CPU Board with Intel Xeon E-2176M Processor, 10Gigabit Ethernet and up to 2 XMC Sites
6U VPX CPU board with a 6-Core Intel Xeon E-2176M processor. The board is based on Intel's CM246 controller. Up to 32 GB DDR4 ECC SDRAM are soldered on the board.

CONCURRENT Technologies VR E7x/msd offers two XMC sites, two DisplayPorts, one DVI-D port, two M.2 SSD sites, up to four SATA 6Gbit/s ports, one 10Gigabit Ethernet port, up to five Gigabit Ethernet ports, 2 RS-232/422/485 ports, up to 13 USB ports, 8 GPIO ports, 8 GPI ports, Intel High Definition audio interface, and two PCIe x8 or four PCIe x4 ports. Opt. one onboard flash module can be mounted. The front panel offers 10Gigabit Ethernet, two USB 2.0, one RS-232, one DisplayPort, opt. two USB 3.0 and opt. one additional DisplayPort and front I/O from the XMC module.

The board supports Microsoft Windows, Linux, and VxWorks.

The VR E7x/msd is available in standard operating temperature range, extended temperature and in conduction-cooled.
ORDER NOW
Technical Description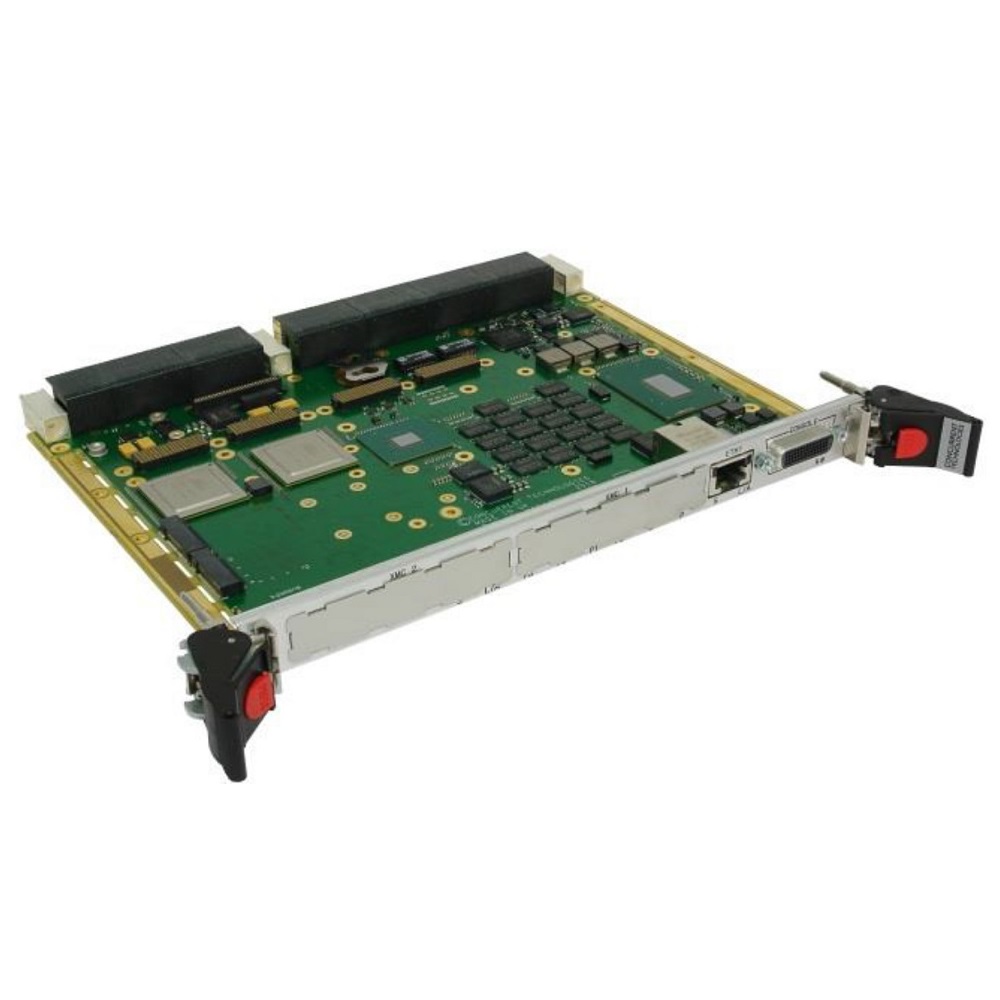 6U/4HP VPX CPU board, VITA 42, VITA 46.0, VITA 46.4, VITA 46.6, VITA 46.9, VITA 65, VITA 47, VITA 48.0, VITA 48.2, VITA 61, VITA 65, and OpenVPX compliant

6-core 2.7 GHz Intel Xeon E-2176M CPU, 12 MB smart cache

Intel CM246 controller

Up to 32 GB ECC DDR4 RAM, soldered

Dual 16 MB SPI BIOS flash and 8 KB User EEPROM

Up to 2 XMC sides, front and rear I/O (VITA 46.9), 1 PCIe x8 or 2 PCIe x4 Gen3, VPWR +5V or +12V
Option 1a: 2 XMC sides, XMC side 2 with rear I/O (P24 = P64s)
Option 1b: 2 XMC side, XMC side 2 with rear I/O (P26 = X12d+X8d)
Option 2: XMC side 2 without rear I/O (P24 und P26)
Option 3: only XMC side 1
All options XMC side 1 with rear I/O (P16 = X12d+X8d+X38s)

Up to 3 independent graphics interfaces, 2 DisplayPorts with 3840×2160 pixel resolution (2 DisplayPorts on option 1a and 1b on the front panel, 1 DisplayPort on option 2 and 3 on the front panel and one DisplayPort via P3), DVI-D with 1920×1200 pixel resolution via P6, Intel UHD graphics 630, DirectX 12, OpenGL 4.4 and OpenCL 2.0 support

One 10Gigabit Ethernet front panel port

Up to 5 Gigabit Ethernet ports, two 1000Base-BX via P4 and up to 3 Gigabit Ethernet front panel ports via P4 with or without magnetic, Wake-on-LAN support, Precision Time Protocol support, Intel I210, Intel I350-AM

Two M.2 SSDs sides: 2242, 2260 and 2280 devices are supported, PCIe x4 interface (M-key), NVM Express (NVMe) logical interface, RAID 0, 1, 5 and 10 support

Up to 4 SATA 6 Gbit/s ports, 2 ports via P6 and 2 additional ports on option 2 and 3 via P4

2 RS-232 Ports, one RS-232 front panel port or via P5, and one RS-232/422/485 port via P

6

U

p to 13 USB ports:
Option 1a und 1b: 2 USB 2.0 front panel ports, 3 USB 2.0 ports via P5 and P6
Option 2: 2 USB 2.0 front panel ports, 3 USB 3.1 ports via P4, 6 USB 2.0 ports via P4, P5, P6
Option 3: 2 USB 3.0 und 2 USB 2.0 front panel ports, 3 USB 3.1 ports via P4, 6 USB 2.0 ports via P4, P5, P6

Intel High Definition analog audio

interface (onboard CoDeC) with audio Input / Output and microphone

8 GPIO ports via P2 and 8 GPI ports via P3

Opt. onboard flash module

One 10GbE, two USB 2.0, one RS-232, one DisplayPort, opt. two USB 3.0 and opt. one additional DisplayPort in the front panel and XMC front I/O

Two PCIe x8 or four PCIe x4 Gen 3 ports via P1, VITA 46.4, VITA 65, configurable by the VPX switch configuration tool, up to two non-transparent ports with DMA for multi-processing applications

CPU temperature, board temperature and voltage sensors accessed via System Manager

Opt. Build-In Test support: Power-on-BIT, Initiated BIT, Continuous BIT

UEFI BIOS with Microsoft Secure Boot, LAN Boot Firmware, Intel Boot Guard, opt. Fast Boot solution using the Intel Firmware Support Package (FSP)

Real Time clock and watchdog timer

Trusted Platform Module (TPM 2.0)

In 5 environmental classes available: standard (0°C .. 55°C), extended (-25°C .. +70°C), (-40°C .. +70°C), (-40°C .. +85°C), and conduction-cooled (-40°C .. +85°C)

2 years warranty
Order Information
6U/4HP CPU board, 6 Core 4.4GHz Xeon E-2176M, 45W, 16 GB RAM
6U/4HP CPU board, 6 Core 4.4GHz Xeon E-2176M, 45W, 32 GB RAM
6U/4HP CPU board, 6 Core TBD GHz Xeon E-2176M, 35W, 16 GB RAM
6U/4HP CPU board, 6 Core TBD GHz Xeon E-2176M, 35W, 32 GB RAM
6U/4HP CPU board, 6 Core TBD GHz Xeon E-2176M, 25W, 16 GB RAM
6U/4HP CPU board, 6 Core TBD GHz Xeon E-2176M, 25W, 32 GB RAM
0.8-inch slot width, VITA 46.0 front panel, dual XMC sites, 1 DisplayPort
0.8-inch slot width, VITA 46.0 front panel, dual XMC sites
0.8-inch slot width, VITA 46.0 front panel, 1 XMC site, 2 USB 3.1
1.0-inch slot width, VITA 65 front panel, dual XMC sites, 1 DisplayPort
1.0-inch slot width, VITA 65 front panel, dual XMC sites
1.0-inch slot width, VITA 65 front panel, 1 XMC site, 2 USB 3.1
0.8-inch slot width 6U VPX RTM for VR E7x/msd
0.8-inch slot width 6U VPX RTM for VR E7x/msd
1.0-inch slot width 6U VPX RTM for VR E7x/msd
1.0-inch slot width 6U VPX RTM for VR E7x/msd
Flash module more than 64 GB
60-way HD to 2 DisplayPort, 1 VGA, 2 USB, 1 RS-232 cable
Technical Documentation