VR XMC/x01 6U VPX Carrier Board for two XMC/PMC Modules
6U VPX carrier that provides front I/O and rear I/O for two XMC or PMC modules in 6U VPX systems.

This XMC/PMC to 6U VPX adapter from CONCURRENT Technologies is used to build modular, flexible and cost effective I/O solutions with XMC/PMC devices in VPX systems.

The VR XMC/x01 is 32/64bit 33/66/100/133 MHz 6U PMC/XMC carrier for the VPX bus with front I/O and Pn4/Pn6 rear I/O. The XMC interface supports PCIe x1, x2, x4, x8 or x16 (Gen1 and Gen2). The board has one RS-232 management port, 8 RS-232/422/485 ports, 4 SATA 6Gbit/s ports, one 4 channel DMA engine for fast data block moves and 8 GPIO ports. The RS-422/485 ports offer full duplex mode. Opt. two SATA 6 Gbit/s HDD/SSDs can be mounted instead of the PMC/XMC modules.
ORDER NOW
Technical Description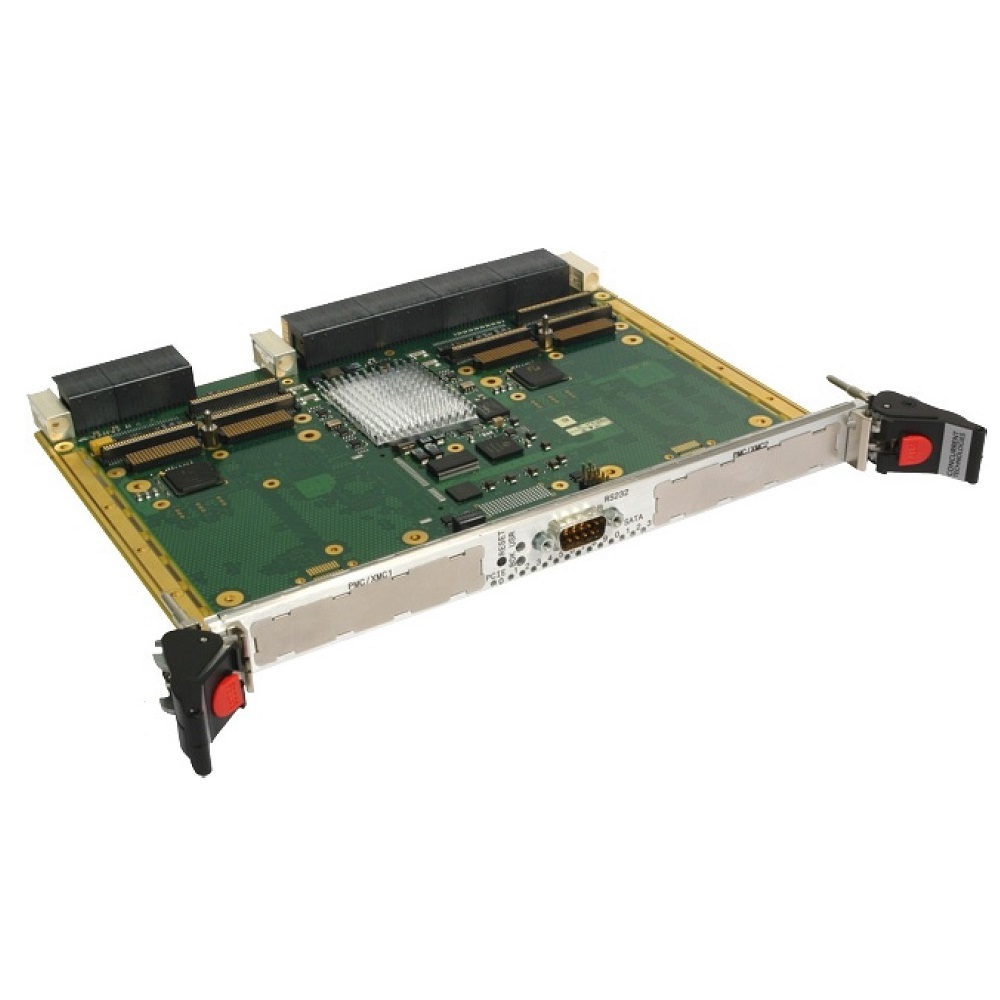 6U/4HP VPX board, VITA 42, VITA 46.0, VITA 46.4, VITA 46.9, VITA 47.0, VITA 48.0, VITA 48.2, OpenVPX VITA 65 conform

Two PMC/XMC slots, 32/64bit 33/66/100/133MHz, 5Vio, Front-I/O, Rear-I/O via Pn6 (XMC) and Pn4 (PMC)

XMC interface with PCIe x1, x2, x4, x8 or x16 (Gen1 and Gen2) support

Opt. two 2.5″ SATA 6 Gbit/s HDD/SSDs, occupies  PMC/XMC slots

4 SATA 6Gbit/s ports, 2 ports via P6 and additional 2 ports via P6 or for 2 onboard HDD/SSDs

8 RS-232/422/485 ports with Rx, Tx, CTS and RTS signals via P3, P4, P5 and P6

Full duplex on RS-422/485 ports

RS-232 management front panel port or one port via onboard header

8 GPIO ports via P1 and P6

VPX fabric backplane with four PCIe x4 ports, two PCI x4 and one x8 port, two x8 ports or one x16 port (Gen 1 and Gen2)

4 channel DMA Engine for fast data block moves

8 KB NVRAM

Baseboard management controller

System management with IPMI v 1.5

Operating system support dependent on the host processor used

In 3 environmental classes available: standard (0°C .. 55°C),

extended grade (-25°C .. +70°C), and conduction-cooled (-40°C .. +85°C

)

2 years warranty
Order Information
6U/4HP VPX PMC/XMC carrier board
6U/4HP VPX PMC/XMC carrier board, -25°C .. +70°C, conduction-cooled
6U/4HP VPX PMC/XMC carrier board, -40°C .. +85°C, conduction-cooled
Technical Documentation