XM 515/x24 Quad Gigabit Ethernet Interface
XMC module providing a four channel Gigabit Ethernet 10BASE-T/100BASE-TX/1000BASE-T interface with front panel RJ45 I/O or Rear I/O via PMC Pn4 or XMC Pn6.

The XMC connector Pn6 provides access to the Intel I350-AM4 controller via an PCIe x4 link. The Gigabit Ethernet ports supports 1000BASE-T over cat. 5e/6 UTP cable and 100BASE-Tx and 10BASE-T over cat. 5 UTP cable. The controller has a 128 kB SPI flash EEPROM with Intel PXE BIOS Firmware, allows transmit and receive IP, TCP and UDP checksum off-loading, transmit TCP segmentation, provides auto-negotiation, automatic retransmission, automatic polarity and MDI/MDI-X selection, and supports jumbo frames as well as full and half duplex operation.

The module supports Microsoft Windows, Linux and VxWorks.
ORDER NOW
Technical Description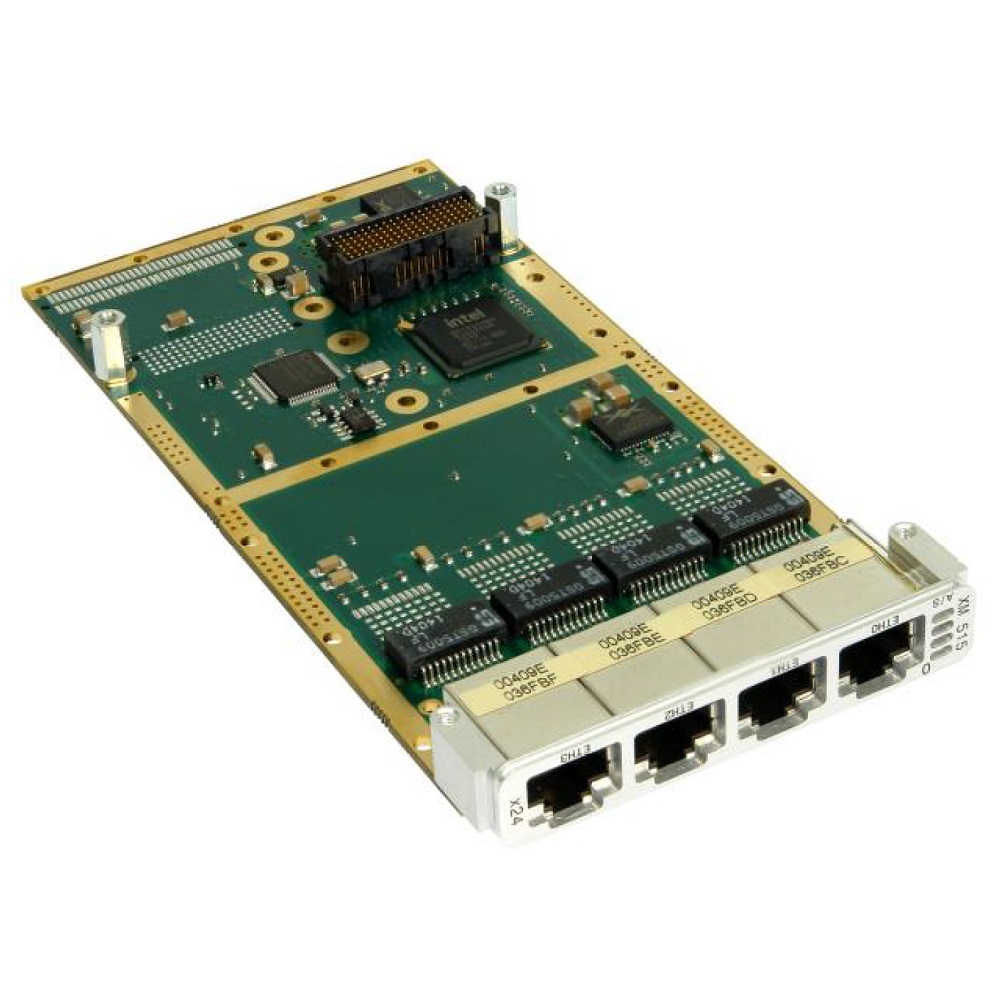 XMC module, PCIe x4 Gen 1, Gen 2 compliant PCIe 2.1
Front or Rear-I/O: Four RJ45 connectors via front panel I/O; Four Ethernet via PMC Pn4 or XMC Pn6 connector (with or without magnetics)
IEEE 802.3ab,1000Base-T over cat. 5e/6 UTP cable,
IEEE 802.3/802.3u,10Base-T and 100BaseTx over cat. 5 UTP cable
Intel I350-AM4 controller
128 kB SPI Flash EEPROM with Intel PXE BIOS Firmware
Jumbo frames
Transmit and receive IP, TCP and UDP checksum off-loading
Transmit TCP segmentation
Automatic retransmission
Auto-negotiation
Automatic polarity and MDI/MDI-X selection
Full and half duplex operation
In 3 environmental classes available: standard (0°C .. 55°C),extended grade (-25°C .. +70°C) and (-40°C .. +85°C)
2 years warranty
Order Information
XMC module, Quad GbE interface
Technical Documentation