XP B5x/msd Processor XMC with Intel Core i7 Generation 6 CPU
The XMC module provides an Intel Core i7 Generation 6 processor. This processor XMC card XP B5x/msd from Concurrent Technologies is the ideal solution when time-to-market and flexibility are important.

Processor XMC (PrXMC) modules provide a complete host CPU and memory subsystem to a base board full of PCI-based I/O controllers in a compact, rugged, industry-standard form factor. The PrXMC isolates the complexities of a high-speed CPU, cache and memory signals from application-specific hardware, enabling OEMs to focus on their market requirements while simplifying their product release. These modules also simplify CPU and memory upgrades in performance-driven embedded and telecom applications.

The XP B5x/msd module is powered by a Core i7-6102E CPU and provides Gigabit Ethernet, SATA, RS-232, graphics, USB, and 64 GB micro SSD.

The module supports Linux, Windows, and VxWorks.
ORDER NOW
Technical Description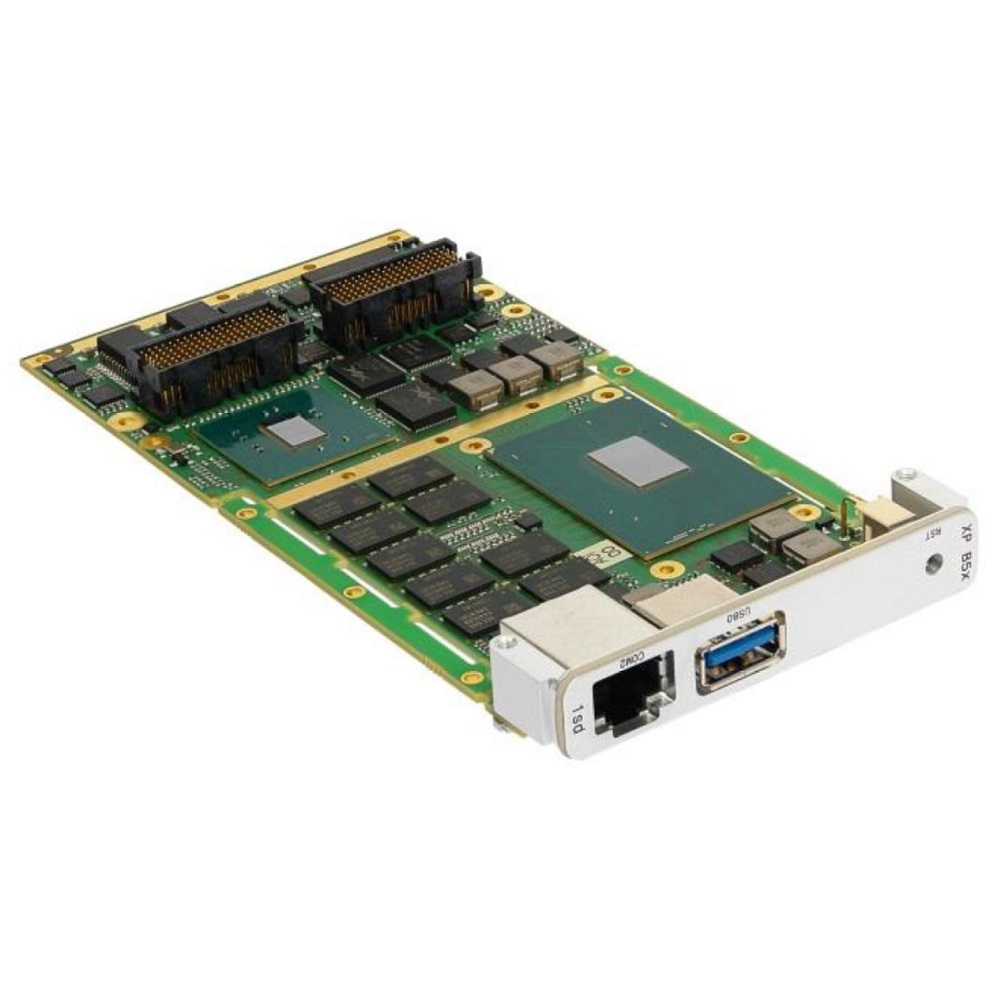 XMC module, 32 bit/33 MHz PCI interface, IEEE P1386.1, VITA 42.0, VITA 42.3, and processor XMC standard compliant
Dual Core 1.9 GHz Intel Core i7-6102E, 3 MB cache
Up to 16 GB DDR4-2133 ECC SDRAM
Intel QM236 chipset
Intel Hyper-Threading technology, Intel 64 technology, and Intel Turbo Boost technology
Graphics with DisplayPort via Pn6, 4096x2034pixel resolution, DirectX and OpenGL 4.4 support
Dual 16 MB BIOS Flash
2 GbE ports via Pn6, opt. onboard magnectics, IEEE1588 support, two Intel I210 controller
2 SATA 6Gbit/s ports via Pn6
64 GB Micro SSD, soldered
3 RS-232 ports, 2 ports via Pn6 and one front panel port, port 1 supports Tx, Rx, RTS, CTS, DSR, DCD, DTR, and RI, Port 2 supportsTx, Rx, RTS, CTS, DSR, DCD, and DTR, Port 3 supportsTx, Rx, RTS, and CTS
5 USB ports, 1 USB 3.0 port and 3 USB 2.0 ports via Pn6, 1 front panel USB 3.0 port
8 GPIO via Pn6
Configurable PCIe interface via Pn5 supports PCIe x8 or 2 PCIe x4 lanes, PCIe Gen1, Gen2, and Gen3, supports Root Coplex operation, supports IPMI interface, VITA 42.3
UEFI BIOS, LAN boot firmware
32-bit counter, watchdog and real-time clock
In 2 environmental classes available: standard (0°C .. 55°C) and extended grade (-25°C .. +70°C)
2 years warranty
Order Information
Processor XMC, 1.9 GHz i7-6102E
Technical Documentation