AD CR5/PMC 6U VMEbus Carrier Board for two PMC Modules
The CONCURRENT Technologies AD CR5/PMC is a standard 6U VMEbus carrier that provides front I/O and rear I/O for two PMC modules. This PMC to 6U VMEbus adapter is used to build modular, flexible and cost effective I/O solutions with PMC devices in VMEbus systems.

The AD CR5/PMC is 32bit 33 MHz 6U PMC carrier for the VMEbus bus with front I/O, P2 rear I/O and opt. P0 rear I/O. The P2 connector provides 64 or 32+32 I/O signals and the P0 connector has 64 I/O signals. The I/O pins mapping is compliant with IEEE 1386 and VITA 35 PMC I/O wiring standards and the I/O signals routed as differential pairs. There is also an adapter interface for connecting to a compatible VME PMC host processor card.

The AD CR5/PMC series comes in three different environment classes from standard (0°C to 55°C) to extended temperature (-25°C to +70°C), and (-40°C to +85°C).
ORDER NOW
Technical Description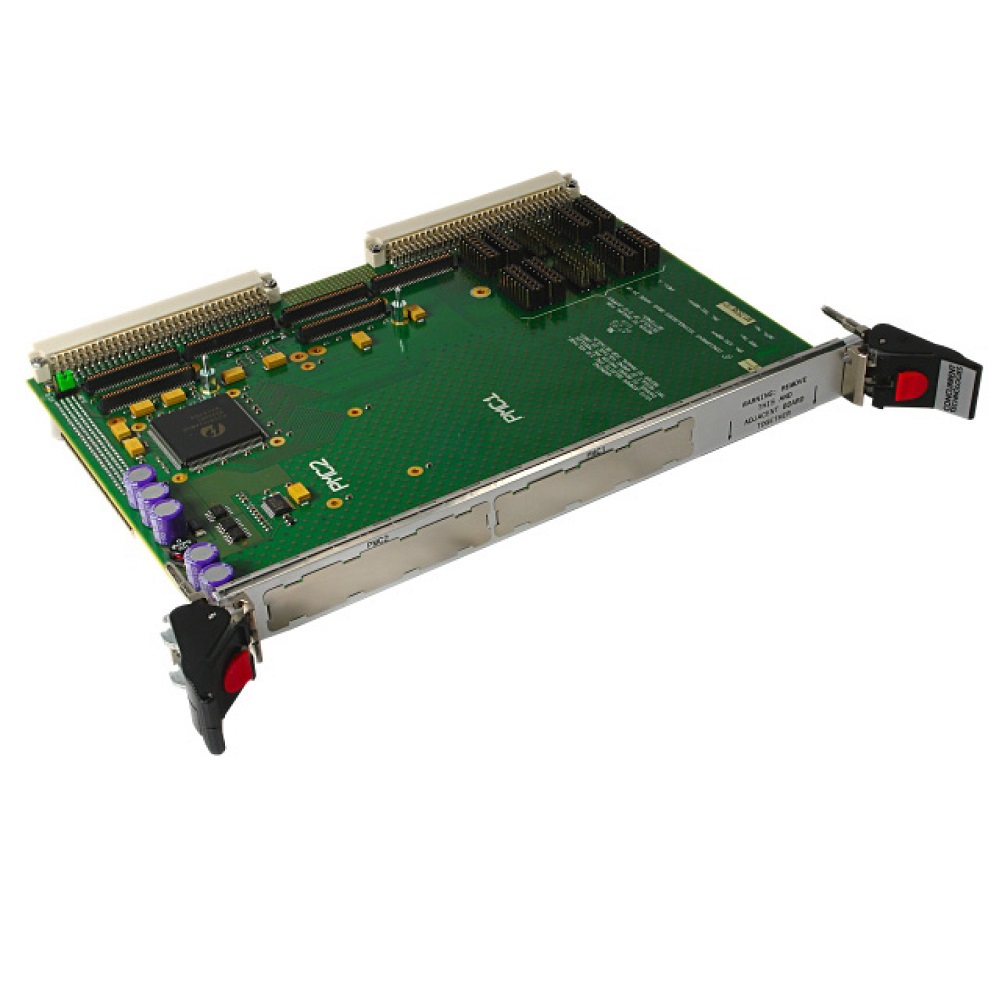 6U/4HP VMEbus board, VITA 35 conform
Two PMC slots, Front-I/O, Rear-I/O via P2 and opt. P0
PMC interface with 32bit/33MHz, 5V or 3.3V
64 or 32+32 I/O signals via P2 connector
P64 I/O signals via P0 connector
I/O pin mapping compliant with IEEE 1386 and VITA 35 PMC I/O wiring standards
I/O signals routed as differential pairs
Adapter Interface to connect to a compatible VME PMC host processor card, utilizes PCI 2.2 local bus specification and PCI to PCI bridge specification 1.1, Pericom PI7C8152A PCI-to-PCI bridge
Adapter interface features a standard PCI to PCI bridge software architecture
Operating system support dependent on the host processor used
In 3 environmental classes available: standard (0°C .. 55°C), extended grade (-25°C .. +70°C), and (-40°C .. +85°C)
2 years warranty
Order Information
6U/4HP VMEbus PMC carrier board without P0, VME handles
6U/4HP VMEbus PMC carrier board with P0, VME64x handles
6U/4HP VMEbus PMC carrier board without P0, VME64x handles
P2 and P0 I/O breakout module
Technical Documentation