ComEth4050a_3U 10 Port Gigabit Ethernet Layer 2/3 Switch
10 Port Gigabit Ethernet Layer 2/3 Switch with full- and half duplex mode. Interface Concept's 3U CompactPCI ComEth4050a_3U series has 10 GbE ports via J2. Two GbE ports are on the front panel or on a rear transition module. The front panel ports have a RJ45 or LC interface and they are PICMG 2.16 compliant. On the front panel shows one LED per port the activity and link of the Ethernet connections.

The ComEth4050a_3U series supports auto crossover, auto polarity and auto negotiation. Auto negotiation is defined in IEEE 802.3u. The QoS allows to prevent packet loss with back pressure or flow control. A virtual cable tester checks the cable. VLAN's based on port or MAC addresses simplifies network management and the RSTP/STP protocol is used for a more reliable network.

IGMP and MLD reduce the network traffic. 9 KB jumbo frames minimize the interrupt handling of the involved stations and generate a smaller protocol overhead. Link aggregation and LACP increase the data throughput.

In addition the ComEth4050a_3U series combines a layer 2 switch and a layer 3 router. The switch can handles up to 16000 MAC addresses and offers layer 3 functions allowing local IP forwarding (IPv4/IPv6), static and dynamic protocols (RIPv2, OSPFv2) routing, proxy-ARP and DHCP. The functions are manageable through web or CLI.

The ComEth4050a_3U series comes in three different environment classes from standard (0°C to 55°C), extended temperature (-20°C to +65°C up to conduction-cooled (-40°C to +75°C).
ORDER NOW
Technical Description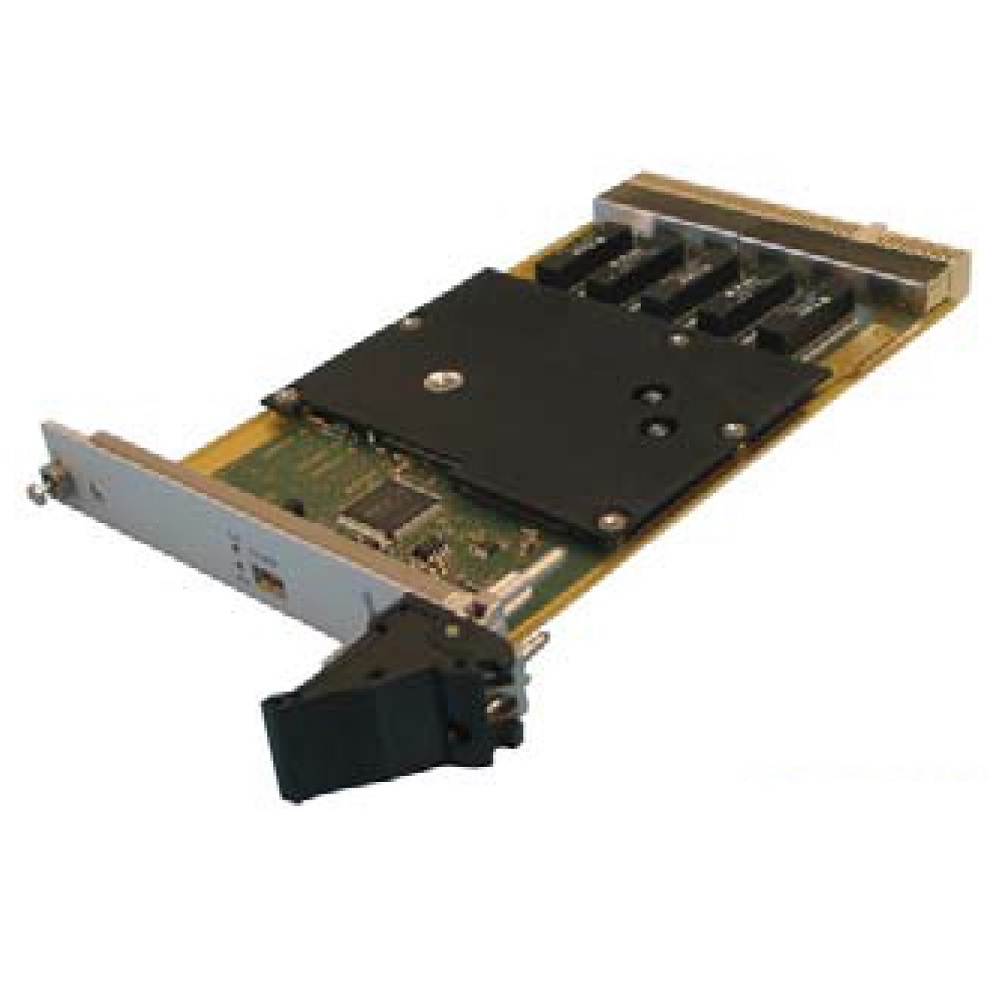 3U CompactPCI switch, PICMG 2.16 compatible, IEEE 802.1ad, 802.1d, 802.1p, 802.1Q, 802.1v, 802.1w, 802.1x compliant
10 ports layer 2/ 3 Gigabit Ethernet switch
Up to 10 GbE ports on J2
2 GbE ports on the front panel, RJ45 or LC connector
MAC table with 16.000 entries
Back pressure and flow control
9 KB frames
IPv4 IGMP and IPv6 MLD snooping
Static link aggregation or LACP
Layer 3 functions: static and dynamic protocols (RIPv2, OSPFv2), IPv4/IPv6, proxy-ARP, DHCP
Bandwidth management with flow rate limiting, egress rate shaping with rate ranging port from 64k to 1Gbs and minimal bandwidth per traffic class
Up to 400 VLANs (256 active)
QoS with 8 priority queues level per port
Multicast and Broadcast limiting
IGMP, UDP, and RSTP/STP protocol
Virtual Marvell cable tester
Port mirroring
SNMP and private MIBs (Management Information Base)
Managed through web or a CLI interface
Full and half duplex mode
Auto negation, auto polarity, auto crossover and automatic MAC address management
One LED per port on the front panel for link and activity and two LEDs for board status
Full MIB and RMON counters
Operating temperature range: 0°C .. 55°C, -20°C .. +65°C or conduction-cooled (-40°C .. +75°C)
2 years warranty
Order Information
10 port Gigabit Ethernet Switch, 0°C .. +55°C operating tperemature range
10 port Gigabit Ethernet Switch, -20°C .. +65°C operating temperature range
10 port Gigabit Ethernet Switch, conduction-cooled
Technical Documentation