CSA-7400 4U 19" Rackmount Network Appliance with two 4. Generation Intel Xeon E5 Processors and 100/40/10Gigabit Ethernet Interfaces
High-performanceServer with up to 8 100Gigabit Ethernet and up to 8 40Gigabit Ethernet or 72 10Gigabit Ethernet Ports. The ADLINK Technology CSA-7400 4U servers have 4 Computer Nodes, 2 Switch Nodes and 2 Network Interface Module (NIM) slots for up to 4 Intel Xeon E5-2600 as well as up to 8 100Gigabit Ethernet and 8 40Gigabit Ethernet interfaces on the front panel or up to 72 10Gigabit Ethernet ports on the front panel.

Each of the 4 computer nodes (MCN-2600T) has an Intel C610 chipset and an Intel Xeon E5-2600 v3/v4 processor with up to 18 cores and up to 192GB of DDR4 RAM. In addition, each MCN-2600T provides two 10/100/1000BaseT Management Ethernet ports, two USB 3.0 ports, a VGA port, and a RS-232 console port on the front panel, as well as two outside accessible 2.5 "SATA drive bays and two internal M.2 slots for SSDs.

Each switch node (MXN-3610/MXN-4100SR) has the Intel Controller FM10840 with 600Mbit/s bandwidth, four PCIe x8 Gen3 links, and a Chassis Management Module with Board Management Controller (BMC). Opt. a COMe module with type 6 interface for local management is available that offers a quad core 2.4GHz Intel Core i7-4700EQ or a dual core 1.5GHz Intel Celeron 2002E with up to 16GB DDR3-1600/1333 RAM. Each switch node has also two Gigabit Ethernet ports and two USB 2.0 ports on the front panel as well as two onboard mSATA ports. One USB port can be used as a console port. The Switch Node MXN-4100SR has four 100GBASE-SR4/100GBASE-CR4 QSFP28 front panel ports, the Switch Node MXN-3610 has 20 10Gigabit Ethernet SFP+ front panel ports. The NIM-0440 has four 40Gigabit Ethernet QSFP front panel ports, the NIM-1610 has 16 10Gigabit Ethernet SFP+ front panel ports. The two switch modules provide two 50G internal Ethernet links to each computer node.

The CSA-7400 provides two 400Gbps Ethernet bandwidth and two 200Gbps PCIe bandwidths total 1.2Tbps bandwidth. The 3 + 1 redundant power supplies deliver 850W. There is a 100-240V AC and a -36V to -72V DC version available.

The system supports Windows 7 64-bit and Linux 2.6 and higher.
ORDER NOW
Technical Description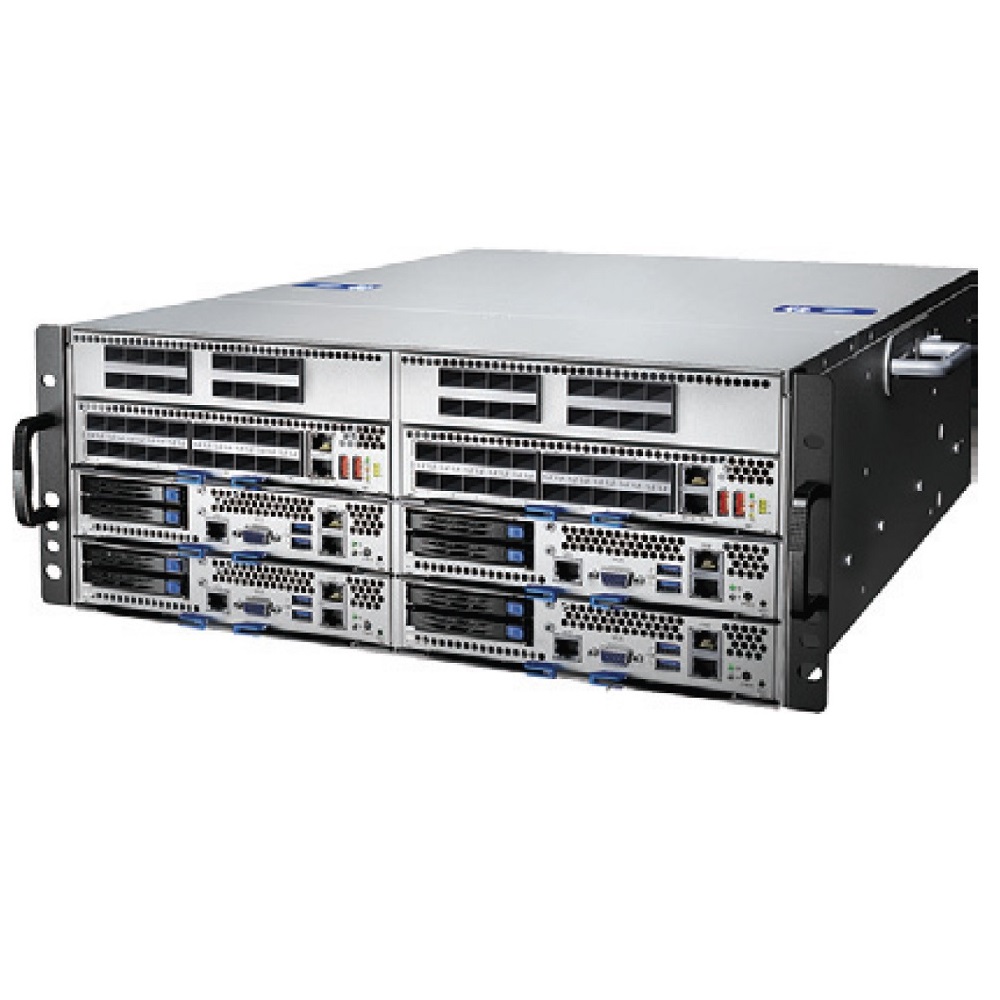 4U 19″ Server, 600 mm depth
4 Computer Nodes (MCN-2600T), 2 Switch Nodes (MXN-3610 or MXN4100) and 2 NIM cards (NIM-1610 or NIM-0440)
Computer Node (MCN-2600T):

14-Core Intel Xeon E5-2680v4
12-Core Intel Xeon E5-2628Lv4
18-Core Intel Xeon E5-2699v3
12-Core Intel Xeon E5-2680v3
12-Core Intel Xeon E5-2658v3
10-Core Intel Xeon E5-2628Lv3
8-Core Intel Xeon E5-2630v3
6-Core Intel Xeon E5-2620v3
Intel C610 chipset
Up to 192GB DDR4-1600/1866/2133 RAM
AMI BIOS on SPI flash
Two 10/100/1000BaseT Ethernet front panel ports
RS-232 console front panel port
Two USB 3.0 front panel ports
VGA front panel port
Two M.2 slots for SSDs
Two 2,5″ hot-swap SATA drive bays

Switch Node (MXN-3610):

Switch Node (MXN-3610) with 20x 10GbE SFP+ front panel ports
Switch Node (MXN-4100SR) with 4x 100GBASE-SR4/100GBASE-CR4 QSFP28 front panel ports
NIM-1610: 16x 10GbE SFP+ front panel ports
NIM-0440: 4x 40GbE QSFP front panel ports
2 Gigabit Ethernet front panel ports
2 USB 2.0 front panel ports, one port can be used as console port
2 onboard mSATA ports
Opt. COMe module with type 6 interface as local management
Quad Core 2.4GHz Intel Core i7-4700EQ or
Dual Core 1.5GHz Intel Celeron 2002E
Up to 16GB DDR3-1600/1333 RAM
Intel Ethernet controller FM10840 with 600 Mbit/s bandwidth and 4 PCIe x8 Gen3 links on the backplane
Chassis management module with BMC
Dual switch modules provides 2x 50G internal Ethernet links to each compute node
1.2 Tbit/s bandwidth, 2x 400Gbit/s Ethernet bandwidth and 2x 200Gbit/s PCIe bandwidth
3 variable speed fans
3+1 redundant 850W power supplies, 100-240V AC or -36V to -72V DC
0°C .. +40°C operating temperature range
Advanced chassis management, IPMI v2.0 compliant
Adlink PacketManager SW
Windows 64bit and Linux 2.6 and higher support
2 years warranty
Order Information
4U Server with 2x Xeon E5-2680v3, 192GB RAM, 32GB M.2 SSD, 3x 2.5" 500GB SATA HDD
4U Server with 2x Xeon E5-2630v3, 64GB RAM, 16GB M.2 SSD, 2x 2,5" 1TB SATA HDD
Technical Documentation