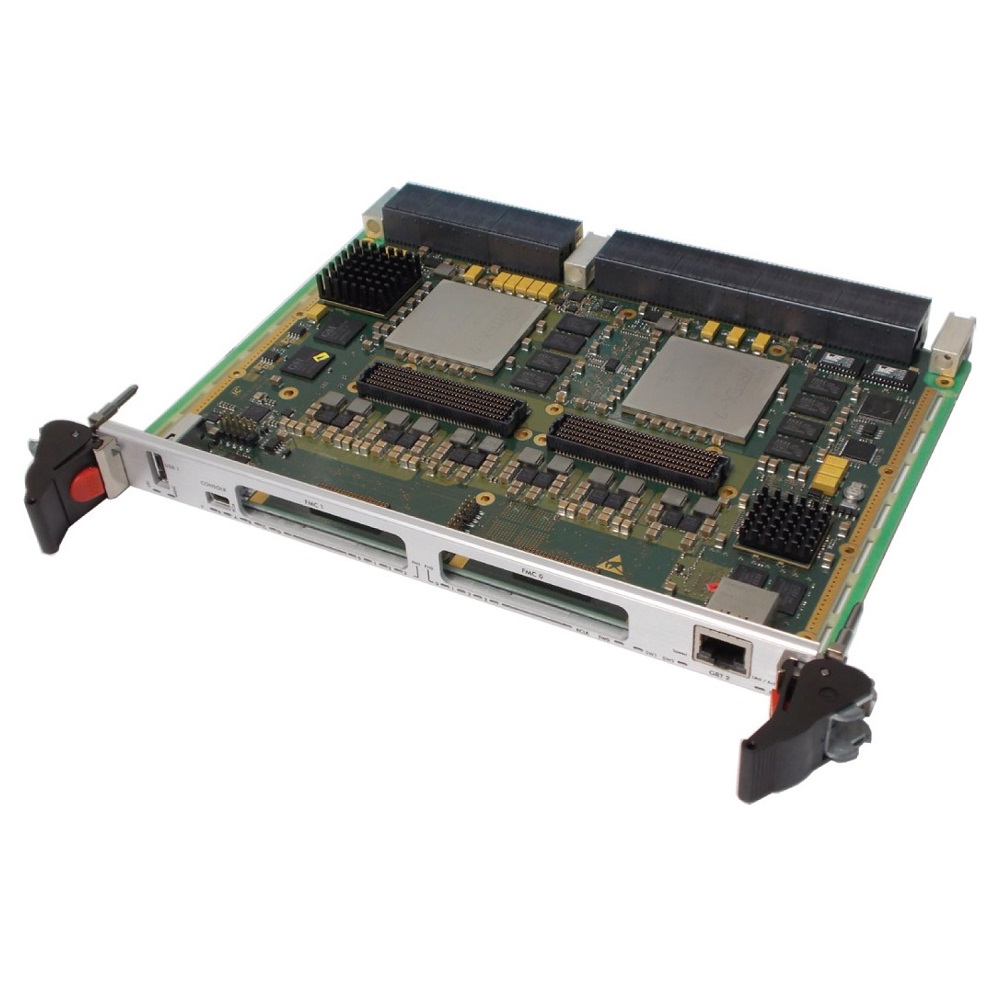 IC-FEP-VPX6b QorIQ and 2 Virtex-7 FPGA with up to 32 GB Flash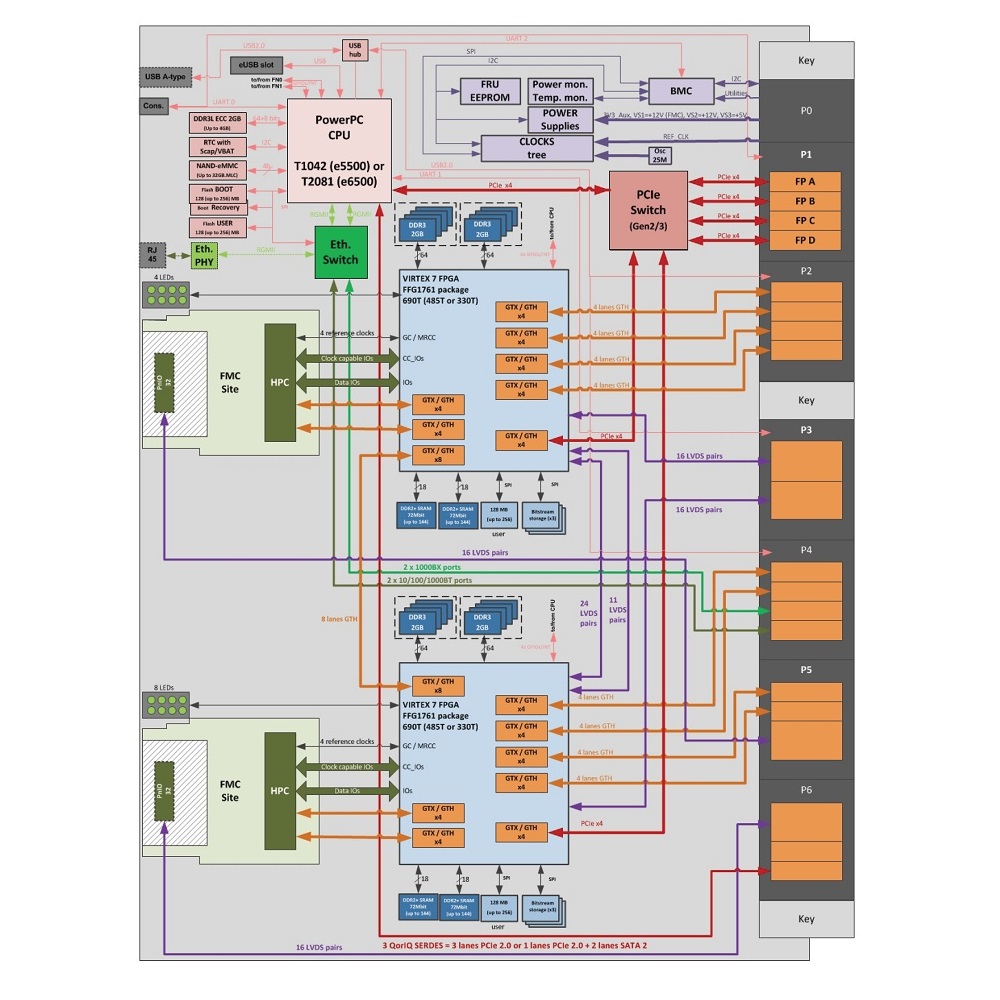 IC-FEP-VPX6b Block Diagram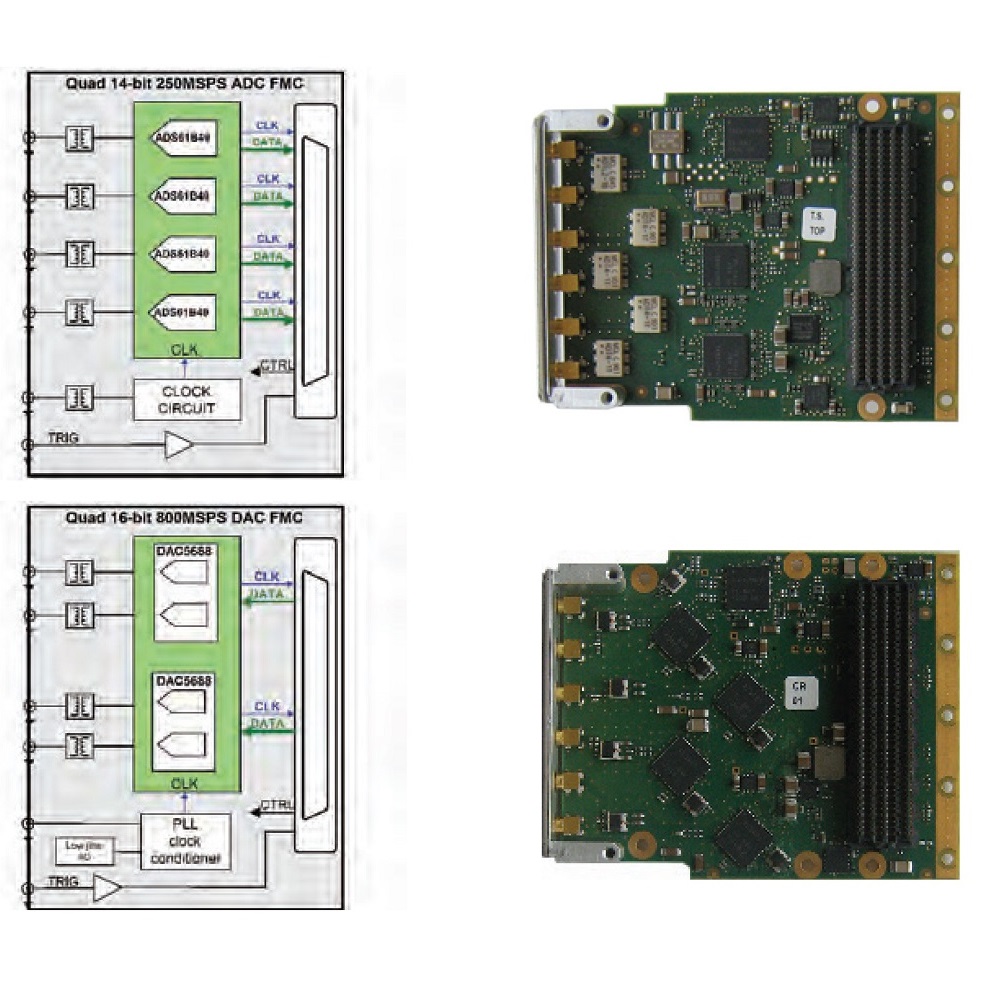 IC-FEP-VPX6b FMC Modules
IC-FEP-VPX6b 6U VPX CPU Board with QorIQ, two Virtex-7 FPGA and 2 FMC Slots
6U VPX CPU board with a Quad Core QorIQ T1042 or T2081 processor and two Xilinix Virtex-7 FPGA. Up to 4 GB DDR3L ECC SDRAM are soldered on the board. Up to 6 GB BIOS flash and 32 GB MLC or 16 GB SLC Nand flash are available. INTERFACE CONCEPT's IC-FEP-VPX6b CPU board has one eUSB slot which allows to plug an optional SSD module.

Up to 4 GB DDR3L SDRAM and two DDR2+ SRAM banks are available. The two Virtex-7 FPGA are interconnected through 8 GTH lanes and 35 LVDS ports for high data rates. I/O processing is handled on two separate VITA 57.1 FMC modules which plugs into the CPU base board. A variety of these external I/O cards offer an interface for your analogue and digital I/O signals.

The IC-FEP-VPX6b comes with UBoot firmware and supports Linux and VxWorks 6.9.

The board is available in four different environment classes from standard (0°C to 55°C), extended temperature (-20°C to +65°C), rugged (-40°C to +75°C) and conduction-cooled (-40°C to +75°C).
ORDER NOW
Technical Description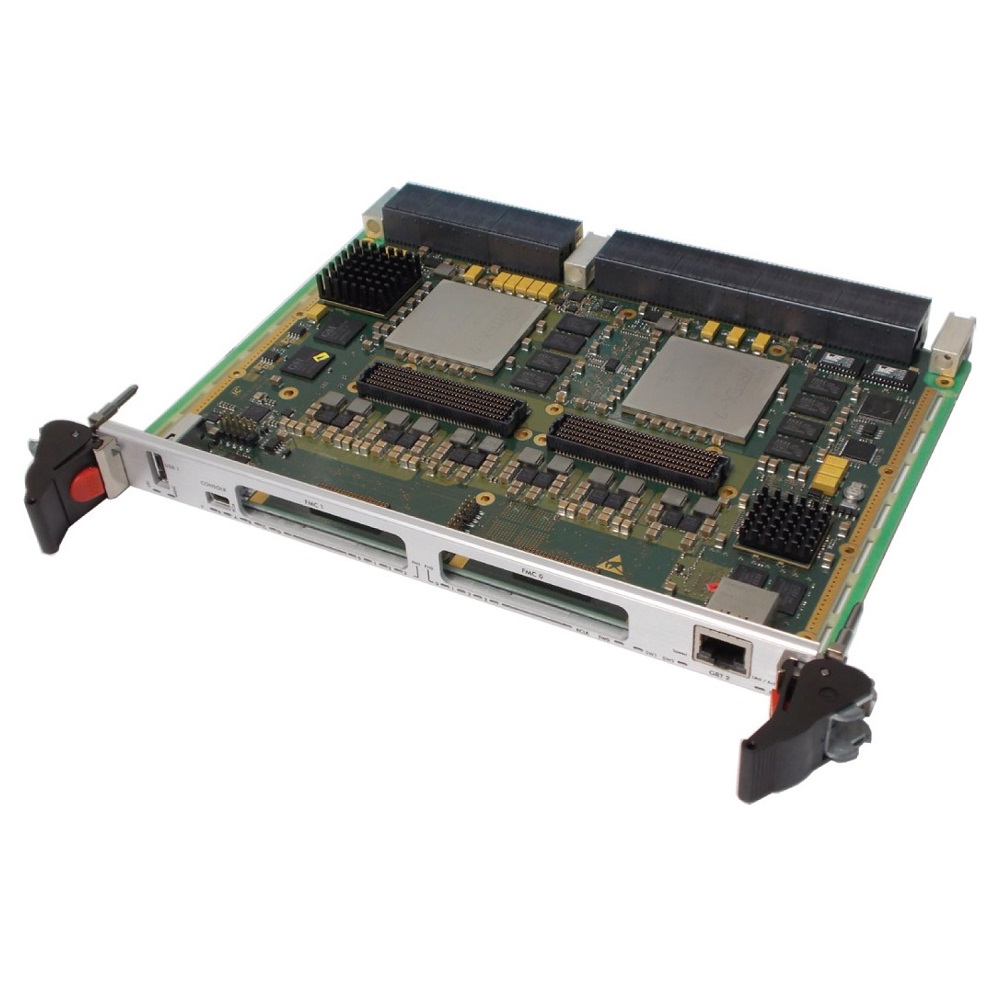 6U/4HP VPX CPU board, VITA 46.0, VITA 46.11, VITA 57.1 compliant

Quad Core QorIQ T1042 CPU with four e5500 Cores or
4/8 Core

QorIQ T2081 CPU with four e6500 Cores

Up to 4 GB ECC DDR3L SDRAM

Up to 6 GB BIOS SPI flash

Up to 32 GB MLC or 16 GB SLC Nand flash

Opt. eUSB slot for SSD

Two Xilinix Virtex-7 XCVX690T (opt. VX330T or VX485T) with:

Each with 4 GB DDR3 RAM

Each with two SRAM DDR2+ banks with up to 144Mbit/s

Two FMC slots, VITA 57.1, two GTH x4 links to the FPGA, 80 LVDS ports

Four PCIe x4 ports on P1

Eight GTH x4 ports on P2, P4 and P5

Up to 64 LVDS ports on the backplane, each FPGA with 16 ports on P3 and each FMC-I/O with opt. 16 ports on P5/P6

3 Serdes ports on P6 (1 PCIe x1 and 2 SATA or 2 PCIe x1 and 1 SATA)

Five GbE ports, 1 front panel port, four ports on P4 (two 1000BX and two 10/100/1000BT ports)

One RS-485/232 port on P3

Three USB 2.0 ports, one front panel port, one port on P2 and one port on P4

One USB 2.0, one GbE and one console port in the front panel

The two FPGA interconnected

through 8 GTH lanes and 35 LVDS ports

PIC µ-controller for system management (via VITA 46.11)

UBoot Firmware

In 4 environmental classes available: standard (0°C .. 55°C), extended grade (-25°C .. +65°C), (-40°C .. +75°C) and conduction-cooled (-40°C .. +75°C)

2 years warranty
Order Information
6U/4HP VPX board, T1042, Virtex-7 VX330, 2 GB RAM, 16 GB SLC, 3 GB flash, 0°C .. 55°C
6U/4HP VPX board, T1042, Virtex-7 VX485, 2 GB RAM, 16 GB SLC, 3 GB flash, 0°C .. 55°C
6U/4HP VPX board, T1042, Virtex-7 VX690, 2 GB RAM, 16 GB SLC, 3 GB flash, 0°C .. 55°C
6U/4HP VPX board, T1042, Virtex-7 VX690, 2 GB RAM, 32 GB MLC, 3 GB flash, 0°C .. 55°C
6U/4HP VPX board, T2081, Virtex-7 VX330, 4 GB RAM, 16 GB SLC, 6 GB flash, 0°C .. 55°C
6U/4HP VPX board, T2081, Virtex-7 VX690, 4 GB RAM, 16 GB SLC, 6 GB flash, 0°C .. 55°C
6U/4HP VPX board, T2081, Virtex-7 VX690, 4 GB RAM, 32 GB MLC, 6 GB flash, 0°C .. 55°C
Technical Documentation