3U VPX GPU Board with AMD Radeon E9171 GPU/GPGPU, Xilinx UltraScale FPGA and FMC Slot
The 3U VPX GPU board with AMD Radeon™ E9171 GPGPU, Xilinx UltraScale FPGA and a FMC slot is not only a GPU board but also a computing card (GPGPU) and frame grabber. Utilizing the AMD Radeon™ E9171 GPGPU with 1.2 TFLOPS of computing power and Microsoft® DirectX® 12 support, the IC-GRA-VPX3a delivers high performance with a Thermal Design Power (TDP) of less than 40 watts.

In addition, the dedicated Unified Video Decoder (UVD) and 4K HEVC/H.265 video encoding acceleration enables high definition decoding of H.264, VC-1, MPEG4, MPEG2 and MVC compressed video streams.

The IC-GRA-VPX3a provides up to five video outputs (2 direct DisplayPort™ 1.4 interfaces and 3 customizable interfaces thanks to the FPGA and mezzanine module). The support of OpenGL™4.5 and OpenCL™2.0, as an open standard programming software, makes this 3U VPX module the ideal solution for demanding graphics and video applications in low power environments.

The combination of the onboard Xilinx UltraScale FPGA, GPU and capture module makes the IC-GRA-VPX3a extremely scalable to provide multiple solutions in terms of video capture (ARINC818, STANAG 3350, 3G-SDI) and conversion configurations. The IC-GRA-VPX3a is able to transfer ultra-high definition over 8Gb/s via 8 PCIe Gen4 lanes.

The board is available in six versions. There is a standard 0°C to 55°C version, -20°C to +65°C, -40°C to +75°C rugged, -40°C to +85°C rugged, -40°C to +71°C conduction-cooled and -40°C to +85°C conduction-cooled operating temperature ranges.
ORDER NOW
Technical Description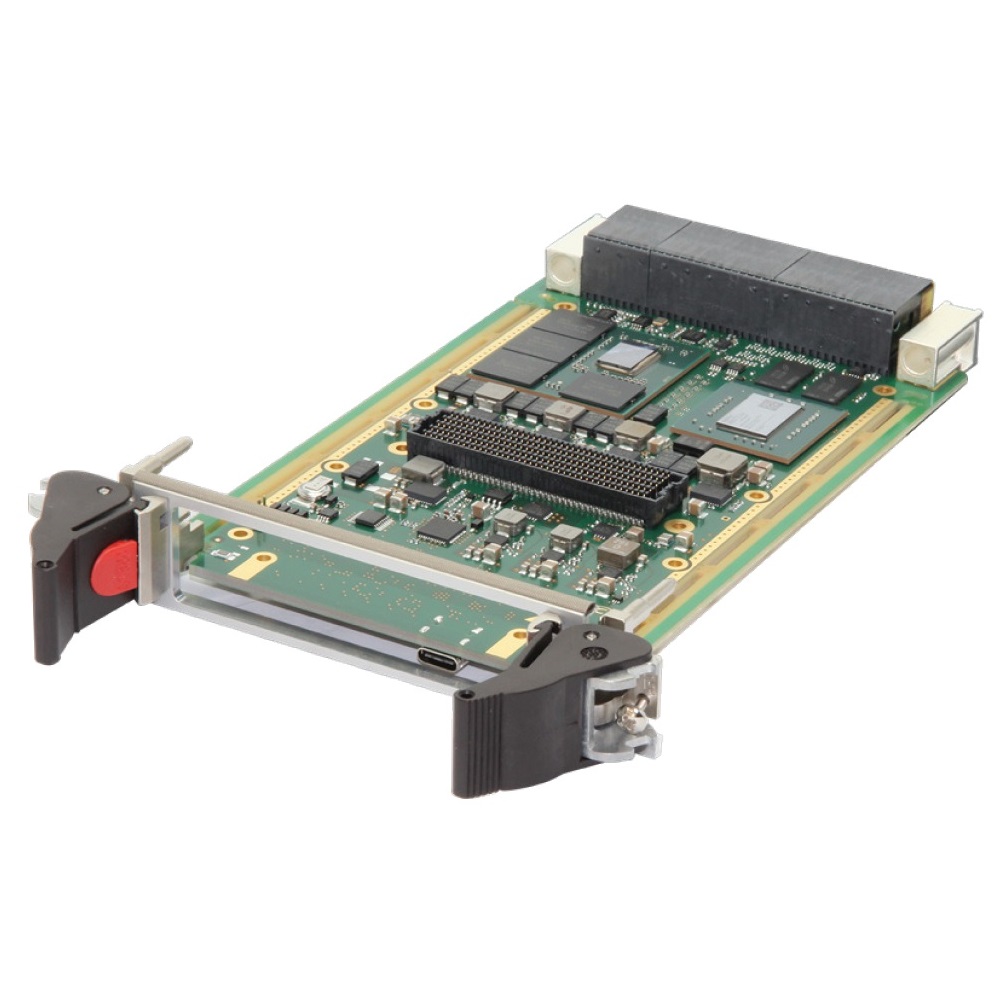 3U/4HP GPU board, VITA 57.1 compliant
AMD embedded Radeon E9171 GPU/GPGPU with 8 compute units, 1.2 TFLOPS and 4GB GDDR5 1GHz 128-bit RAM
2 direct DisplayPort™++ video outputs (Dual-Mode DisplayPort™), DisplayPort™ 1.4, configurable as up to two 4096 x 2160 pixel and one 5120 x 2880 pixel ports via VPX P2 connector, DVI and HDMI 2.0b (6 Gbit/s) via adapter, OpenGL™4.5 and OpenCL™2.0 support
3 video outputs via FMC slot
Integrated Xilinx UltraScale FPGA with 4 multi-gigabit lanes, 4 multi-gigabit Tx signals, 22 differential or 44 single-ended lanes (up to 3,3V) and 34 differential or 48 single-ended lanes (up to 1,8V) to FMC slot
One PCIe x8 Gen3 lane to/from GPU and one PCIe x4 Gen3 lane to/from FPGA via VPX P1 connector
Frame grabber capability
Available in 6 environmental classes: standard (0°C .. 55°C), extended grade (-20°C .. +65°C), rugged (-40°C .. +75°C), rugged (-40°C .. +85°C), conduction-cooled (-40°C .. +71°) and conduction-cooled (-40°C .. +85°)
2 years warranty
Order Information
3U/4HP GPU Board, Radeon E9171, 4GB GDDR, 0 .. +55°C
3U/4HP GPU Board, Radeon E9171, 4GB GDDR, -20 .. +65°C
3U/4HP GPU Board, Radeon E9171, 4GB GDDR, -40 .. +75°C, Rugged
3U/4HP GPU Board, Radeon E9171, 4GB GDDR, -40 .. +85°C, Rugged
3U/4HP GPU Board, Radeon E9171, 4GB GDDR, -40 .. +71°C, conduction-cooled
3U/4HP GPU Board, Radeon E9171, 4GB GDDR, -40 .. +85°C, conduction-cooled
Technical Documentation