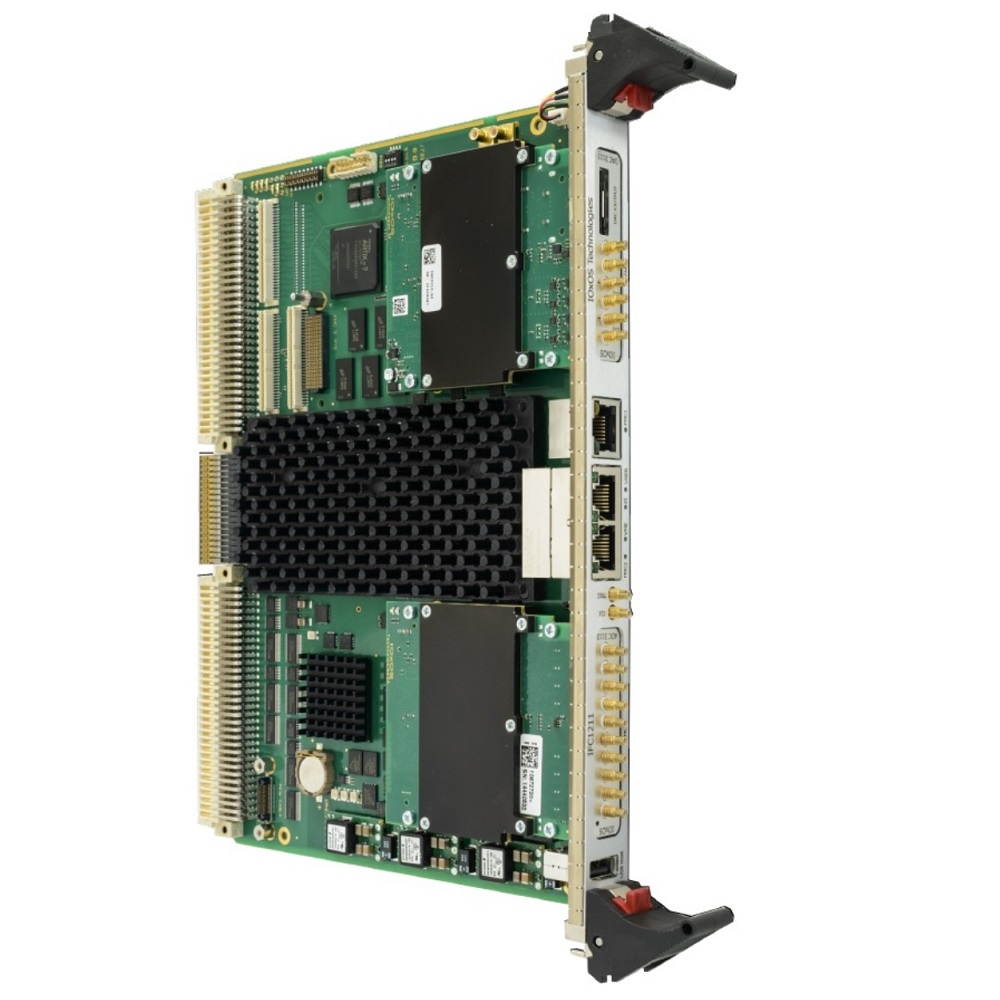 IFC 1211 VMEbus CPU Board with PCIe Gen 3 Direct Connection between CPU and CENTRAL FPGA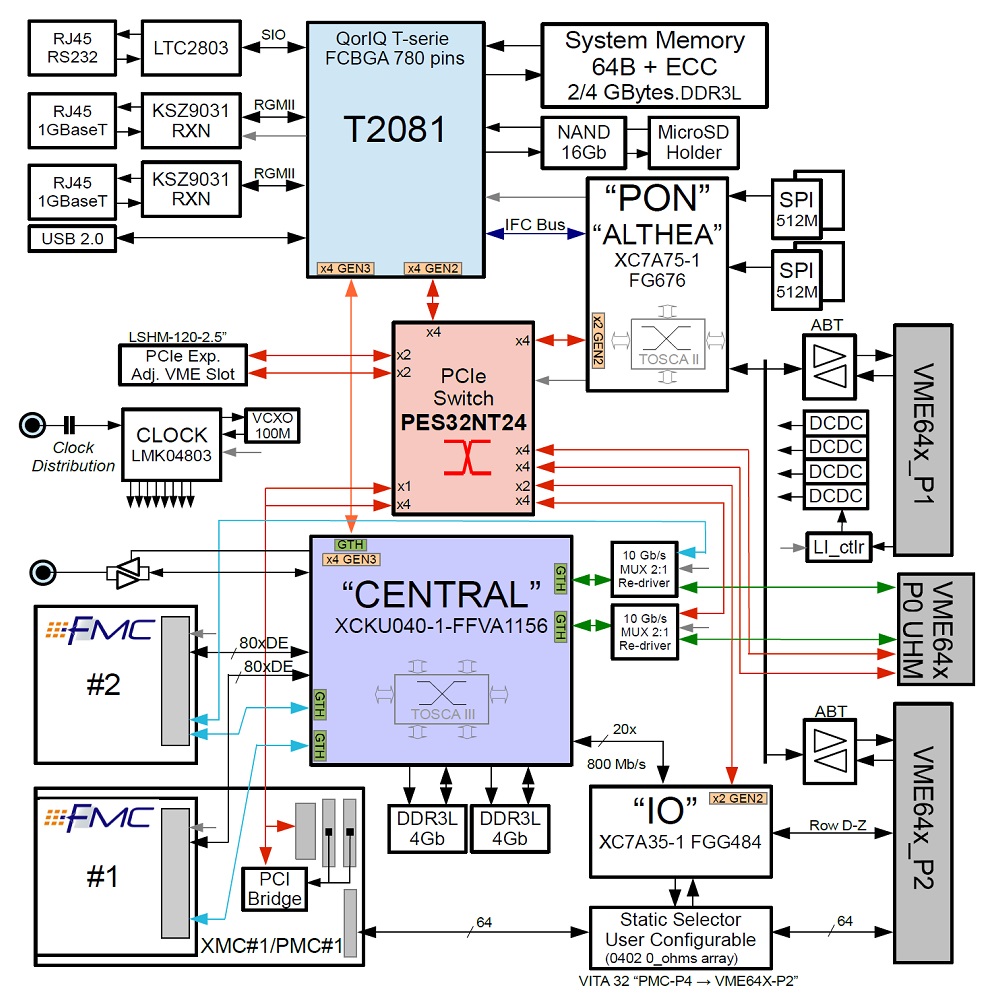 IFC 1211 Block Diagram
IFC 1211 VMEbus CPU Board with QorIQ T2081 Processor, Kintex UltraScale FPGA and FMC/XMC/PMC Slots
VMEbus CPU board with up to 1.8 GHz quad core Freescale T2081 QorIQ processor with 128 Mbit SPI flash, 128 MB NOR flash and up to 4 GB ECC DDR3-1200 RAM. There is also a Kintex UltraScale CENTRAL FPGA and two Artix-7 FPGAs. The UltraScale FPGA and the QorIQ are directly connected via PCIe Gen 3. The UltraScale FPGA implements a high performance Network on Chip (NoC) switched interconnect. This NoC architecture provides a non-blocking, controlled low-latency and highthroughput bandwidth interface. TOSCA III is a comprehensive FPGA Design Kit and it is available for the development and integration of custom applications.

The VME64x interface is implemented using ALTHEA 7910 solution, an FPGA based PCIe to VME64 bridge. This field proven FPGA based solution supports all Master/Slave VME64x modes of operation with Slot_1 System Controller function, and also guarantees the long term availability of the board as a result of not depending on already obsolete third parties VME interfaces.

The IFC 1211 offers two HPC FMC slots, a PMC/XMC slot and a MicroSD slot as well as two Gigabit Ethernet ports, an RS232 port, a USB 2.0 port and two coax SSMC ports on the front panel. The IFC 1211 is available in 0°C .. 55°C and -20°C .. +55°C operating temperature ranges.

Board Support Packages are available for WindRiver VxWorks, Linux, and EPICS.
ORDER NOW
Technical Description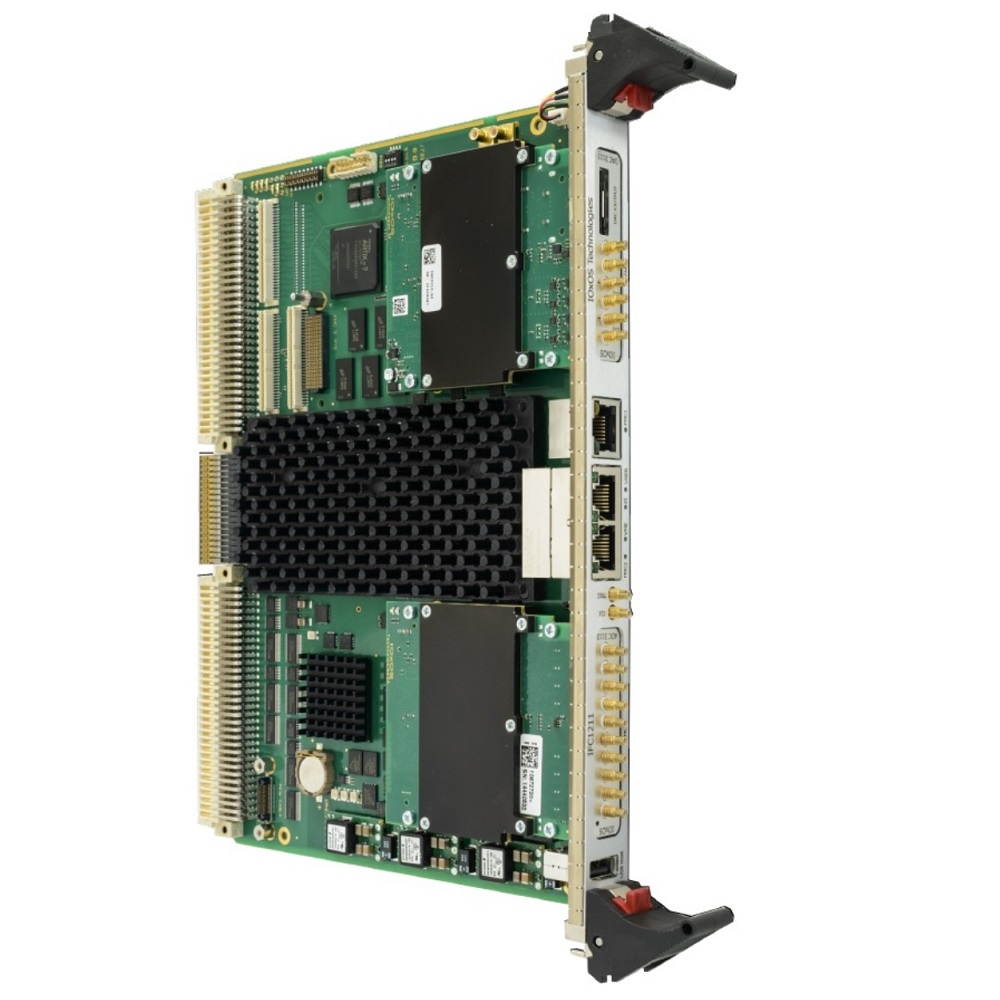 6U/4HP VMEbus board, VME64x and 2eSST compliant
Up to 1.8 GHz Quad Core Freescale T2081 QorIQ processor
Up to 4 GB DDR3L-2133 ECC RAM, soldered
128 Mbit SPI flash
128 MB NOR flash
One Micro SD card holder
Up to one PMC/XMC slot, VITA 42.3
Up to two HPC FMC slots, VITA 57.1
Xilinx Kintex UltraScale XCKU040 CENTRAL FPGA
2 Xilinx Artix-7 FPGAs
PCIe Gen 3 direct connection between T2081 and XCKU040
Thermal and Power supplies monitoring
Two coax SSMC front panel ports
Two Gigabit Ethernet front panel ports
One RS-232 front panel port
One USB 2.0 front panel port
12 GPIO ports via FPGA IO
ALTHEA 7910 VME64x interface
TOSCA III FPGA Design kit
WindRiver VxWorks, EPICS and Linux board support packages
0°C .. 55°C and -20°C .. +55°C operating temperature range
2 years warranty
Order Information
VME CPU Board, 1.4 GHz T2081, 4 GB RAM
Dual XMC/PMC Expansion Carrier
Technical Documentation