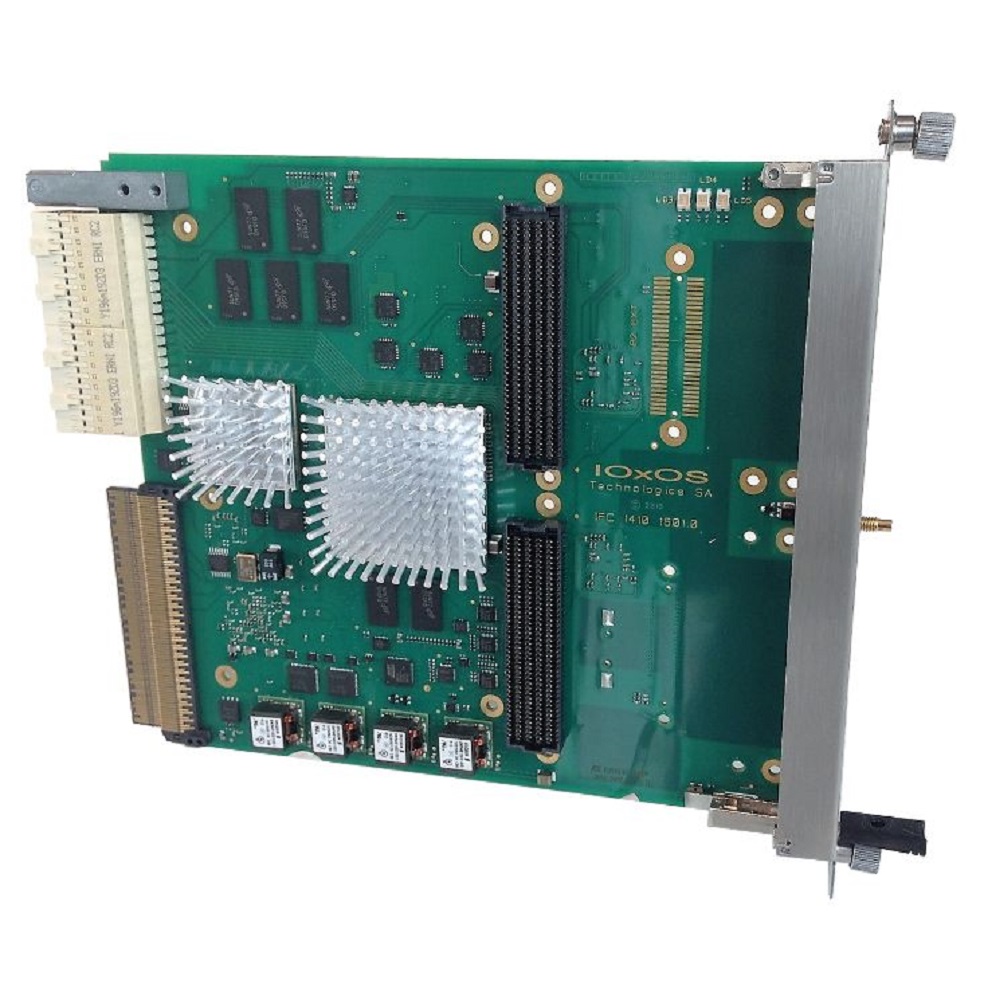 IFC_1410 AMC Module with FMC Socket and MTCA.4.1 compliant RTM Interface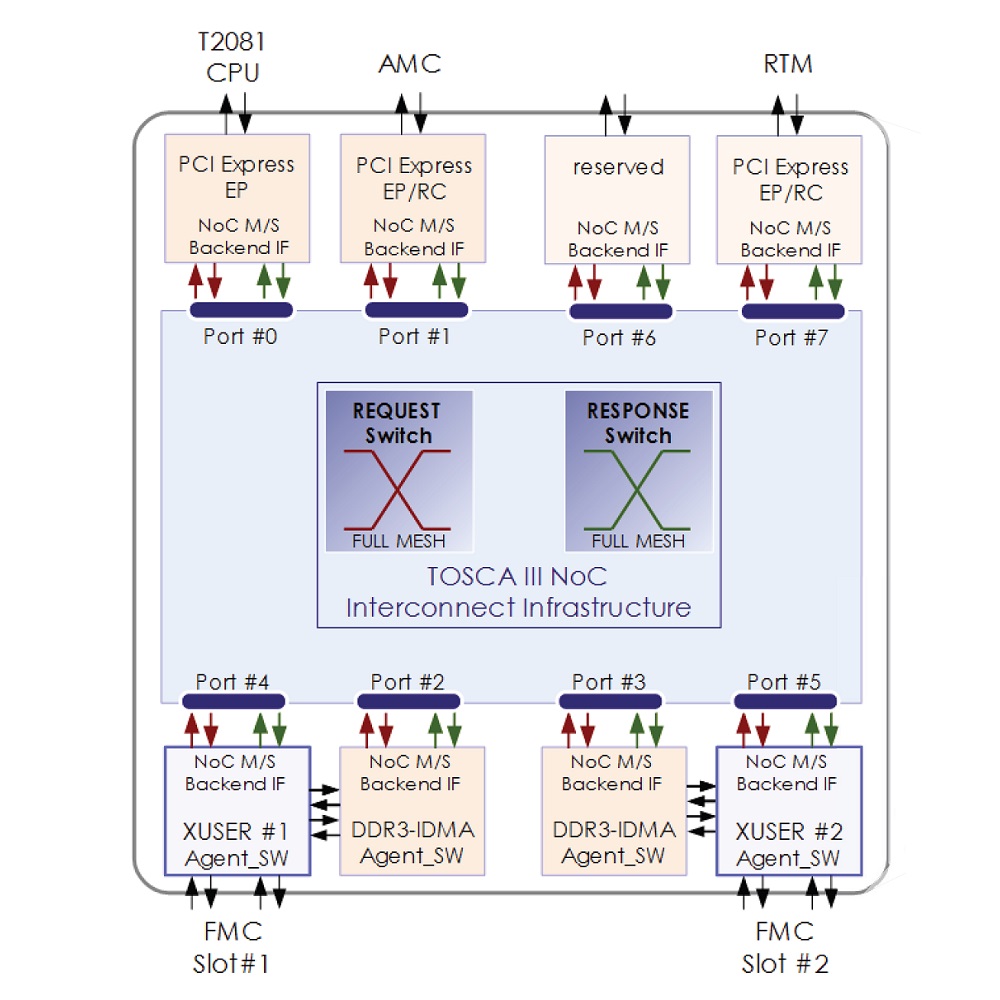 Tosca III NOC Interconnect Infrastructure
IFC_1410 MTCA.4 High Performance Digitizer
The IOxOS Technologies IFC_1410 is a high performance digitizer AMC module in double mid size or double full size design with mezzanine module for data acquisition and two HPC VITA 57.1 compliant FMC slots. The data acquisition function is fully implemented in the onboard DAQ_1430. The DAQ_1430 has a direct interface for rear transition analogue signal conditioning boards that conform to the MTCA.4 class D1.4 standard. The DAQ feature provides a 10 channel 16bit 250 MSPS ADC and 4 channel 16bit 2.5 GSPS DAC. The modular approach allows the mezzanine to be recognized by the central FPGA as a standard FMC module.

The Xilinx Kintex UltraScale KU040 FPGA (optional KU060) is connected via a PCIe x4 Gen 3 Link to a 4-core 1.8 GHz QorIQ T2081 processor. The FPGA controls the onboard mezzanine and FMC slots. The 4-core 1.8 GHz QorIQ T2081 processor has 2 GB DDR3L-1866 SDRAM and 4 Gbit Flash.

The Xilinx Kintex UltraScale FPGA is based on the IOxOS Technologies FPGA design kit (TOSCA series), which enables the easy integration of FMC modules and the implementation of custom data acquisition applications in a high performance network-on-chip architecture.

The AMC module, the ADC/DAC FMC modules and the TOSCA III FPGA starter kit provide full EPICS support.

The IFC_1410 can also be used as a standalone CPU module.
ORDER NOW
Technical Description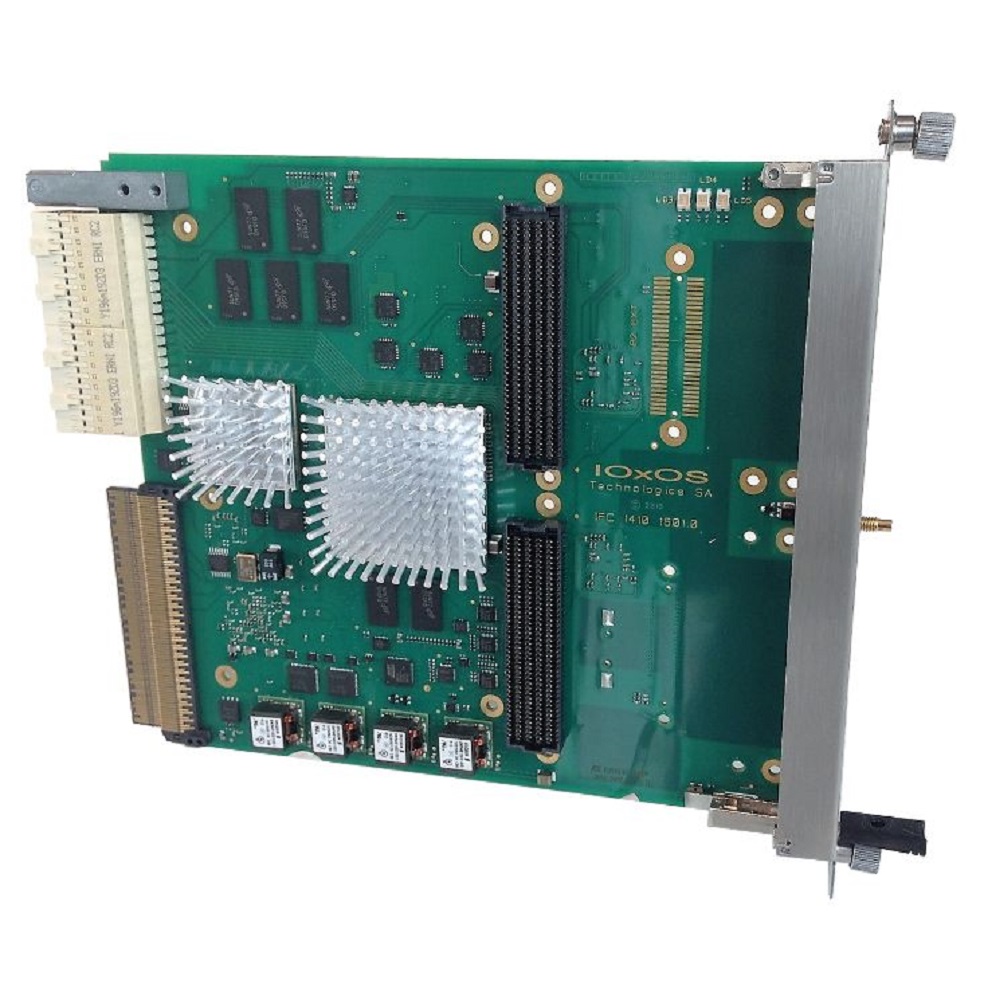 Digitizer AMC with CPU, FPGA and 2 FMC slots, double mid size or double full size form factor

Quad core QorIQ T2081 processor with up to 1.8 GHz

2GB DDR3L-1866 SDRAM

4 Gbit NAND flash

Altivec technology-based SIMD engine

PCIe Gen3 and 10GbE support

Xilinx Kintex UltraScale KU040 or KU060 FPGA

1024 MB DDR3L-1066 SDRAM

Local (SPI flash) and remote (Ethernet) configuration support

Up to three embedded PCIe blocks configurable as end point or root complex

TOSCA III FPGA Design Kit for straight-forward FMC integration and customization

High pin-count 2 FMC slots complies with VITA 57.1

EPICS support

MTCA.4 D1.4-compliant RTM interface

2 years warranty
Order Information
MTCA.4 QorIQ T2081 Digitizer AMC
TOSCA III FPGA Design Kit – Starter Package (10 licenses + 3-days hands on workshop)
TOSCA III FPGA Design Kit – Development Package (10 additional licenses)
8 channel ADC, 16bit, 250 MSPS
4 channel ADC, 12bit, 1 GSPS or 2 channel ADC, 12bit, 2 GSPS
2 channel ADC, 16bit, 250 MSPS and 2 channel DAC 16bit, 250 MSPS
20 channel ADC, 16bit, 5 MSPS and 2 channel DAC 16bit, 1 MSPS
16 TTL/LVDS programmable inputs and 16 TTL/LVDS programmable outputs
Technical Documentation