NAMC-QorIQ-P3041 Processor AMC with 4 Core 1.5 GHz P3041 PowerPC
The processor AMC module offer an 1.5 GHz P3041 processor with 4 e500mc PowerPC Cores and provides up to 4 GB DDR3 1333 MHz SDRAM, 1 GB NAND flash, and 128 MB NOR flash. The Lattice ECP3 FPGA offers for example ITDM, PTP protocol acceleration, and IEEE1588/RTP timestamp insertion/synchronization. RTP (Real Time Protocol) and PTP (Precision Time Protocol) real time clock and PPL telecom clock are supported. An opt. additional H.110-like timeslot interchanger (TSI) interface is available.

The NAMC-QorIQ-P304x series from NAT has three Gigabit Ethernet ports, two SATA ports, one USB 2.0 port, 18 SerDes ports and an I-TDM interface. The backplane offers Serial Rapid IO x4 (SRIO), 10Gigabit Ethernet (XAUI), and PCIe x4 Gen2. Opt. one RS-232 port and H.110 are available. One Gigabit Ethernet, one USB 2.0 and opt. one RS-232 port are available on the front panel.

The module supports Linux, VxWorks, the real time Open Kernel 1 with multi processing (OK1-M), which will be delivered in source code and the multi-core real-time operating system Enea OSE which is optimized for Telecom applications.
ORDER NOW
Technical Description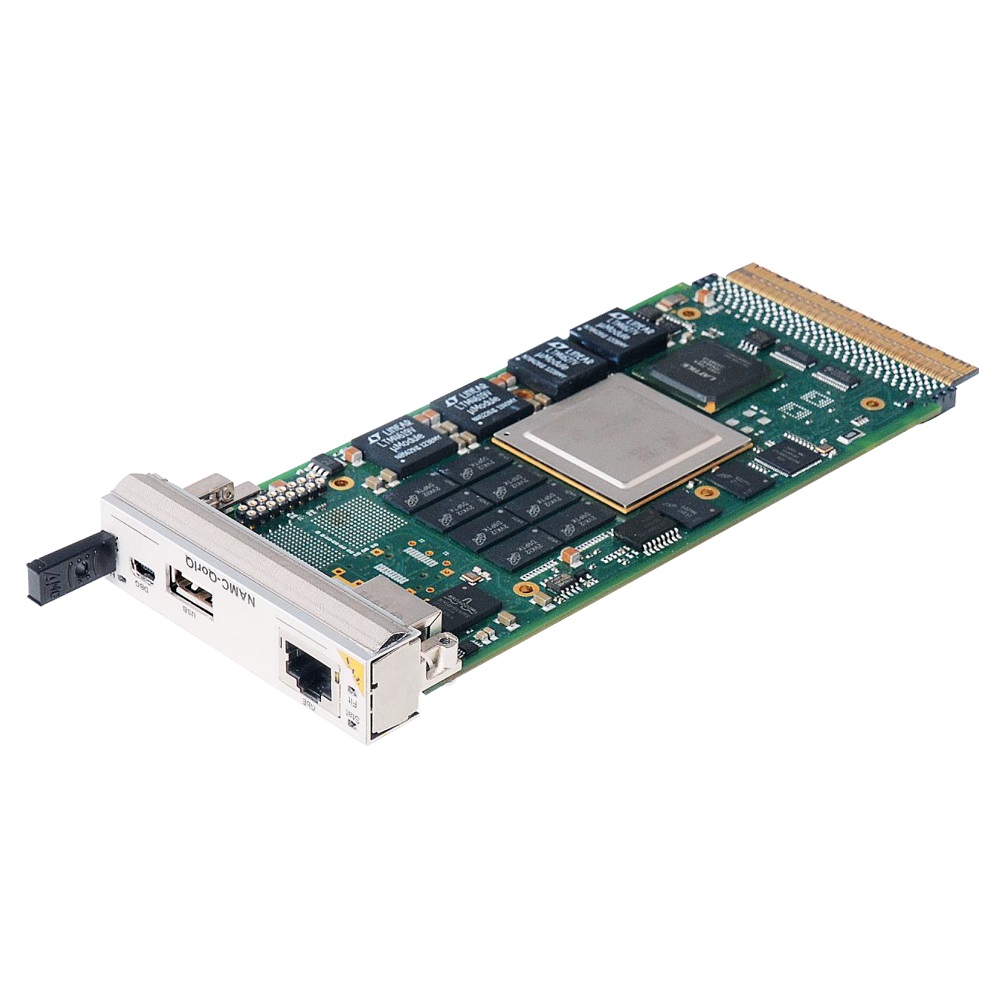 Processor AMC module
AMC-Modul with AMC.1 type 4, AMC.2 type E2, AMC.3 SATA, and AMC.4 SRIO interface, mid size and full size form factor
4 Core 1.5 GHz P3041 processor with e500mc PowerPC Cores
Up to 4 GB DDR3 1333 MHz ECC SDRAM
1 GB NAND + 128 MB NOR flash
Lattice ECP3 FPGA
18 SerDes ports (one XAUI, three PCIe 2.0, two SRIO1.3&2.1, two SATA 2.0, two USB 2.0, eight SGMII)
Two Serial Rapid IO x4 1.3 and 2.1 (SRIO) ports, one 10Gigabit Ethernet (XAUI) port, and one PCIe x4 Gen2 port on the backplane via port 4-7 or 8-11
Three Gigabit Ethernet ports, 1 front panel port and 2 ports on the backplane via port 0 and 1
Two SATA ports on the backplane via port 2 and 3
USB 2.0 front panel port
Opt. RS-232 front panel port
I-TDM interface
Opt. H.110 like TSI interface
0°C .. 55°C operating temperature range
2 years warranty
Order Information
Processor AMC module, 4 Core 1.5 GHz P3041 PowerPC, Lattice FPGA, full size
Processor AMC module, 4 Core 1.5 GHz P3041PowerPC, Lattice FPGA, mid size
Processor AMC module, 4 Core 1.5 GHz P3041PowerPC, full size, min order 50 pcs
Processor AMC module, 4 Core 1.5 GHz P3041PowerPC, mid size, min order 50 pcs
Technical Documentation
NAMC-QorIQ-P3041 Data Sheet
NAMC-QorIQ-P3041 User Manual