NAMC-xE1/T1 8 or 16 Channel T1/E1 or 4 E3/T3 (Tele-)Communication Controller
8 or 16 E1/T1 channels with front I/O and AMC.1 type 1, AMC.2 type E2, AMC.4 Serial RapidIO interface. The framer DS 26518 from Maxim/Dallas provides access to eight E1/T1 lines at the front panel. Each of the four or eight RJ45 ports in the front panel are occupied with 2 channels. The full size version of the NAMC-xE1/T1 from NAT can be equipped with an additional mezzanine board to count up the line interface to 16 E1/T1.

The four/eight Line interface can be configured by software as E1 or T1. Up to 16 LEDs in the front panel signal the link status. In addition to the I-TDM interface the TSI offers an optional 32 MHz H.110 alike TDM backplane interface. The TDM to I TDM Bridge is implemented by an Lattice ECP3 FPGA which offers 70.000 logic elements and 4 Mbit internal memory. In addition two QDR2 SRAM with up to 64 Mbit can be assembled.

The NAMC-xE1/T1 supports telecom signalling protocols like SS7 as well as applications in ISDN, ATM VoIP and 3G environments. Project License Linux Driver are available.
ORDER NOW
Technical Description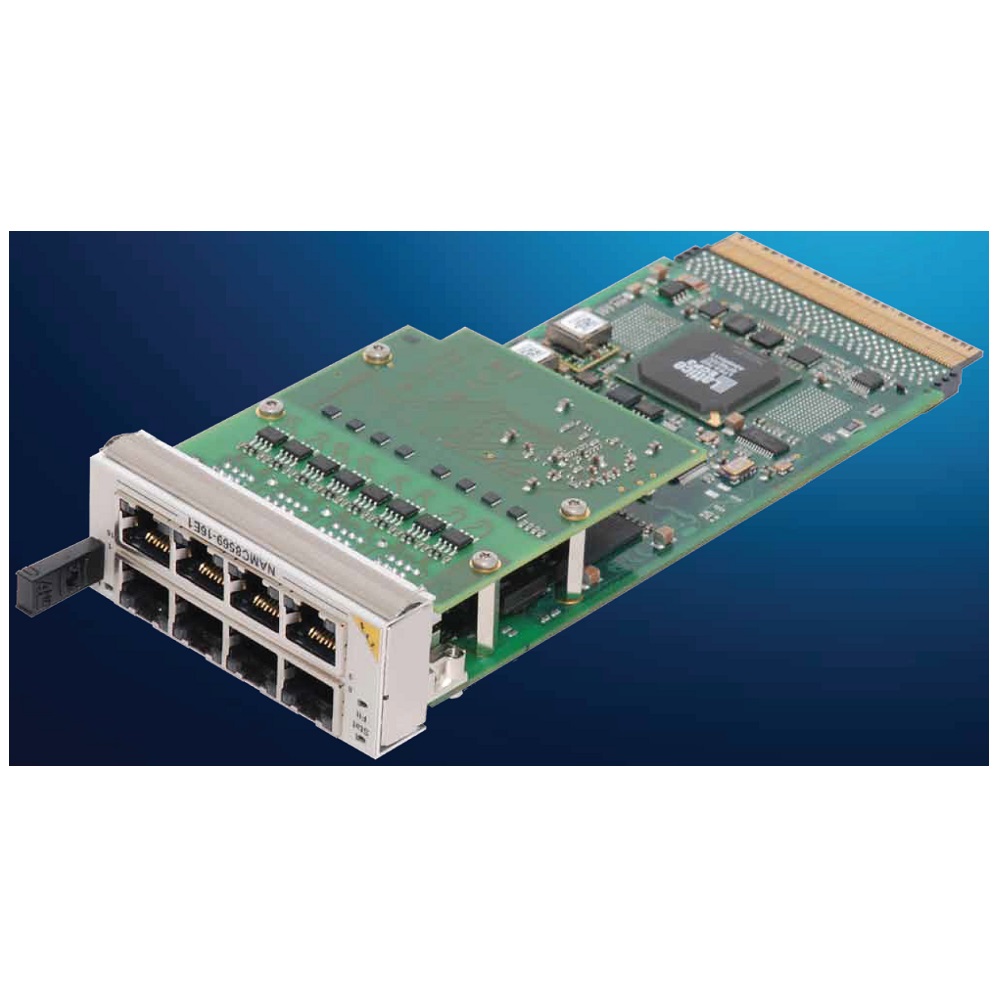 8/16 E1/T1 or 4 E3/T3 Channel Interface with Front I/O

AMC module with AMC.1 type 1, AMC.2 type E2, AMC.4 Serial RapidIO interface, mid size and full size form factor

4 or 8 RJ45 ports in the front panel, reserved with each 2 channels

8 or 16 E1/T1 channels or 4 E3/T3 channels

Lattice ECP3 FPGA with 70.000 logic elements and 4 Mbit internal memory

Up to 64 Mbit QDR2 SRAM

I-TDM interface with 1024 bidirect. 64kbit/s channels

Opt. 32 MHz H.110 alike TDM interface

GbE x1 on port 4 and 8 or
PCIe x1 on port 4 or 8 or
SRIO x1 on port 4 and 8

2 Gigabit Ethernet ports on port 0 and 1

0°C .. 55°C operating temperature range

12 W power consumption

2 years warranty
Order Information
8 channel E1/T1 AMC module
16 channel E1/T1 AMC module
4 channel E3/T3 AMC module
Technical Documentation